Happy New Year guys!
Can't believe it is 2019 already. I feel the entire 2018 flew so quickly. Last year was a memorable year for me. It begun with my cousin's wedding in January and then I got married in the month of August. My wedding happened so quickly that we barely got time for the preparation. We kept it simple and sweet, in the presence of close friends and relative.
After my marriage my blog totally got sidelined. With something or the other coming, I barely use to get time or enthusiasm to write. But with constant motivation and support from my husband and MIL, I finally managed to jot down this post about the new bed sheet I tried from California Design Den.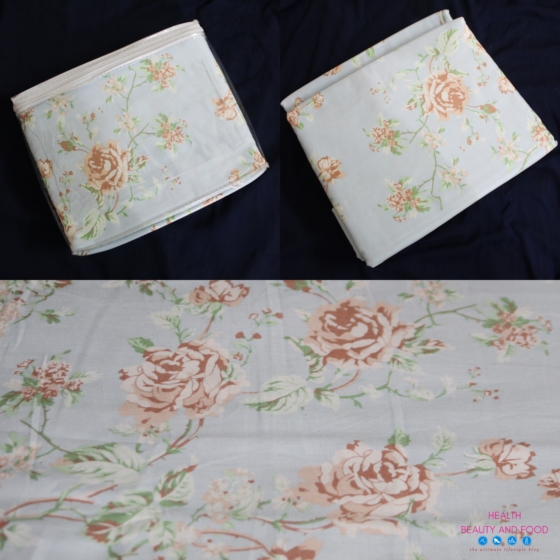 A little about California Design Den Everyday Comfort Sheet:
California Design Den as the name suggest is a US based Brand but their sheets are manufactured here in India. Their sheets are known for quality and comfort and hence they are priced a little high. The one that I have is from their 'Everyday Comfort' range in the print Antique Rose (my husband's choice). They have a few printed sheets in this range and a few plain in many colors.
These sheets are of 100% cotton sateen material with 400 thread count. The more the thread count, the softer the sheets. California Design Den describes their sheets as such:
"The ultimate in everyday cotton luxury. Premium blend of craftsmanship, our linens are designed to offer a unique and sophisticated sleeping experience as you would find in a hotel. This fabric has desirable characteristics such as stain resistance, breathing ability, luxurious appearance and easy cleaning."
My thoughts on the California Design Den Everyday Comfort Sheet:
When the brand first contacted me for collaboration, I got very excited as I was already looking for a good sheet for my new queen sized bed. They happened to contact just at the right time. I immediately checked their brand details and product range and made my mind to collaborate with them. Their plain colored sheets were something I liked but I still asked my husband to pick a variant from their range, obviously, because I'm a good wife 😉 . He picked the print variant called Antique Rose which is Rusty Red Roses and green leaves printed on blue base.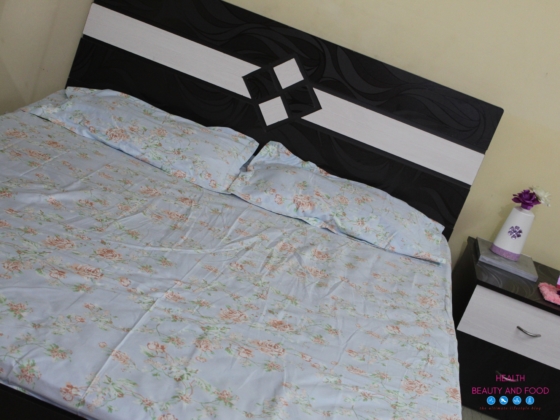 To be honest, I didn't really like the print from the sample picture available at Amazon but to my surprise, the sheet in person looks way better. The sheet, as mentioned by the brand are 100% cotton sheet which means these are extremely comfortable. You know when you get cotton sheets from the store, they feels a little hard in the beginning, until you wash them? Well, this is not something you get in California Design Den Everyday Comfort Sheet. My Antique Rose Sheet feels soft since the time I got it and they are still soft, after washing.
This sheet is Sateen Cotton one so that little shine and sateen-y feel on the sheet definitely provide luxurious look and feel. Since these sheets are designed for US, the color range and prints are classy. I quite like the look and feel of the sheet. It is comfortable, softer in comparison to other cotton sheets I have used and it looks much better than those cotton sheets. Other sheets do change in terms of look and feel after wash but this one still feels the same. I have a washed it in the machine only once so it is hard to say how well it stays after multiple washes. I will try to update about the same after a couple of months.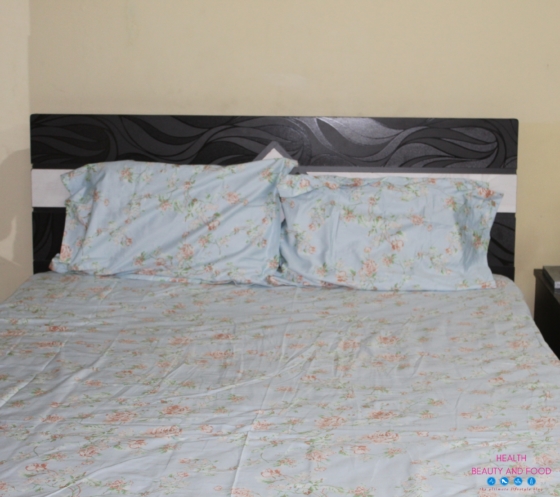 This sheet comes with 2 pillow cases of the same material, which makes 3 pieces bedsheet set. However the US packaging contains 4 pieces in a set including one fitted sheet. I'm a little unhappy with the brand for not sending me the US variant. But anyway, the flat sheet serves the purpose well.
Overall, I'm very happy with the sheet but my only concern is the price which is $45.99 for a 4 pieces set which makes a good 3300 INR. Paying this huge amount for the sheet is something I don't see myself doing. The 3 pieces set available in India comes for around 1500 INR which again is a bit high. But looking at the quality of the sheet, I think the price is worth it. It is better to invest in a good quality single sheet rather than buying 3 average sheets.
If you want to buy California Design Den Everyday Comfort Antique Rose Sheet, you can buy it here from Amazon Global store. They deliver here in India. But if you want the 3 pieces Indian set, check out Amazon India here. They have the same piece I have reviewed here but they do have different prints.
That's all for this post. I hope this year I become more active on my blog and YouTube and share some useful things with you all. If you find this post helpful, do share it with your friends and family.
For more such posts keep visiting Health Beauty and Food. Do connect with us on Facebook, Twitter, Instagram and Youtube