Removing blackheads is a very painful process for me. Yes, I feel waxing and threading is far much better than extracting blackheads with a comedone remover. This is why I was expecting a lot from this Hiphop skin care Deep Cleansing Nose Pack. Have they fulfilled my expectations? Let us see in this review…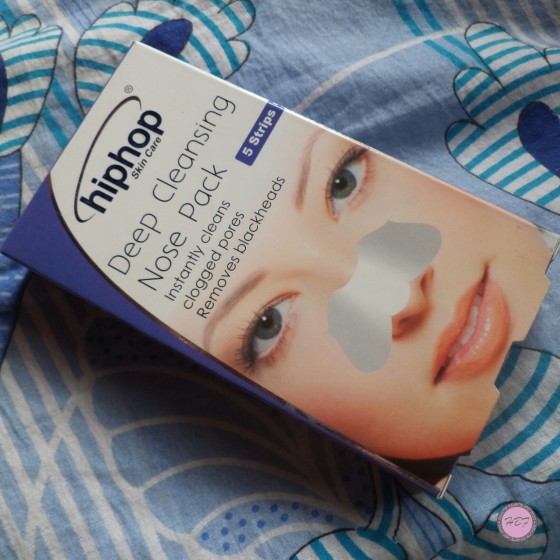 Price: Rs. 95/- Buy here
Quantity: 5 Nose strips and 1 after treatment conditioning tissue
Shelf Life: 2 years
Ingredients:
What Hiphop Skin Care says about its Deep Cleansing Nose Pack:
Hiphop's Deep Cleansing Nose Strips are designed to remove dirt, blackheads, oil and unclog pores from the nose area.
The strip adheres to the dirt and oil in your pores and then they are lifted away as you remove the strip
How to use:
Packing: Hiphop skin care Deep Cleansing nose pack comes in a white and blue cardboard case which has 5 blackheads strips and 1 after treatment conditioning tissue.
Also see: 3 Steps Facial Clean up 
Experience:
My experience with this nose pack is not at all good. Even after following all the instructions properly I was unable to get good result.
The first time I used this strip, after waiting for more than 15 minutes also not even a single blackheads came out. I give a try once again that day and the second strip extracted 2 – 3 blackheads. (I know it is a bit weird but I actually checked the strip after use)
The next time I used Hiphop skin care deep cleansing nose pack  after steaming my face and the result was a little better than the past. If you are thinking that it cleaned my nose then you are absolutely wrong. Here better means just 5 – 7 blackheads.
I even tried this nose pack on my sisters and it did not work for them too. So, these strips are useless like the pond's ones I used previously. And with this experience I think the old, painful method of extracting is much better than these nose packs. After all, "No pains, no gains."
This nose pack comes with 2 semi-circle shaped after treatment use conditioning tissues which is packed together. So you cannot save one for future use as it will dry up. These wipes are actually good. It does not make the nose greasy and gives nice, fresh feeling after using. But then what is the use of these wipes when nose pack does not unclog the pores!
Summing up to pros and cons:
What I like about Hiphop Skin Care Deep Cleansing Nose Pack :
Affordable
Comes with after conditioning wipes
Easily available online
What I dislike about Hiphop Skin Care Deep Cleansing Nose Pack:
Not effective on blackheads
Tall claims
Only two after cleansing wipes that too packed together
Not available offline (at least I did not find it)
Recommended for you: Hiphop Skin Care Salt & Sugar Face Wash review
Rating: 1/5
Verdict: Overall Hiphop Skin Care Deep Cleansing Nose Packs are useless, ineffective and a total money waste. Instead of buying this, I would recommend you to invest your money in a good scrub. I am sure scrubbing your nose will remove more blackheads than this pack will.
Have you tried Hiphop Skin care deep cleansing nose pack? How was your experience with it? Share it in the comments section below.
Also, a giveaway is coming up next week for all the blog followers. If you aren't following HBF on Facebook, Twitter, Google+, Pinterest and Instagram then do that ASAP.
PR sample. Honest review