Palak paneer, a thick creamy spinach gravy cooked with paneer. Make this delicious vegetarian dish following simple and easy recipe.
Palak Paneer Recipe
Ingredients:
Spinach (stem removed) – 3 bunches
Cottage Cheese (cubed, blanched)- 250 gms
Milk – 1/3 cup
Oil – 4 tbsp
Butter – 1 tbsp
Coriander powder – 1 1/2 tsp
Turmeric powder – 1/2 tsp
Garam masala powder – 1 1/2 tsp
Salt – to taste
Sugar – 1 tsp
Green chillies – 8 – 10
Onions (chopped) – 2 – 3 medium
Tomatoes (chopped) – 2 big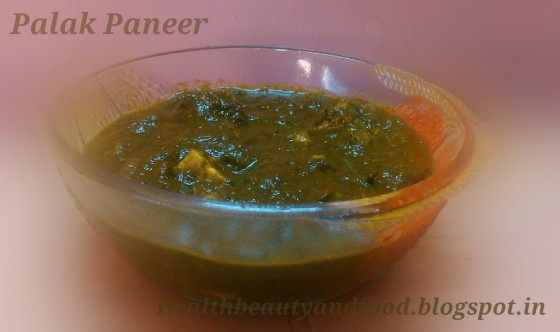 Method:
Boil spinach with sugar for 3 – 4 minutes.
Strain and wash it with cold water to stop the cooking process.
Grind Spinach with green chillies to form a smooth paste. Add water if needed.
Heat oil and butter in a vessel.
Add onions and fry till it become golden brown.
Now add turmeric, coriander powder and salt and stir.
Add tomatoes and cook till it tender.
Now add spinach-green chilli paste and cook till the raw smell of palak goes away.
Add paneer and milk and cook for a few minutes.
Sprinkle garam masala powder and mix.
Turn off the flame after 2 minutes.
Serve hot with paratha or naan.
Like this recipe? Leave your views in the comments below.
For more such recipes follow HBF on Facebook, Twitter, Google+, Pinterest and Instagram.