Aloe Vera is something that works well for all skin types.  No matter whether you have oily skin, dry skin or sensitive skin, aloe vera will do no harm but good. This TBC by Nature All Purpose Body Lotion has aloe vera as one of its main ingredients. Let's find out how well does it work.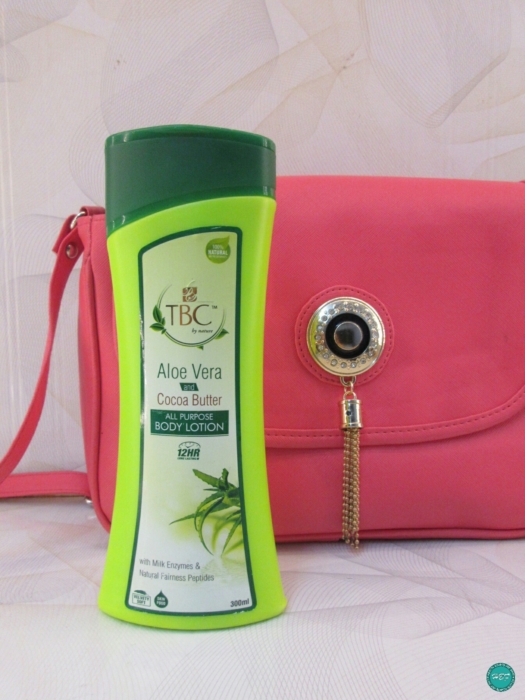 About TBC by Nature All Purpose Body Lotion
Price: Rs. 125 for 300 ml
Ingredients & Claims: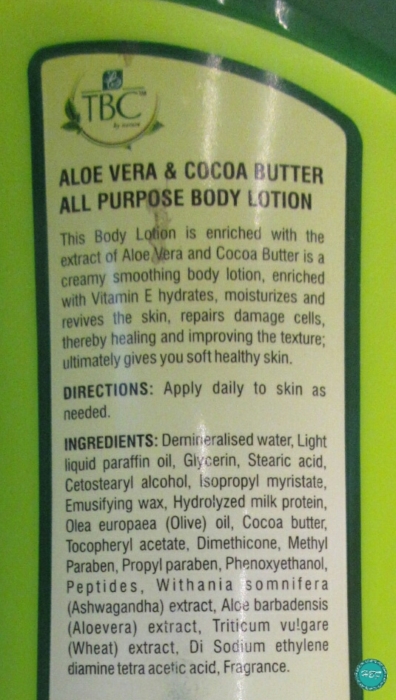 My Experience:
The lotion comes in a green large bottle with a flip-flop cap. Bottle is bulky and hence you can't carry it in your handbag. I don't think they have a smaller version of this but it is quite cheaper so one may not mind buying. It is a light green lotion which has a very subtle smell. Consistency is liquid-y and hence the lotion spreads easily on the body. It gets absorbed quickly into the skin upon application.
When you apply TBC by Nature All Purpose Body Lotion, it gives a mild cooling sensation on the skin. I guess it is due to the presence of aloe vera. The cooling sensation vanish in a few seconds. It is a light-weight lotion which leave no greasiness post application.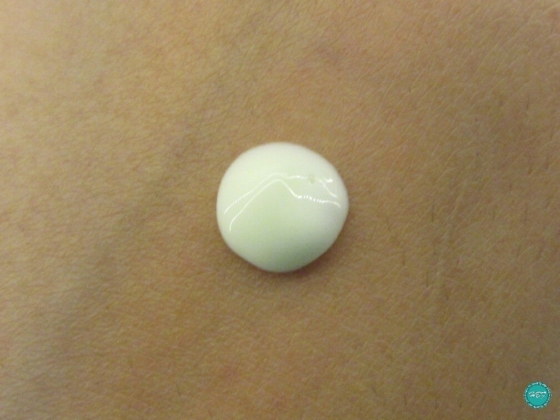 Swatch
It claims to moisturise and revive the skin, repairs damaged cells and improves the texture of skin. I can't comment on any of these claims. All I think is that it is a good light-weight body moisturizer which keeps skin hydrated for long. Since the lotion contains Aloe Vera and provides coolness, I think it is appropriate for summers. For chilly winters when our skin needs extra hydration, this might fail to work.
Overall, it is a regular body moisturising lotion which is good for summers. It is quite cheaper, contains goodness of aloe vera and is suitable for all skin types. If you are looking for a body lotion to use during summers, give TBC by Nature All Purpose Body Lotion a try.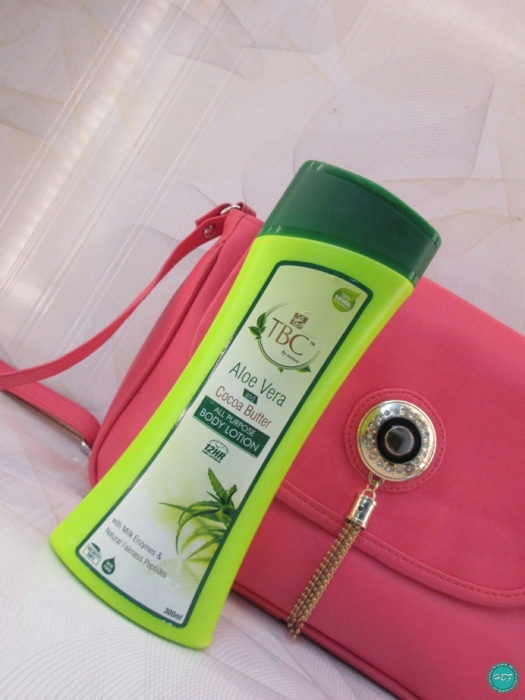 For more such product reviews follow Health Beauty and Food on Facebook, Twitter, Google+, Pinterest, Instagram and Linkedin. You can also connect with me on Snapchat.