I'm a deodorant person. I wear deodorant every single day. But sticking to one fragrance is not possible for me. That's the reason I buy 2 – 3 fragrances at a time and keep switching between them. In one of my visits to Reliance Mart I picked up two of Yardley London Deodorant i.e. Poise and Lace and that's how my obsession for Yardley deo begun. Since then I picked up total of 6 fragrances and here I'm to share them all with you.
Let's talk about general details first. All of these deodorants come in attractive and sturdy packaging with ingredient lists, direction for use and description mentioned. These are not alcohol free. And of these are priced at Rs. 199 each, except for Poise which I guess I bought for Rs. 225. I don't remember the exact price and it is nowhere mentioned online. Now lets talk about the individual fragrances. I'm not good at identifying and describing fragrances but I'm doing my best here.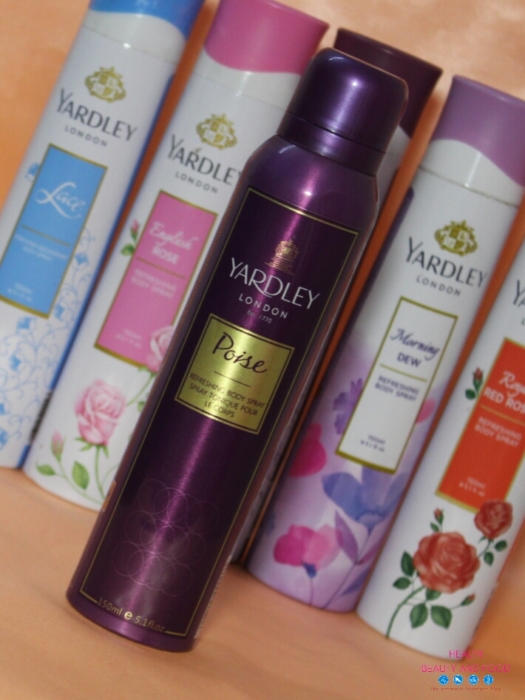 Yardley London Poise is the first one I picked and totally fell in love with. This one smell more like perfume. The fragrance is good mix of floral and spice. This is so feminine and chic, something you would love to wear in the evening. This is my favourite amongst all and I'm definitely going to buy it again. It is not available anywhere online or reliance mart. 🙁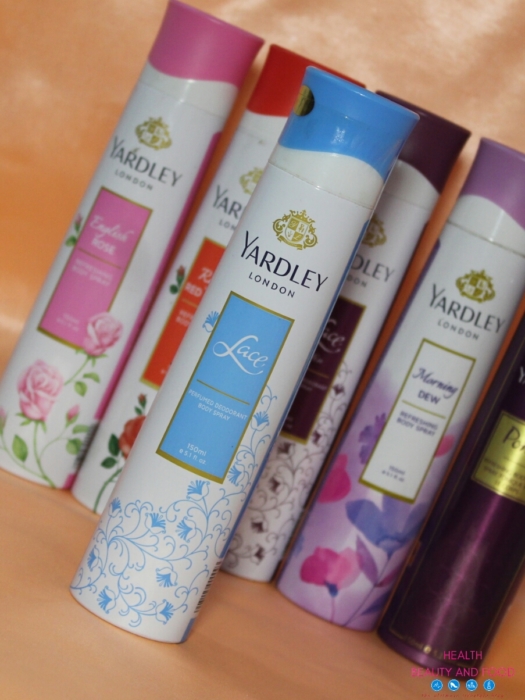 Buy Yardley Lace Deodorant here
Lace is again a nice subtle feminine fragrance, more on the floral side. Not overpowering yet not understated. Just perfect. This is my second favourite.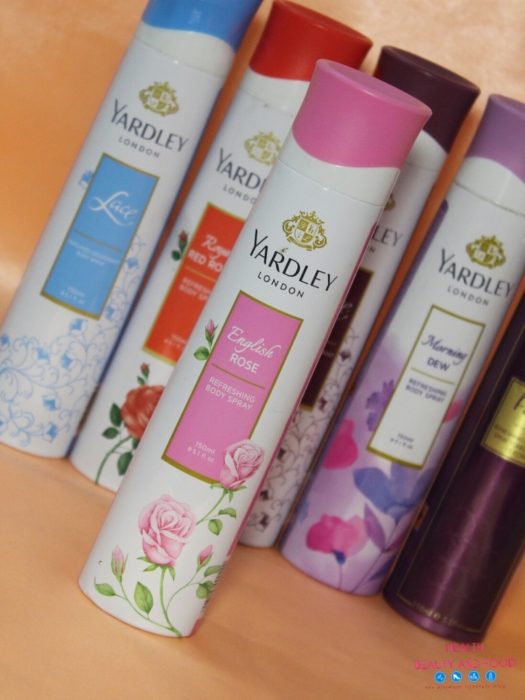 Buy Yardley English Roses Deodorant here
Next comes the two rose fragrances I tried. I'm not really a fan of the typical rose smell we usually get in cosmetics. Very rarely I like some rose scents. And these two from Yardley London Deodorants are something I like. The first one is English Rose which is such a fresh, decent rose fragrance. It is a bit stronger as compared to Royal Red Roses, the other rose deodorant I have.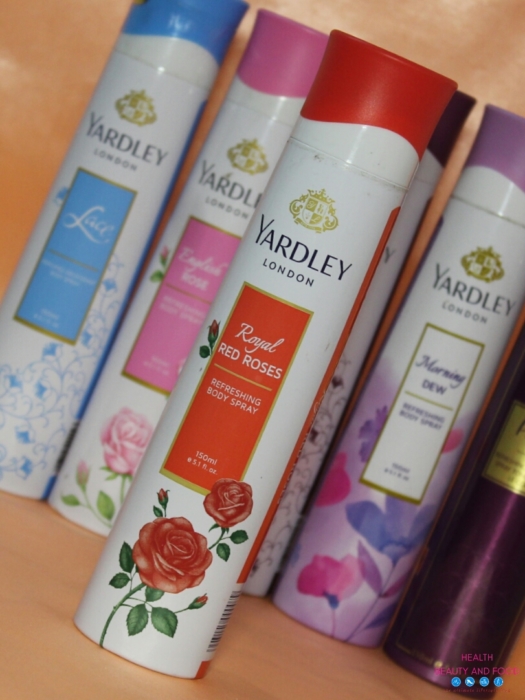 Buy Yardley Royal Red Roses Deodorant here
Royal Red Roses deodorant is quite subtle rose scent deodorant. Both of these are a must try if you like rose scent.
Also read: Fogg Essence Fragrant body spray review
Then I have tried Yardley Morning Dew Deodorant which as the same suggests is a fresh, floral fragrance. Again neither too mild nor too strong. You would like it if you like fresh floral scents. I didn't like it that much and I don't see myself repurchasing this one.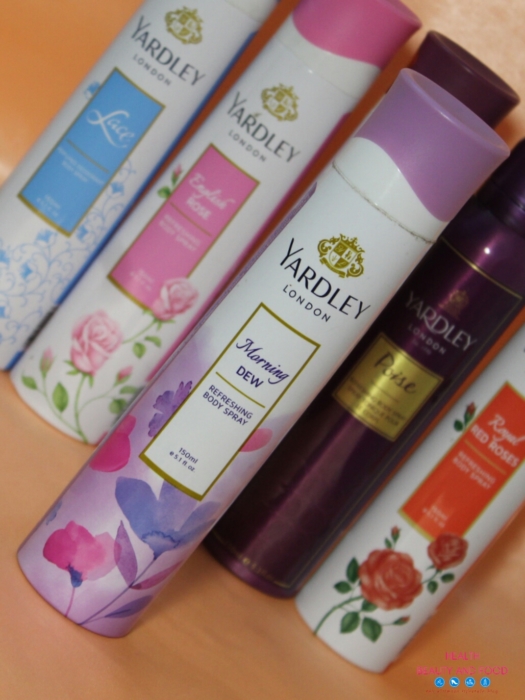 Buy Yardley Morning Dew Deodorant here
Last one I tried is Lace Satin. I did like this one when I sniffed it in the mall but after coming home, I didn't like this at all. This has a very talcum powder like floral smell and I hate that smell. If you have ever smelled spinz or pond's talcum powder, lavender one I guess, then you must be getting what I mean. This is again something I'll never buy.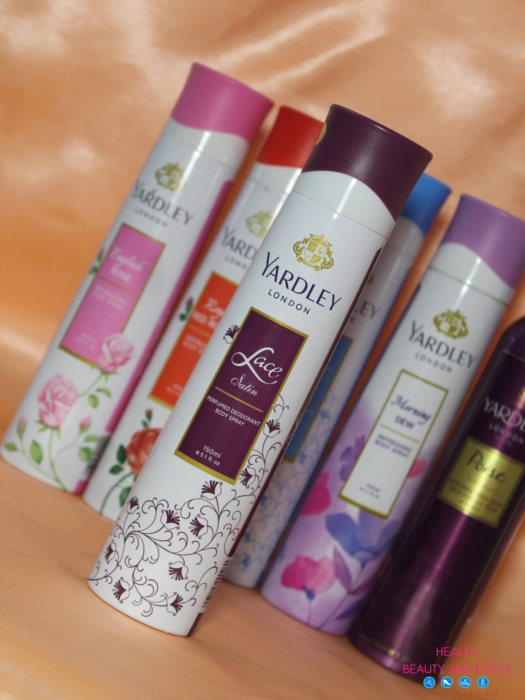 Buy Yardley Lace Satin Deodorant here
Now coming to the staying power, I use these deodorants after bath, directly on my skin and the fragrance stay fresh for good 3 – 4 hours. After that it starts to fade but I can still smell a bit of the fragrance after 5 – 6 hours. I believe all the deodorants last this long. I would also like to mention that in spite of spraying directly on the skin, I didn't feel any irritation.
Overall, I feel Yardley London deodorant range have a nice floral, fresh and feminine fragrances. The deodorants have an average staying power, doesn't irritate skin and they are inexpensive too. I would really recommend trying my favourites Poise and Lace from all the six I have shared.
That's it for this post. Let me know your thoughts on Yardley London deodorants and you have tried any deo from this brand, do share your experience with me in the comments below.
Check out:  Secret Temptation Affair Deodorant Review
For more such reviews, keep visiting Health Beauty and Food. Do connect with us on Facebook, Twitter, Instagram and Youtube.