I remember those days when my grandfather was admitted to the hospital, all he wanted was to go home. Home is the most comfortable place for everyone in the entire world. No matter how sick you are, no one intends to stay in the hospital.
Blame the atmosphere of the hospital or human nature; the fact is no patient likes to be hospitalised. Everyone wants to get cured in the comfort of their home. Understanding this reality, Vipin, Abhishek and Garima, who studied at IIT, co-founded Care24.
Care24 is the leading home healthcare services provider in Mumbai. Whether you need a nutritionist, a physiotherapist or an attendant at home, Care 24 will arrange them for you. They also provide medical equipments for purchase or renting.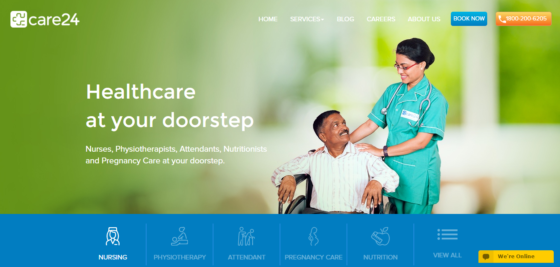 How Care 24 works?
Once a service requirement is registered with Care24, either by call or through the Care24 website, a lead is created. They understand your needs and book the services as per your request. The suitable caregivers like a nurse or a physiotherapist are matched according to your preference and time. The services commence and are monitored at regular interval of times. Feedback from the customers is taken regularly.
Why Select Care 24?
Care 24 Caregivers i.e. nurses, attendants, etc. are onboarded after a strict screening and selection process. Care24 takes various tests, performs a thorough background check to ensure their customer's safety. All the nurses are ANM, GNM with 5+ years of experience. The nutritionists and physiotherapists are 3+ years experienced. Apart from this, caregivers also undergo Communication & Behaviour Training, Emergency Response training to ensure they take care of the patients well at home.
Care24 services at a very affordable price and you can book services using their mobile app.
Patients are the most comfortable within the comfort of their homes. The best recovery and healing of an ailing person happens only at home because there he/she is physically, mentally and emotionally at ease. Care 24 thrives to fulfill this purpose to the core. The Service verticals offered are:
Services offered:
1. Nursing
Injections and Intravenous medication administration
Timely medication and Monitoring
Tracheostomy Care
Bipap and Nebulization
2. Attendants at home
Assistance in daily activities – bathing, dressing, eating, monitoring.
Help in walking, change position in bed.
Assist in Home exercises, polite conversation and toileting.
3. Physiotherapy Treatment at home
Physiotherapy Treatment for Arthritis, Back pain, Sports injuries and more.
Hip and knee joint replacement, BAlance disorders, alzheimer's disease
Cerebral Palsy, Brain Stroke, Parkinson's Disease
Spinal Cord Injury, Chest Physiotherapy
4. Nutrition Guidance and Assistance
Nutrition counselling as per your convenience at home or video chat.
Personalized and goal oriented diet plans which don't make you starve
Continuous support and advice over phone and skype.
5. Pregnancy and Infant Care
Periodic Monitoring of mother and child.
Nursing Care and Vaccination for the baby.
Lactation advice and Nutritional guidance
Sleep Management Counselling, Post-Partum Depression Counselling
6. Equipment Sales and Rentals
BP monitoring machine
Oxygen Cylinders
Hospital beds
Wheel Chairs
You can book Care 24 services using their toll free number 1800-200- 6205. For more details visit their website and blog.