I've been a Dove Soap user since years and I was very loyal to it till now. That's because I never found any soap better than Dove. I was addicted to the greasy film that dove leaves after using that's why I didn't like other soaps.
But now when Aster and Fuschia sent me their Handmade Soaps to test, I've ditched dove. I can't say whether I'll be coming back to dove again as I'm liking these natural and handmade soaps. These soaps cleanses skin well without drying, comes in various flavours and the best part is a mental satisfaction that you're using something natural.
Today I'm going to talk about Aster's Aloe Vera soap, a soap I liked more because of its fragrance. Learn more about it in the review below: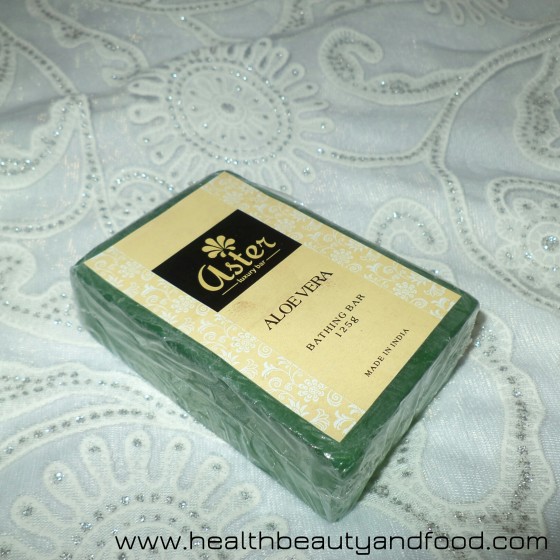 Price: Rs. 150/-
Quantity: 125 grams
Shelf Life: 2 years
Ingredients: Coconut Oil, Sorbitol, Castor Oil, Myristic Acid, Stearic Acid, Cocoamido Propyl Betaine, Glycerin, Propylene Glycol, Aloe Vera Fragrance Oil
Buy 3 Aster Aloe Vera soaps for Rs.299/- from Snapdeal and Shopclues
Company's Claim: Aster Luxury Aloe vera premium handmade bar soap contain natural aloe vera extracts and herbal ingredients. Aloe Vera is known for its medicinal and beauty benefits which help in enhancing beauty naturally. Its natural long lasting fragrance provides freshness throughout the day. It diminishes pimples and dark spots and controls sebum excess. Regular usage of Aloe Vera soap bar keeps the skin healthy and moisturised. Made from pure and vegan ingredients this soap bar does not contains any synthetic chemicals and is good for all skin types. No Paraben. No Phthalates. No animal testing.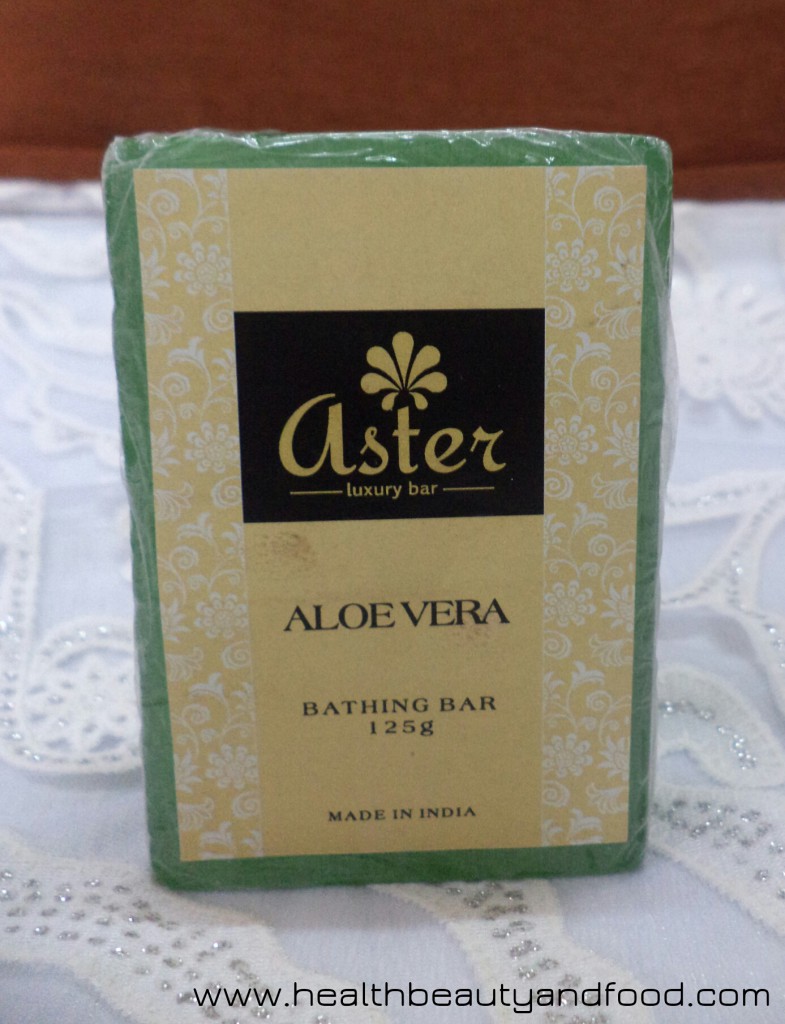 Packing: Aster Luxury Aloe vera soap comes in a not-so-luxury packing. Just a transparent plastic wrapper with details printed on paper, stuck both on the back and front. If you buy their gift pack then you'll find the packing premium.
Also Read: Everyuth Naturals Advanced Clear Beauty Tulsi Turmeric Face Wash review

Experience:
Aster Luxury Handmade Aloe Vera is a green coloured translucent soap which smells herbal. I just love its fragrance and I so wish that it stays for long time but it vanish in few minutes after bathing :(. It lathers decently but doesn't create too much foam. So you are a foam lover you may not like it.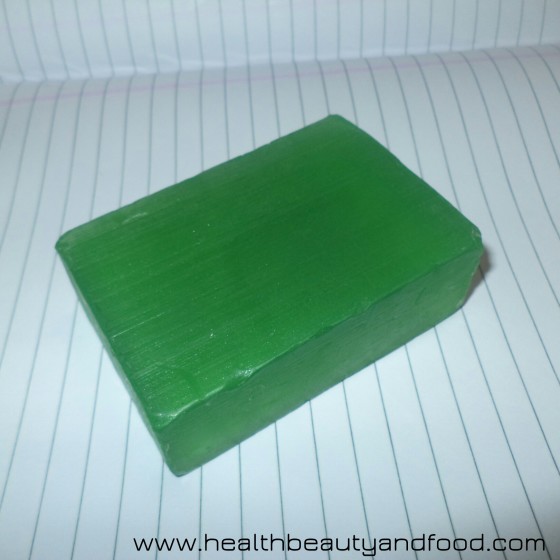 It cleanses the skin really well and doesn't leave any greasy or stretchy feeling behind. My body skin is normal to dry and is more on the dryer side during winter. I was using Aster Aloe vera soap in early winters and it didn't made my skin crave for moisturizer. I feel my skin becomes soft after using it.
Aster aloe vera soap comes with all the goodness of natural ingredients like castor oil, coconut oil, aloe vera, etc. so are assure that nothing harmful is going in your skin. The doesn't melt quickly and last long. For me it lasted for more than 20 days.
You may also like: Oxy Glow Strawberry Face Wash Review
What I like about Aster Aloe Vera Soaps:
Natural & Handmade
Nice fragrance
Lathers decently
Cleanses well
Makes skin soft
Squeaky clean feeling
Lasts long
Cruelty free
What I dislike about Aster Aloe Vera Soaps:
Cheap packing (of individual soaps)
Fragrance doesn't last long
Not available offline
Price may be a concern for some
Buy set of 6 Aster Aloe Vera Soap only for Rs. 598/- 
Rating: 4/5
Verdict: Aster Luxury Handmade Aloe Vera Soap is a decent soap which cleanses skin well while leaving it soft and smooth. It contains all the goodness of aloe vera and it will suit all skin type. As it is natural I recommend it to sensitive skin too. If you are looking for a medium range, natural, handmade and cruelty free soap, then do try this. I'm sure you won't regret.
Have you tried Aster Luxury Handmade Aloe Vera soap? How was your experience with it? Share with me in the comments below.
Stay Connected via  Facebook, Twitter, Google+, Pinterest and Instagram.
P.S. PR sample. Honest review.