Hey everyone,
I've been really busy past two weeks and this is why there wasn't any post on the blog. I have received this Fuschia box two weeks back but I didn't share anything on social media (Not even on Instagram where I'm most active nowadays). So I decided to write a post sharing what I've received from Fuschia.
I'm sure many of you reading this post are aware about this brand as it is quite popular with the beauty bloggers. Fuschia is a child brand of the company Vkare which sells handmade soaps and lip balms. I'm liking their soap packing very much. The soaps are packed in colourful papers with internal transparent plastics packing. The details like price and manufacturing date is mentioned on the pack but the expiry date and ingredients list is missing. They didn't even mentioned the description on the pack which is what I dislike.
Check out my Jabong.com haul and review
The lip balm is packed in cute little green and golden pouch with 3 mini cards on which details about the lip balm is given. I liked the packing of lip balm too. Though the lip balm comes typical round small plastic tub but the outer packing is something unique, different from other lip balms.
I've received 3 soaps and 1 lip balm.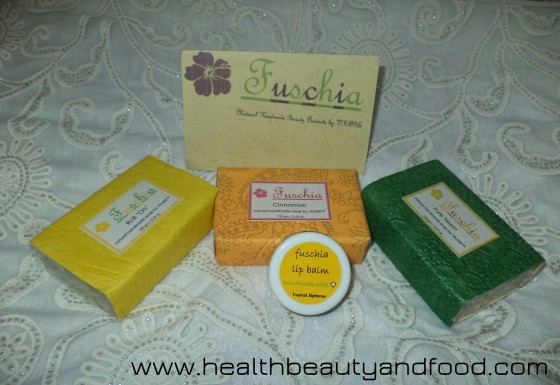 Let's see the details below:
1. Fuschia Cinnamon Soap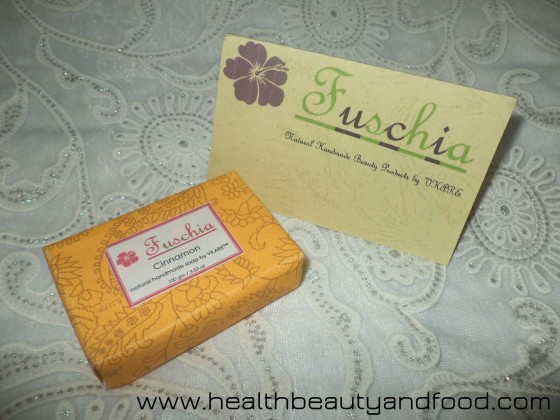 Description: Cinnamon – Bid adieu to pimples and welcome healthy skin: If you're tired of spending money on acne creams and ointments but failed to get the desired results, it's time to take some homemade remedy approach. Considering the multiple benefits you get, home-made and natural herbal soaps are turning more and more popular. A blend of honey and cinnamon is highly effective for healing wounds and treating skin itching problems. It's also effective for treating blackheads. Cinnamon is beneficial for oily or combination skin types. It helps to tighten skin pores and makes your face clear and smooth.
2. Fuschia Pure Neem Soap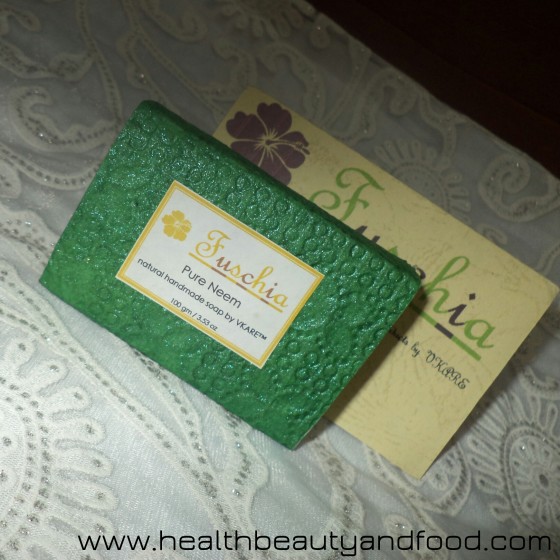 Description: The Neem Tree is an evergreen tree that is part of the mahogany family and is a common feature of the drier regions of India, Southeast Asia and parts of Africa.
Neem bark, leaves, fruit, seeds and oils all contain medicinal qualities.
Many of these qualities play an important role in healthy skin care :
a. Antiviral – inhibits the growth of viruses
b. Anti-fungal – inhibits the growth of fungi
c. Antibacterial – destroying the growth of bacteria
d. Analgesic – providing pain relief
e. Anti-inflammatory – reduce certain signs of inflammation, swelling or tenderness
f. Antimicrobial -destroying the growth of microorganisms
3. Fuschia Roll On Soap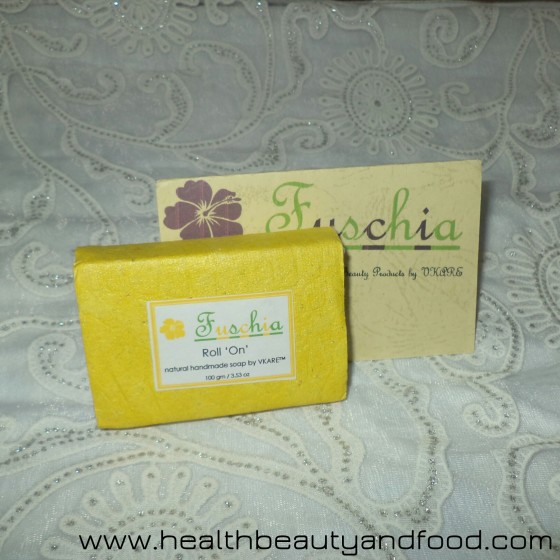 Description: Purely natural and handmade glycerine Soap (Nothing else mentioned).
4. Tropical Alphonso Lip Balm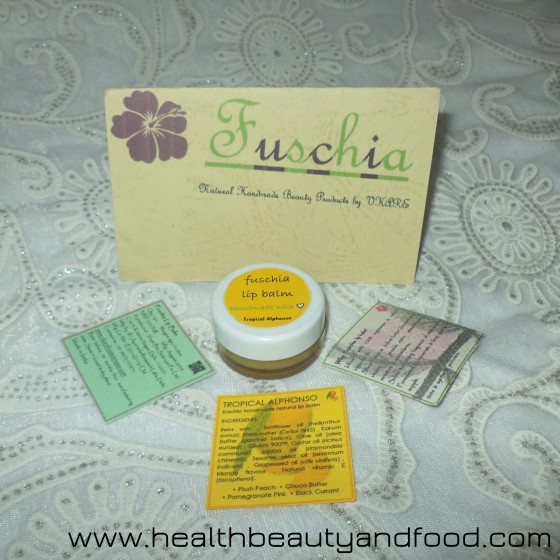 Description: Shea Butter & Kokum Butter Blended With Vitamin E Provide Extra Moisture & Antioxidants.
Subtle & Soothing Fragrance of Natural Oils.
Moisturizes The Lips, Without Any Colour Retention.
Formulated To Rejuvenate And Keep Your Lips Supple.
Non Allergic
Free Of Parabens, Petroleum Base, Artificial Tints And Synthetic Perfumes.
Without Any Animal Testing
Have you seen what I got from Hiphop Skin Care?
I've already started using the Cinnamon soap and Alphonso lip balm so expect a review soon.
The Aster Luxury soap giveaway has ended yesterday and I'll be announcing the giveaway in few days.
Have you tried Fuschia soaps and Lip Balms? How was your experience? Do let me know in the comment section below.
Keep yourself updated with recent posts by following HBF on Facebook, Twitter, Google+, Pinterest and Instagram.
P.S. Description taken from Fuschia's website