One of the clothing items which stir fear among women is the cropped tank top. This summer outfit became a staple of the hot season, mostly thanks to Kim Kardashian, who managed to style these tops flawlessly. Crop tops work amazing on her curves, but can they look at least half good on other body type? The unexpected answer is yes! Learn how to make the crop top rock every body shape and you will never feel the anxiety of wearing cropped tank tops again.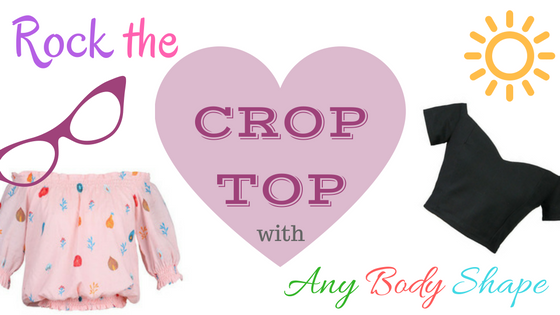 Tall and slim
When you are tall and slim you can benefit a lot from bright colored patterns on your tops. However, keep the bottom side in one solid color, in order to achieve a nice visual balance. This combination is going to make you look slim, without being too tall.
Plus Size
There is a strong misconception that plus size women can't wear cropped tank tops – which is completely wrong! The key is matching a short or midi length, crop top with a high waist skirt, so only a thin strip of skin is visible. You can also add a vest, which lengthens the silhouette and provides a nice balance to the entire outfit.
Reverse triangle
Androgynous women with narrow hips and wide shoulders benefit most from halter neck cropped tank tops. These draw attention to the neck and lengthen the silhouette, while narrowing the shoulders. Wear the crop top with a puffy skirt, which can add volume to the hips area.
Busty
If you are generous on the chest area, you should try a simple trick: wear the crop top over a shirt. The best pick is a simple button-down white shirt, worn underneath a black crop top or a bustier. The contrast is going to minimize the size of your chest and will balance the entire look.
Curvy
What better inspiration for curvy ladies who want to wear cropped tank tops than Kim Kardashian? Pair the top with a pencil skirt with high waist. This outfit will emphasize your curves, giving you a sexy look, without revealing too much skin.
Petite
Petite women can wear crop tops, but they need to style them in such way the outfit can add length to the silhouette. This can be made by choosing a crop top with a lifted hem on the center, which can lengthen the legs. Add vertical stripped pants and a pair of high heels to create a working outfit, which will give you a supermodel's legs.
Pear shape
For the pear shape woman, who is narrow in the shoulders, but wider at the hips, crop tops can be styled with high waist pants to create the right balance. Pick a white or another light shade for the top, in order to create the illusion of volume. At the same time, the bottom part should be in a dark color, which can narrow the hips. Together, the two contrasting colors are going to create a balanced silhouette, with narrower hips and wider shoulders.
These are some styling tips for you. If you are ready to rock the Crop Top now, do check out some independent designers' collection on Stylewe. Apart from cropped tank tops, they have some trendy sweatshirts, dresses and jackets. Follow Stylewe on Facebook to know about offers and latest trends.