Women in the 19th century were not in the forefront of the business world, as I'm sure a lot of you know. They were usually the owners of taverns, retail shops, hotels and brothels – highly localized businesses that were mostly overshadowed by big companies and corporations ran by men. Most often than not, women who were not married or were in similar circumstances were content with being in the background during their own pursuit for income.
For the women from this age, comfort was key. They didn't dress to impress; they dressed for mobility. Attending to customers, checking rooms, and running quick errands meant that they had to be able to move at a moment's notice. While the gentlemen may have found themselves sweating underneath thick, starched business suits, women were happily clothed in breathable cotton. The fashion of that time also demanded that women be covered completely from head to foot. This meant multi-layered skirts and petticoats, blouses with ruffled sleeves and high necklines, and sensible brown shoes. Even the women who owned brothels and taverns were expected to be decent. This all changed when the 1920's rolled around.
Today, women treat dressing up as a statement.
The best way to tell what a woman is like is through the clothes she wears. For businesswomen especially, the clothes dictate their power, position, and personality. A smart pantsuit, modest pencil skirt, or sharp-cut blazer on a woman is enough to tell a man "I worked hard to be where I am today, so don't you dare pull a fast one on me." While it's true that the clothes don't make the man (or woman, in this case), appearance is still everything. In this article, we focus on the business woman. Here's a guide on looks that strike the razor-thin balance between business chic and casually formal.
Midi Dresses with Sleeves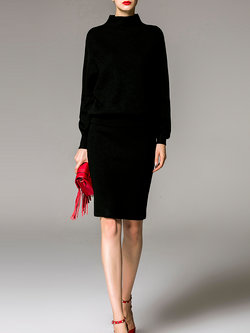 For casual Fridays, remind everyone in the office that you're a strong and capable woman who can look effortlessly gorgeous. Midi dresses are cut in such a way that the sexiness is counteracted with formal modesty. You can opt to go for the sleeveless style, but midi dresses with sleeves are better suited for the office environment. Whether you go for a ¾ length, cap sleeves, or long sleeves, you're sure to look fun and flirt without losing your professional edge.
Women's Blazer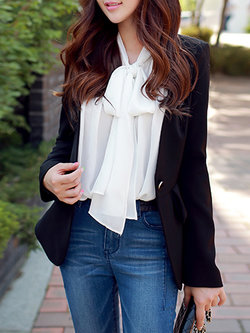 The best thing about being a woman is that we can wear men's clothes and it'll somehow look better on our bodies. That said, there is nothing that screams successful professional more than dark-colored blazer over a plain white blouse and black slacks. Leave it unbuttoned for a fresh, casual look or close it and look every inch the bad-ass bossy lady you were born to be.
Fitted Turtlenecks
What separates a business woman from a college party girl is their perception of appealing. A sorority sweetheart thinks the more skin she shows off, the more desirable she is. A professional woman knows how to look alluring and attractive even when she's all covered up. Enter the fitted turtleneck. Whether it's a simple white turtleneck sweater paired with black pants or a dark-grey turtleneck dress paired with corduroy boots, a businesswoman can rock that air of mystery to look stylishly sharp and so above you, she's unattainable.
This is a short dressing guide for business women. You can find more stylish dresses at StyleWe which a global online shop selling designer wears. You can find asymmetrical maxi dresses, vintage and boho mini dresses to work & party dresses, everything at StyleWe.