What does BB Cream means? Blemish Balm? Beauty Balm?
For me BB cream is a lighter version of foundation which provides some coverage, even outs my skin tone and yes, gives some sun protection too (because almost all the BB cream provide that).
I'm not much into base make-up. I don't even use compact on a regular basis thanks to my dry skin. Foundations for me is something to be worn on special occasions when I decide to do a full of make-up. And sometimes I ditch my foundation and wear a BB or CC cream instead. I have tried Garnier's BB cream and Pond's BB cream so far and I find both difficult to blend on my dry skin without a moisturizer. Both of these BB cream provides some coverage so I was expecting the same with the new Spinz BB Cream. Did this fair my expectations? Read on to find out.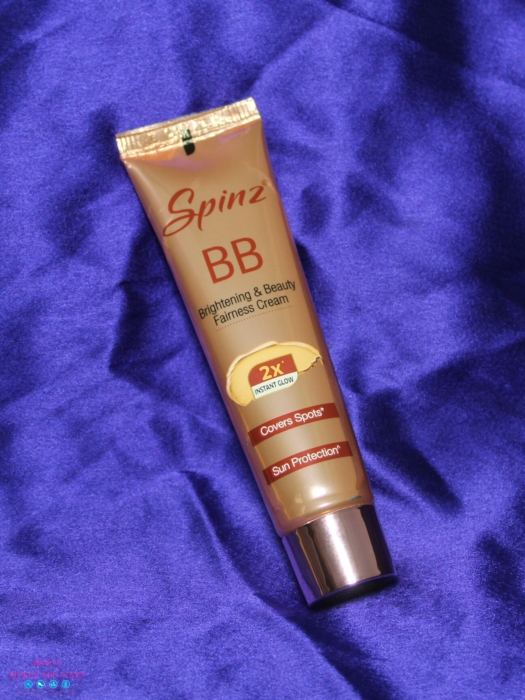 My take on the Spinz BB Cream:
Spinz BB Cream comes in a rose gold metallic tube which I found attractive. This tube to comes with an outer box with all the details printed. The price of 29 grams tube is Rs. 95 and they do have a 15 grams tube that come for Rs. 52. The "BB" in this cream stands for Brightening and Beauty and this is actually a fairness cream as per the brand. I find the branding of this cream very confusing. They call it a 'BB cream' and a 'fairness cream' something like the pond's BB Cream.
The texture of this is cream is really soft and velvety as claimed. I had applied this cream with my fingers and it did blend very easily. But the cream is blended, I did notice it settling into facial lines.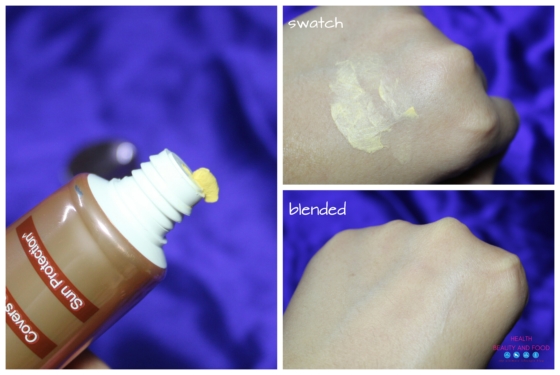 Spinz BB Cream claims to provide 2x instant glow, cover spots and blemishes and give an even toned look. These claims are not completely true. The cream is yellow-beige colored and when I apply it, it looks yellow on me an doesn't really make my skin glow-y. It does make my face look artificially brighter and 'fairer', something a fairness cream is supposed to do. Have you guys tried Vicco Turmeric? This cream reminds me of that. It gives the exact yellow-fairer look like Vicco turmeric cream gives but it smells better than that. The fragrance is pleasant and subtle which is something I like.
You may also like: L'Oréal Paris Skin Perfect 20+ Cream Review
In terms of coverage, I don't think it covers any spots or blemishes and I don't feel it evens out my skin tone. All it does is that it creates a bright yellow layer on my face. Now this layer is suppose to look good but I didn't like it on my face. I have seen others using this cream and it did make them look good (on camera at least).
The packaging mentions of sun protection but there isn't any mention of SPF or PA anywhere. I wonder what sun protection does it provide. Also, only the key ingredients are mentioned on the tube, full ingredient list is missing.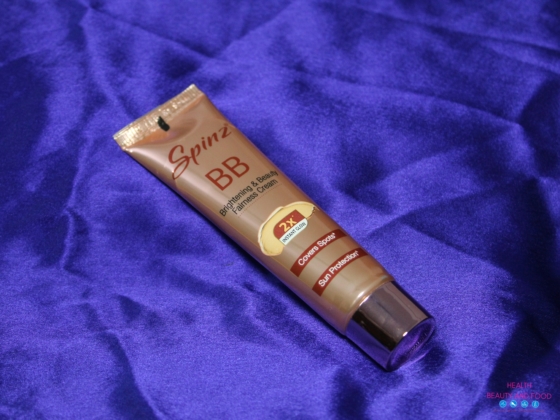 Final thoughts:
In my opinion Spinz BB cream is not a BB cream, it is something like a fairness cream or powder cream that provides instant artificial fairness. It doesn't provide any coverage which a BB cream is suppose to do. Neither does it looks natural on the skin. You are looking for BB Cream, don't go for this. But if you are looking for a replacement for your fairness cream (still using one) then you can give this a try.
Have you tried Spinz BB cream? What do you think about it? Which is your current BB cream?
For more such reviews, keep visiting Health Beauty and Food. Do connect with us on Facebook, Twitter, Instagram and Youtube.