I have introduced the L'Oréal Paris Skin Perfect Range to you guys in my last post. Today I'll be talking about Age 20+ Cream from this range.  in my previous post. You can read it here. I have been using this cream since a few days and here is what I think about it now: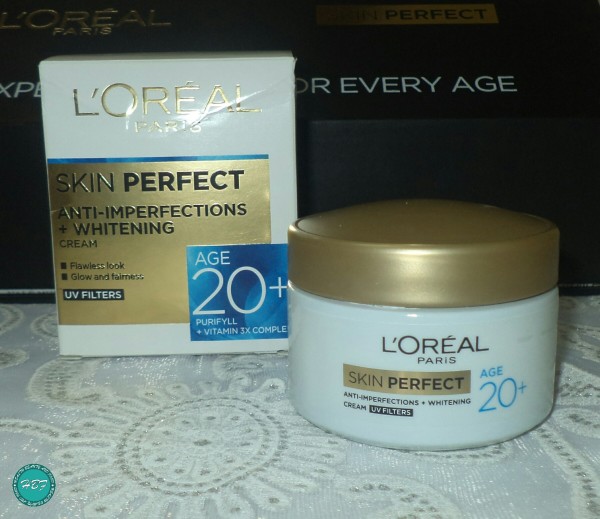 L'Oréal Paris Skin Perfect 20+ Cream comes in a white glass tub with an inner lid and a golden cap. I found the packing an attractive one. That's because white is my favourite color and I like white and gold combo. If you have a problem with the tub packing then don't worry, the 18 grams variant comes in tube packing.
The cream is of thick creamish colored with pink tint to it. Though it is thick in texture but it can be applied easily. The cream gets absorb into the skin quickly and gives a matte finish.
My skin is dry and this is why when I apply L'Oréal Paris Skin Perfect 20+ Cream alone, it settles into dry patches and leaves a whitish cast on the face. But when I use my moisturiser underneath, it spreads evenly. All you need to do is take one area at a time and apply the cream in dots. This will help the cream to spread evenly.
After applying L'Oréal Paris Skin Perfect 20+ Cream it gives a nice glow to the skin and the skin's texture instantly looks good. It doesn't cover any scars or blemishes, just make your skin fair and glowing instantly. Also, when I use this cream under my make-up, my make-up last a little long. So this cream acts as good make-up base.
To summarise what I feel about this cream in my initial days of usage is that the cream has a thick textures but still it spreads well. The cream instantly brightens my skin but doesn't cover any blemishes and dark spots. It will suit oily to combination skin well and for dry skin, you need a good moisturiser underneath.
I'll give my final verdict about L'Oréal Paris Skin Perfect 20+ Cream after it ends, so keep an eye on the blog.
I hope you like this initial impression type-of review. Do let me know if you want to see more such initial review on the blog. Also, if you have tried this cream, please share your views about it in the comments section.