I'm super excited for today's post as this is my first ever subscription bag review. I was never into subscription boxes but after getting this Red Carpet Fab Bag July 2015, my views are changed. Just look at this pouch, its gorgeous! Perfectly matching the Red Carpet theme.
Even the contents are good. There are 2 full size make-up products in the bag to achieve that glamorous look. Have a look:
Red Carpet Fab Bag July 2015 Contents:
1. Bellapierre Mineral Lipstick:
First make-up product in my July 2015 Fab Bag is this Bellapierre Mineral Lipstick in the shade Ruby. It is a pretty cool-toned Red color which is very moisturising. This lipstick is worth Rs. 1500/- but I feel packing is too cheap for the price. Also, the outer cartoon is missing so details like ingredient list and shelf life is missing.
2. SUGAR Eye Told You So! Waterproof Eyeliner:
Second full size make-up product is this Eyeliner from the Brand SUGAR. Fab Bag has introduced this brand for the first time in this July 2015 Red Carpet Fab Bag. The brand says it is waterproof, but no its not. I received this SUGAR Eye Told you so! Eyeliner in the shade Black Swan which is priced at Rs. 699/-. It a matte black eyeliner which comes with thin tip to draw precise lines. Lasting power is good and the best thing about it is that it comes off easily with water. No raccoon eyes!
3. Vana Vidhi Luxury Summer Shimmer Sunscreen:
I received a half-size sample bottle of this Vana Vidhi Luxury Summer Shimmer Sunscreen which is actually a shimmer body highlighter. Full Size 115 ml bottle of this product comes for Rs. 2400/-
4. Ayorma Spa Fairness Daily Scrub:
Mini sample size tube which last for 2 -3 times. Ayorma Spa Daily Scrub is more like a face wash which has very fine granules in it. 50 gm tube of this scrub comes of Rs. 279/-.
5. Ayorma Spa Fairness and Anti-tan Face Wash:
Again a sample tube which last for 2 – 3 time. It is an ayurvedic face wash which cleanses skin and removes tan. You can get this Face Wash in 100 ml tube for Rs. 349/-.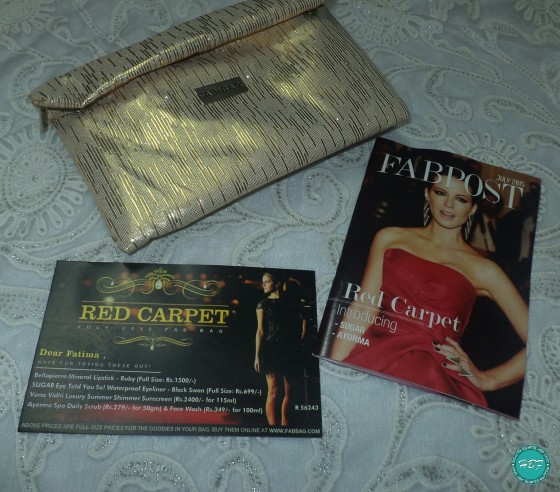 I'm very happy with my first ever Fab Bag. My favourite products from this Red Carpet Fab Bag July 2015 are the lipstick and eyeliner. What are your favourite products? Let me know in the comments below.
PR Sample. Honest Review.