Online shopping has now became a significant part of our lives. Books, bags, food, furniture, everything is just a click away. We sit on our couch, go through variety of products, select the one we like and bring it home. Apart from a wide number of shopping portals offering various products, we have a large number of coupons and deals websites too. These sites help us save some penny while shopping.
Today I'm introducing a new site to you guys which is going to revolutionize your online shopping. I'm talking about ShopBack India. I recently came across this website and I'm quite impressed with it. This is not a coupons and deals website but a cash back website which inform us about offers and deals too. Let's learn more about it.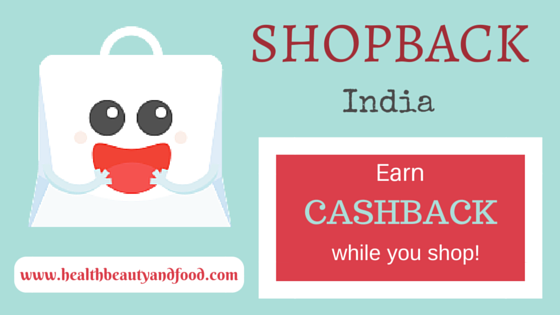 About ShopBack India:
It is a website which help us by sharing deals and discount offers and providing cash back on our purchase. Yes, this is true. Actually it works in this way. When we shop using ShopBack, they earn some bucks. Instead of keeping all the money with themselves, they share a portion of it with us by providing cash back on our purchases.
They have partnered with top Indian brands and website from different categories. To name a few there are shopping portals like Flipkart, Aliexpress, Jabong Amazon, etc. They also provide cash back and deals on hotel bookings, ticket bookings, tour packages, etc. You can even shop electronics items like mobiles, cameras and softwares too while getting some money return.
Its Features:
1. User-friendly Layout:
When I first visited Shopback India website, I saw a clean layout with all the details people will look for. They have placed the search bar at the top which I found very helpful. Most of the time when we visit such sites, we want to look for a particular deal. Placing search bar on the top makes it easier for users to get what they want without going throughout the site.
Menu is simple. They have categories like lifestyle, fashion, etc to search for stores. They also have a deals of the day section placed in the navigation bar where they display best deals. Next on the homepage is a slider featuring 3 offers and after that there is a small row of featured and trending stores and top deals.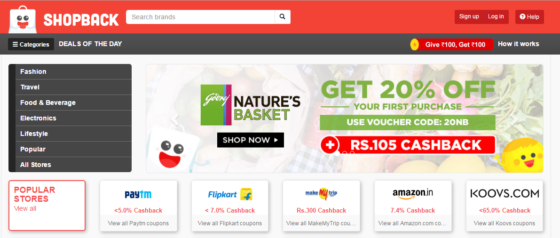 2. Top stores and brands to select from:
Like I have mentioned above, ShopBack has tied up with top brands and shopping portal from different categories. Fashion, food, travel, lifestyle, they have many different shopping options in all these categories.
3. Coupons and discounts:
Apart from providing cash back on your purchase, ShopBack India also inform about different discounts and coupons available.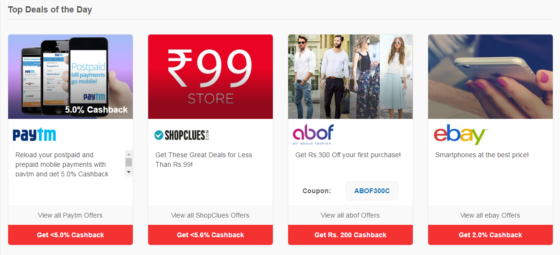 4. Earn on your first purchase:
They are giving Rs. 100/- on your purchase as a gift. I think this offer is for limited period so sign up now.
5. A chance to earn:
ShopBack India is offering us a chance to earn some cash merely by referring our friends. All you need to do is, share your referral link with people you know. When they register and spend Rs. 500/- you earn Rs. 100/-.
I'm sure you are now impressed with Shopback India and you want earn some cash using it. So what are you waiting for? Join ShopBack now and earn while you shop!