India is a country where we celebrate loads of festivals. From Diwali to Eid to Christmas, we celebrate different types of festivals which belong to different religions. Every festival has its own story, rituals and a unique way of celebration. Like if we look at the recently passed festival Holi, it is celebrated by applying colors on each other and eating and gifting lots of snack and sweets.
No matter what kind of festival it is, there are a few things which are common among each festival. And those are shopping, gifting and travelling to meet our relatives and friends. And all these require money. But what if I tell you that you can save some money in festivals too? Yes, you heard it right. Now you can spend less and make your loved ones happy on every festivals.
In this tech-savvy world we all usually opt for online shopping to save our time. But now we can save some bucks too while shopping online. There are many websites which feature deals and discount coupons of various online shopping website. The one I found recently is 27 Coupons. Lets learn more about this website and see what kind of deals and coupons they offer.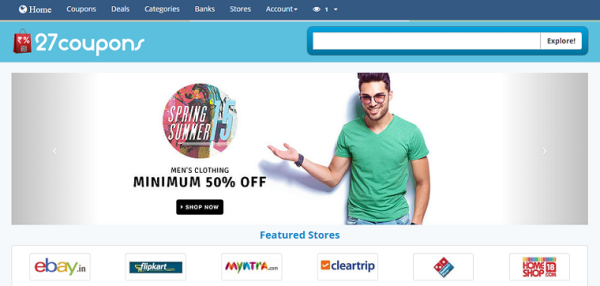 About 27 Coupons:
27 Coupons is a website where you can find some awesome deals and discount coupons of various online stores, restaurants and hotels and Cabs and Flights too. It is a decent website with very user-friendly layout. You will find some latest deals and coupons on the homepage itself. Plus, you can see deals in different categories using the sticky footer where all the icon for different categories are placed.
27 coupons has some famous shopping stores like Flipkart, Jabong, Myntra, Ebay, etc. In the travel section they have discounts on flights and bus tickets and hotel bookings. They have coupons of Goibibo, Makemytrip, cleartrip, etc. For restaurants they have deals on domimos, pizza hut, CCD, Monginis, etc. They also have offers of some banks like Axis Bank, Citibank, ICICI bank, Kotak Mahindra bank, etc.
Features of 27 Coupons:
As I mentioned above, the layout of this website is completely user-friendly. Have a look at how the coupons are sorted on websites and how you can find your desired one.
1. Search by coupons:
If you don't have any specific store in mind to shop from, then you can go through all the active coupons of different stores and select the one which is apt for you.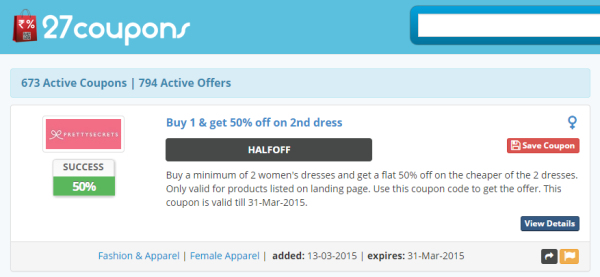 2. Search by deals:
Here you can see active deals from different online store. You can also sort the result by applying title, store and category filter.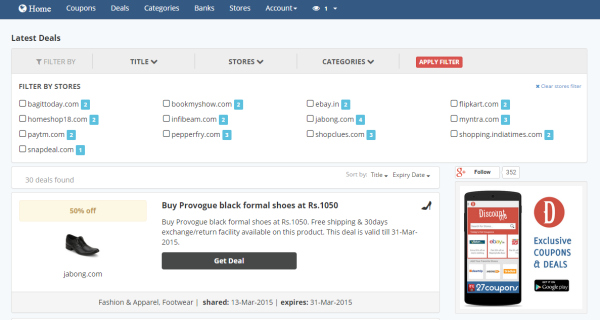 3. Search by categories:
This is my favourite type of search. You always know what you want to shop so, this search help you to find perfect deals from the category you want. 27 coupons have categories like bags, books, hotels, travel, restaurants, flights, personal care and beauty, fashion apparel, festive gifts, etc.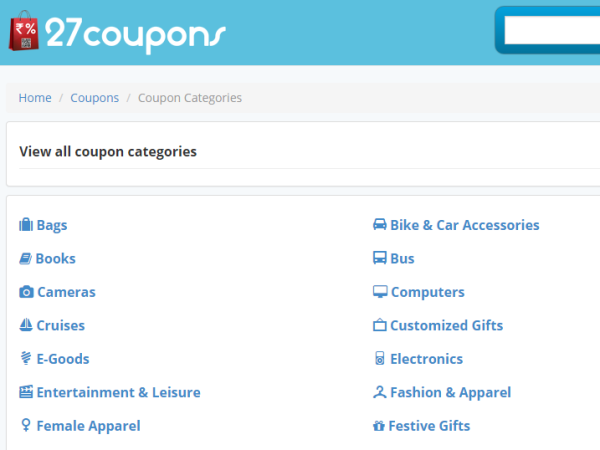 4. Search by Bank:
If you are looking for some banking deals then this section will help you find all the active offers of different banks.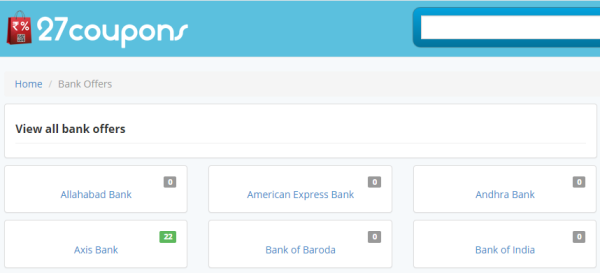 5. Search by Store:
If you have a specific store in mind and you want to see deals from that store only, then you can select that specific store from here.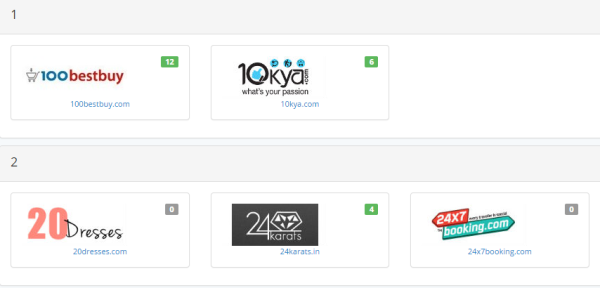 Some awesome deals I found on 27 Coupons:
I wanted to shop from Flipkart and was also looking for some gift items so went through these section. I had heard that 27 coupons have deals on Ola cab too, so I checked that section too. Here are some deals I found:
1. Flipkart:
Minimum 55% off on women's clothing
Upto 50% off on footwear
2. Gift items:
Indian Gift Portal: 15% off on Holi gifts
Print Venue: Upto 60% + extra 40% off on personalized products
Vista Print: Flat Rs.100 off on minimum purchase of Rs.500
3. Ola cab:
Rs. 200/- off on booking
Signup Ola cab app & get Rs.100 in your Olacab wallet
That's all from my side. Now the next time you want to shop online, don't forget to check out 27 coupons to save some of your money.
Have you tried 27 Coupons to find some coupons and deals while shopping? Let me know in the comments below.
For more such articles follow HBF on Facebook, Twitter, Google+, Pinterest and Instagram