Let me confess this to you guys, I'm really bad in applying liquid liners. Yes, I can handle kohl and pencil liners well but I am never able to draw better line using liquid liners with brush. This is why I never use to buy liquid liners. But after Maybelline launched its Colossal Liner with Precise Flexible Tip, I got into liquid liners. Though I need improvement but still I can apply this liner well. Its jet black, its long-lasting and you draw thin to thick lines using this as per your wish.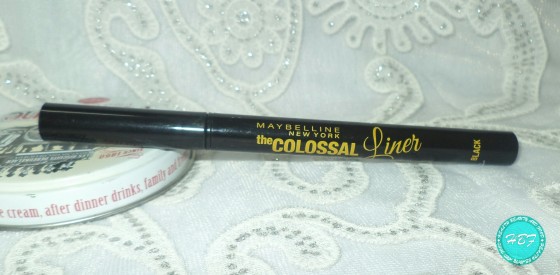 About Maybelline Colossal Liner:
Price: Rs. 425/-
Buy it here and get a Maybelline Lipstick Free or Buy it here for Rs. 397/-
Connect with Maybelline on Facebook, Instagram and their blog
What Maybelline says about this:
• Quick and flawless application
• Features a 0.4mm Flexi Tip
• 12 hour staying power & smudge free
• Intense color for stunning eyes
---
Also Read: Maybelline Colossal Kohl Crushed Emerald Review
---
Packaging: Maybelline Colossal Liner comes in a black pen with the name printed in yellow. The liner has thin flexible tip for precise application. Details like price and shelf life are mentioned on a white sticker stuck as a seal on the liner.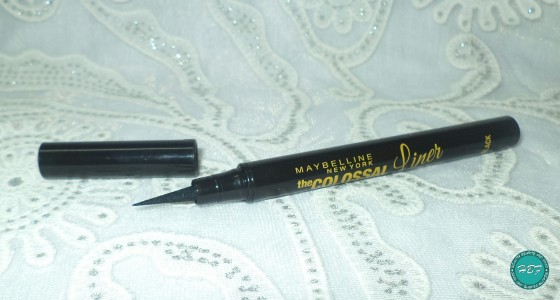 My experience:
Almost every Indian girl who wear make-up has Maybelline's Colossal Kohl in her kitty. I am not an exception. We know how good Maybelline's Colossal Kohl is. Upon seeing all the love it got, Maybelline has came up with its Colossal Liner too. Like its Kohl, this liner too is black, instense black.
It is a pen eyeliner which is easy to carry and use. Just open the cap and use it. The tip of the liner is really good. One can achieve subtle thickened lashes look by draw very thin line close to the lashes. And even dramatic look by drawing a thick winged eyeliner or cat eyeliner. I love how easy it is to use. If you are like me who is not comfortable using liquid liners with brush, you will definitely love Maybelline Colossal Liner. Within a few uses you will become a pro.
This Eyeliner dries very quickly, say in 15 -20 seconds and it does not smudge or budge. It stays intact whole day. Yeah whole day. So this 12 hour claim of Maybelline is true to a great extent. But yes, it is not water proof. It can resist water but if you touch the eyeliner when it is wet, it will come off.
Maybelline is a brand which brings decent products at cheaper price. The Colossal Kohl was for Rs. 15o/- when it was launched but Maybelline Colossal Liner is a bit on the expensive side. I wish Maybelline had launched it under 300 bucks.
---
You may also like: Soultree Pure Black Kajal Review
---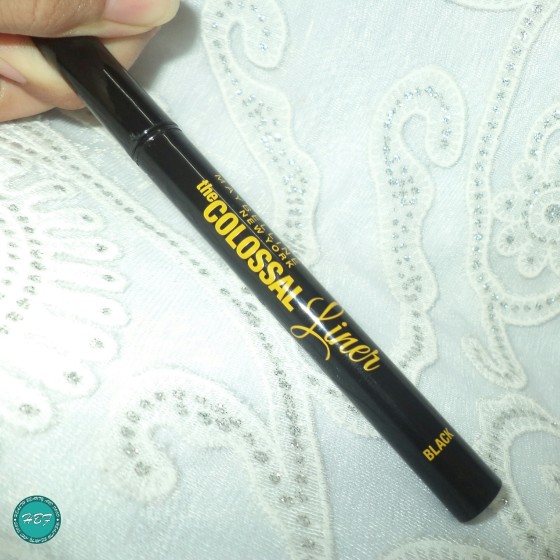 Pros:
Intense black liner
Dries quickly
Water Resistant
Long-lasting
Precise flexible tip
Easy to use and carry
Easily available everywhere
---
Perfect Fall lipstick: Elle 18 Color Pops Burgundy Wine
---
Cons:
Rating: 4.5/5
Verdict:
Maybelline Colossal Liner is one of the best Eyeliners available in the market. It is a true black eyeliner which dries quickly. It has convenient packing, good tip for easy and precise application and it last really long. If you are someone like me who is not comfortable with eyeliner brushes, you will definitely like this pen-style precise tip eyeliner.
Have you tried Maybelline Colossal Liner? How do you like it? Let me know in your comments below.
I hope you guys found this review helpful. For more such reviews, follow HBF on  Facebook, Twitter, Google+, Pinterest and Instagram.
PR Sample. Honest review as usual.