I have a strong liking for colored kohl/liners, especially for the green and blue ones. I feel colored kohl suit me more than the usual blacks. And when your favourite brand has come up with one, then there is no reason to skip it.
Maybelline has recently added 3 new shades in the colossal family i.e. Crushed Emerald, Jewelled Jade and Smoked Silver. All 3 shades are pretty but the one which attracted me the most is this Crushed Emerald. Before I could buy it, Maybelline sent me to test it. (Lucky me).
I already have the Black and Turquoise Colossal Kohls with me and I totally love them. Lets see whether this new shade has impressed me or not.
About Maybelline Colossal Kohl Crushed Emerald:
Lines like a kajal & defines like a liner
Smudge- free and refreshing twist
12 hour staying power
Smooth gliding tip for even application
Price: Rs. 249/-
Buy Maybelline Colossal Kohl Crushed Emerald here 
Packing:
It comes in typical colossal kohl packing. Yellow retractable tube (so no wastage due to sharpening) with green words and band on it to distinguish the shade from other.
The shade: Crushed Emerald is dark emerald-green color which has subtle glitter in it.
My Experience with Maybelline Colossal Kohl Crushed Emerald:
Emerald is one of my favourite stone and I love the emerald-diamond combo in jewelleries, especially earrings. This is one reason why I like this particular shade. Crushed Emerald is a very pretty green shade which looks gorgeous on everyone.
Maybelline Colossal Kohl Crushed Emerald is a creamy Kohl liner which glides easily on the eyes, without tugging or pulling it. I wear this Kohl on both my lash line and waterline and haven't experience any irritation until. I like wearing this on my waterline along with a black eye liner on the lash line. It look pretty good in this way.
It is a decently pigmented Kohl and one swipe transfer about 90% of the color. With 2 – 3 swipes the color becomes intense. Maybelline Colossal Kohl Crushed Emerald is a smudge-free kohl. I haven't notice any smudging till now. It stays on my lash line really long (6+ hours) without any smudging or fading. On my water-line it doesn't last very long. It stays for 3 – 4 hours on waterline and then fades slowly.
Removing this Kohl is very easy. I use my Himalaya baby wipes to remove it and it comes off easily. The only problem with Colossal Kohls is that they break. I broke my regular black one and this one too. So, you need to be careful while using it.
Overall, I'm very happy with this Kohl and I wish Maybelline bring more shades in this range.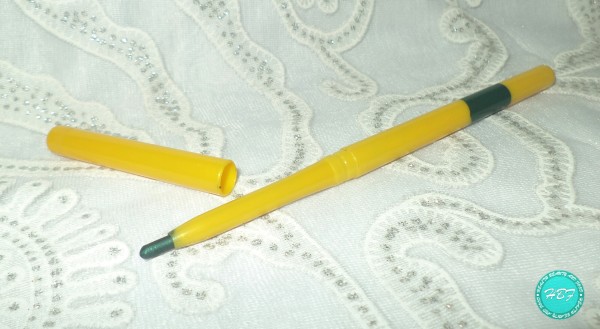 Why Buy this:
Affordable
Easily available
Smudge-proof
Gorgeous Emerald green color with metallic Finish
Glides easily on eyes
Suits almost everyone
Can be used on waterline and
Last quite long on lash line
Why skip this:
Doesn't last long on water-line
Tends to break
Rating: 4.5/5
Verdict: Maybelline Colossal Kohl Crushed Emerald is indeed a good shade for green kohl lovers like me. It is smudge-proof, long-lasting (on lash line), easily available and suits everyone. If you like colored kohls, do try it. You will love it.
Have you tried any of the newly launches Colossal Kohls? Which is your favourite among them? Let me know in the comments below.