Keeping your mental  well-being in check is really important. If you want to be a healthy person, it isn't just about looking great. You need to make sure your mind is in great shape too. These tips will help you to keep your mental well-being in check so you can live a happier life: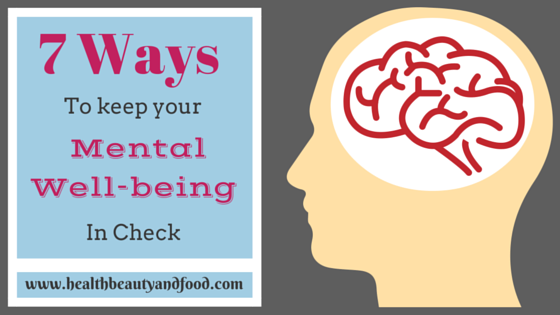 1. Don't Stress Out Over Things You Can't Control
Stressing out over things you can't control is silly and does nothing to help the situation you're in. If you're presented with a challenging situation, all you can really do is work out the next logical step and go from there. If there's nothing you can do, there's nothing you can do. There's no point worrying as this will only hurt you in the long run. The brain likes worrying because it makes us feel like we're doing something about our problems. We're not. Stop worrying and you'll probably have less problems.
2. Look After Yourself Physically
Looking after yourself physically goes hand in hand with looking after yourself mentally. To be healthy mentally, you want to make sure that you're eating good food. Food should nourish you and make you feel energized, so make sure you're getting nutrient dense food in your diet and not fast food junk. You should also get some exercise. This will help you to clear your head and feel amazing. Problems can seem non existent after a good bout of exercise! You'll soon get into the habit if you're not already, it's just a case of starting.
3. Develop And Challenge Yourself
Developing and challenging yourself can make you feel like you have more of a purpose in life. You're never too old to learn something new. The learning should never stop.
4. Speak To Other People
Speaking to other people is really important for your mental health. Some people need more time alone than others, but you still need face to face contact and contact with the outside world. Plus, if you have problems, speaking to somebody could help you. Many rehabilitation centres offer therapy sessions.
5. Read Books
Reading self help books and books on different subjects can help you to learn a lot. Whether it's about yourself or about the world, you can never do too much learning. Make sure you're reading as much as you can – even if it's about more ways to keep your mental health in check! There are books on just about everything these days. Don't get stuck in a rut.
6. Don't Be Too Hard On Yourself
You should never be too hard on yourself for anything. What's done is done. If you made a mistake, all you can really do is learn from it and pay the price if you have to. Usually, nothing is that bad.
7. Meditate
Meditation is so underrated, but there's a reason it's been used for so many years. Make sure you get 10 minutes in a day and you'll love what it does for you!
Try these tips and you'll change your life!
For more such posts keep visiting Health Beauty and Food. Do connect with us on Facebook, Twitter, Instagram and Youtube.
This post is a guest contribution. Click here to contribute to Health Beauty and Food.