Sweets sweets.. who don't like sweets? I love them! I'm a big sweet lover and eat almost everything sweet. Okay not everything, I'm very choosy. But hey we are Indians and everything in India begin with a mithai. Indian culture has a special place for it. And this is the reason why we Indians have a wide variety of sweet dishes. Ladoo, Pedha, Kalakand, Halwa and what not.
But nowadays people are so busy that they hardly get time to make sweet dishes at home. Okay we do take out some time during festivals and occasions but then there are many other times when we need sweets. Like when guests come to our place or have to visit someone. That's when we reach our local sweet shop. What if I tell you that you can order your favourite mithai sitting right on your couch? You can do that using Place of Origin.

PlaceofOrigin.in is India`s largest platform for speciality Indian foods. They 100+ iconic speciality food brands from across India deliver across 20 states of India. From sweets to snacks to staple food, they have everything. What attracted me the most to this site is that they have special Health Food and Ramzan Food too.
I went through their collection of Indian mithai and I was so tempted with the mouth watering sweets. From the usual besan ka ladoo, kaju katri and sandesh in different flavour, they also have Karachi Halwa, Patisa, anjeer tart, etc.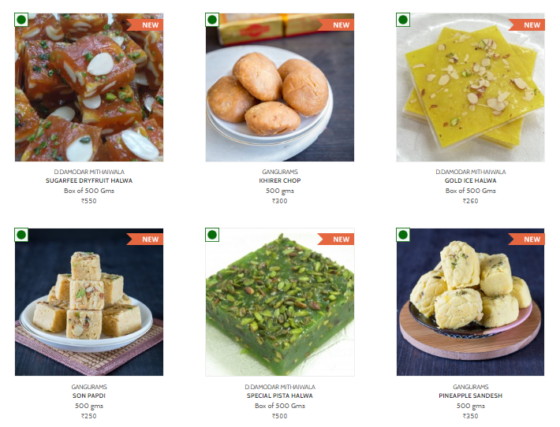 Apart from the normal mithai, they have some healthy sweets for health conscious people. They have not many options in this section but I'm sure they are going to bring more variants. There are sweets mostly made up of dates as date is a natural sweetener and won't make harmful for diabetics when taken in moderate quantity. Next they have a sweet dish made using almond and honey and they also have an oats and atta savoury cookies, which is a healthy snack and good gifting option for a health freak.
Place of Origin's Biscuit and Cake section is a treat for eyes and when you order them, that will be a delicious treat for your stomach. Plum cake, different types of brownie and cookies made with chocolate and nuts. Quick tip: Don't browse this site while you are hungry, you might end up buying everything you see. 😉