Okay, I know I'm not regular with my blog and it has been a long time since I posted a recipe here. There were many little things that kept me busy and sometimes it was my laziness and mood problem. Also, there were some other posts in queue which made me delay my recipe posts.
But today, I'm finally sharing a recipe. It is actually one of my kitchen experiments which came out pretty good. The recipe I'm sharing today is of a snack/starter and I have named it Corn Potato Balls. A simple name which says it all. It has corns it in, potatoes in it and it is round in shape.
These Corn Potato Balls came into existence because of boiled potatoes which my brother left after making Potato Croquettes. I had some corn kernels in my freezer which I wanted to end soon. So I paired both of these ingredients, added this-or-that which I felt will go with it and made these Corn Potato Balls.
Have a look at the recipe below:
Corn Potato Balls Recipe
Makes 18 – 20 balls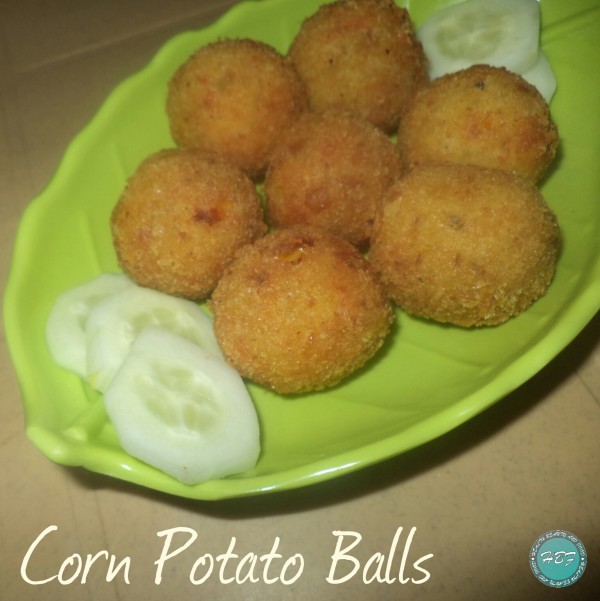 Ingredients:
Boiled corn kernels – 1 cup
Boiled and mashed potatoes – 3 – 4 medium-sized
Green Chilli + garlic paste – of 4 – 5 chillies and 3 – 4 medium to fat cloves garlic
Salt, Black pepper powder and oregano – to taste
Oil – 1 teaspoon + for deep-frying
Grated or melted cheese – 2 – 3 cubes
Corn flour – mixed in enough water to form a thin paste.
Bread crumbs – for coating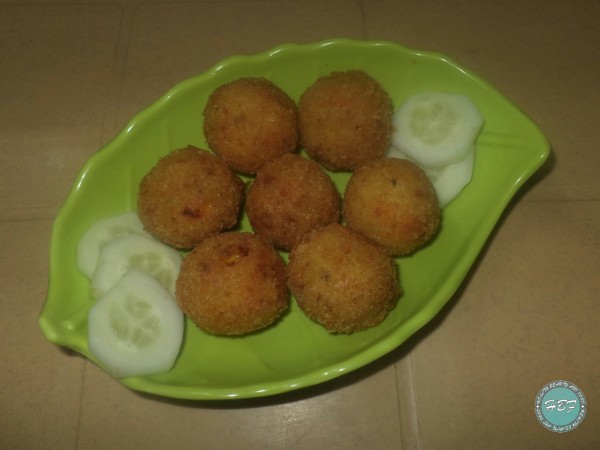 Method:
Fry chilli-garlic paste in 1 teaspoon of oil until raw smell goes off. Turn off the flame.
Take mashed potatoes and add corn, fried chilli-garlic paste, salt, pepper, oregano and cheese. Mix well and make small balls out of it.
Dip balls in corn flour + water paste and then coat it with breadcrumbs.
Keep the coated balls in refrigerator for 15 minutes. This will stick the coating well and will not ruin the oil while frying.
Heat oil in a kadhai/wok and deep fry all the balls until golden brown. Serve hot.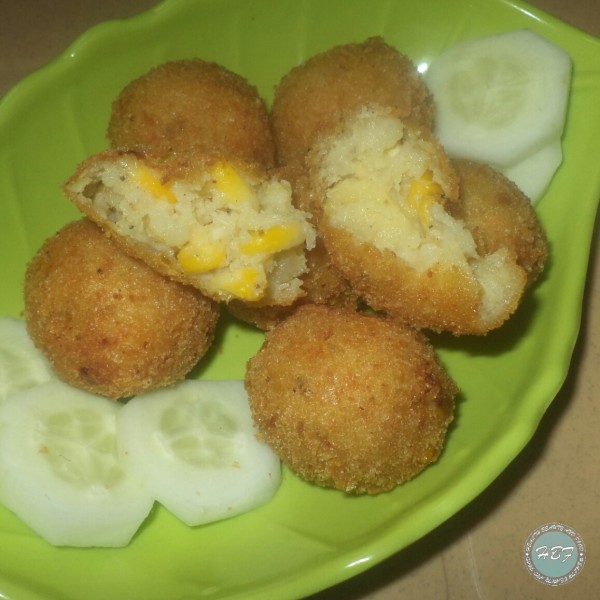 So that's a simple snack/starter recipe and I hope you liked it. Do try this Corn Potato Balls at home and let me know it turn out.
Don't forget to leave your feedback in the comments section below. I love reading your comments and answering them.
I'll come up with another simple yet tasty recipe soon. Till then take care and don't forget to share this post on Facebook, Twitter, Google+, Instagram and Pinterest.