Italian Cuisine reached our home with Pizza followed by our favourite Garlic Bread and Pasta. Whether it is Chinese Fried Rice, Vegetarian Hakka Noodles or Italian Pizza or Pasta, we never made any authentic or traditionally correct dish at our home. There were always an Indian version of these foreign cuisines. Pastas at home were overloaded with veggies and flavoured with any of the spices of our choice. Looking at this, the food blogger in me always wanted to try original Pasta recipes. Especially, Pasta in White Sauce.
The reason behind my love for Pasta in White Sauce was very obvious. Its white, its creamy and it appears so tempting! But wait, when I knew how to make it, there was another reason for me to fall in love with this. And the reason was, it is so easy and quick to make! What else we want?
I tried making Pasta in White Sauce for the first time in the month of Ramzan and served it in Iftar. After tasting the dish, everyone was like, yeh kya hai? I told Italian Pasta. And then my father said, "toh Italian log ko Khila". And all my efforts gone in vain. 🙁 Nobody liked it. Why? Because its taste does not suit our Indian Spicy Tongue.
Then after some time, I tried making Pasta in White Sauce again and used Red Chilli Flakes while making the sauce. But still my family was not okay with it. I tried again and 3 of my cousins liked it. Then too I was not satisfied with the result. After that I got my hands on making Pasta in Red Sauce and yes it was good. Everyone liked it.
Even though I succeeded in making the Red Sauce one, but I still wanted to crack the white sauce Pasta. I wanted to add some thing in it that will make it suit my family's taste buds. And then came this Delmonte's #ItalianEscapes Contest and I was all set to experiment while maintaining the dish's authenticity. After a lot of thinking, I came to this idea of adding green chillies to my Pasta in White Sauce. And then came into existence today's recipe.
Everyone at home loved it and requested me to make this again and again. I'm on 7th Heaven now. 😀
Well, this recipe is not something very different or unique. Nor I'm saying that it is super delicious kind of Pasta. All I want to say that it is regular Pasta in White Sauce which I twisted to suit my family's Indian Spicy Tongue.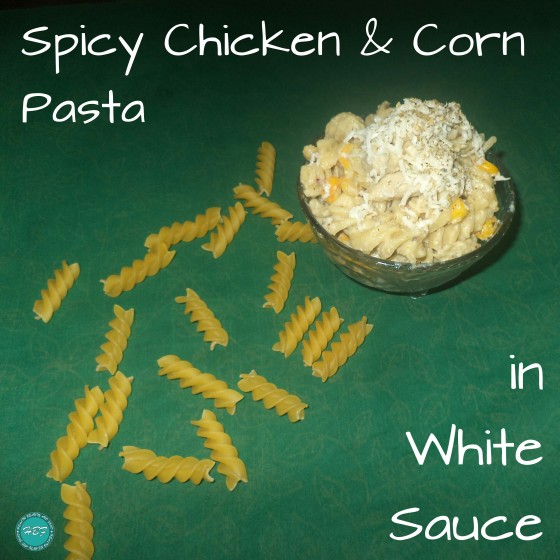 Spicy Chicken & Corn Pasta in White Sauce Recipe:
"Pasta in White Sauce with a twist of green chillies to suit Indian spicy tongue"
Preparation & Cooking Time: 30 – 45 minutes
Serves – 4
Ingredients:
For boiling Pasta:
Delmonte Pasta – 4 Cups (I used Spirali)
Water – 4 Cups
Salt – to taste
Oil – 1 tablespoon
For White Sauce:
All Purpose Flour – 2 Tablespoons
Milk – 2 Cups
Butter – 2 Tablespoons
Salt – to taste
Pepper – 1/4 teaspoon or as per your taste
Red Chilli Flakes – 1/4 teaspoon
For Chicken:
Chicken (cut in cubes) – 1 Cup
Green Chillies – 8 – 10 (depending upon your taste)
Garlic – 8 – 10 (medium to fat cloves)
Oil – 1 tablespoon
Water – as required to make garlic-green chilli paste
Other Ingredients:
Corn Kernels (boiled) – 1 Cup
Grated Mozzarella Cheese – for garnishing
Oregano and red chilli flakes – for garnishing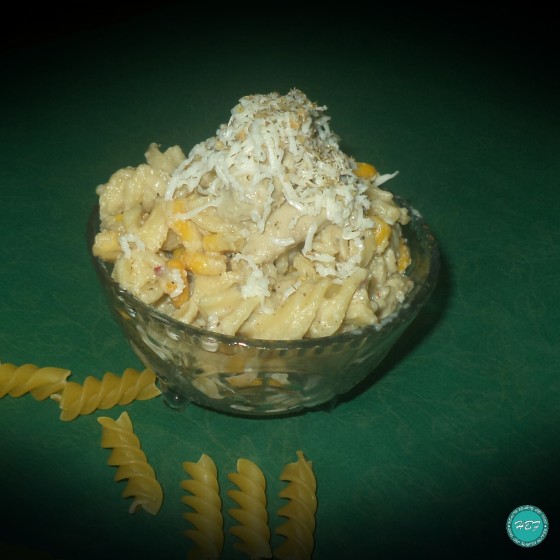 Method:
Part 1: Boiling the Pasta
1. Take a microwave safe bowl and add water, pasta and some salt to it.
2. Mix them well and microwave on high power for 6 – 8 minutes or until the Pasta tenders.
3. Cooking time varies from microwave to microwave so keep a check on Pasta after 5 minutes. Don't overcook!
4. Once the Pasta in done, strain it and immediately pour cold water on it. Strain all the water and keep cooked Pasta aside until use.
Part 2: Making White Sauce
1. Heat a non-stick wok and add butter to it. Let the butter melt. Beware! Don't let it burn.
2. Add All Purpose Flour to melted butter and mix well. Keep mixing it for a few seconds, don't stop your hands or else the flour may burn. We don't want to change the color of flour.
3. Now add 1 and 1/2 cups of milk to the flour and mix well using a whisk. No flour lumps must be left.
4. Cook the sauce for 1 – 2 minutes until is become thick.
5. Add salt, pepper and red chilli flakes and mix well.
6. Cook for 1 – 2 minutes more and turn off the flame.
7. Keep the sauce aside until use.
Part 3: Cooking Chicken and assembling everything
1. Take green chillies, garlic and some water in a blender and blend it to smooth paste.
2. Heat a non-stick wok and add oil to it.
3.Now add chilli-garlic paste we made and cook it until the raw smell vanishes.
4. Now add chicken pieces and required salt to the paste and mix well.
5. Cook the chicken covered with lid until it tenders. Chicken release its own water so it will tender on its own, but if you want you can add little water while cooking.
6. Once the chicken tenders, add boiled corn to it and mix well. Let it cook for 1 minute.
7. Now add white sauce to the chicken along with 1/2 cup of milk. Sauce might have thickened now so need milk to bring it to the desired consistency.
8. Mix everything well and cook it for a minute or two. You can adjust salt at this stage.
9. Now add the boiled pasta to it and mix properly. Let it cook for 2 minutes.
10. Turn of the flame and remove Spicy Chicken and Corn Pasta in white Sauce in a serving dish.
11. Put lots of grated cheese on the top and sprinkle red chilli flakes and oregano over it.
12. Indulge into this Sinful, Spicy yet Creamy Pasta Dish!
Please note:
You can adjust the amount of chillies according to your taste.
You can boil the pasta on stove top too.
You can cook raw corn kernels with chicken also. I used the boiled ones that is why added after the chicken tendered.
If you are vegetarian then you can use Paneer or Mashrooms instead of chicken. Please adjust the cooking time then.
Also, you can use corn kernels alone but I recommend cooking it in the chilli-garlic paste for that spicy flavour.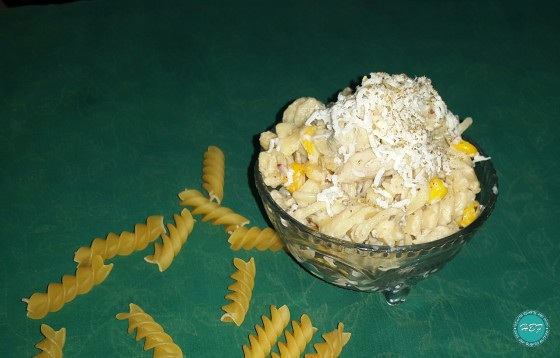 That's all from my side. I hope you liked my Spicy Version of Pasta in White Sauce. Do give it a try and let me know how it turn out.