Hello Everyone,
Hope you guys enjoyed Raksha Bandhan yesterday. I wanted to post this recipe yesterday only, to wish all on this auspicious occasion. But, things do not always go well. I know I am a bit late for Raksha Bandhan but then there are many festivals to come now when you can try these laddus.
Well, Besan ke Laddu is a very common recipe and I am sure most of you have made it yesterday. I too tried making this last week and everyone home loved it, including me. If you have not made it yesterday, then do try my recipe next time when you make it.
The first time we had Besan ke laddu was when a relative from Lucknow sent it to us. I did not like that one much but my mom and sisters loved it. So for them I tried making this laddu once, a few month back, but it did not turn out well. The besan mixture was good in taste but its consistency was too thin to make laddu from it. We had that as a halwa that time.
Also read: Phirni / Rice Pudding recipe | How to make Phirni
This time also while making these laddus, I found the consistency is too thin, so I added some more flour to it. I referred two recipes (mentioned below) to make these laddus and copied the ingredients from the first one. Still I had to make some changes in flour's quantity. Also, I added some raisins and almonds to it as I do not like the plain besan ka laddu.
Now let us see how to make besan ka laddu.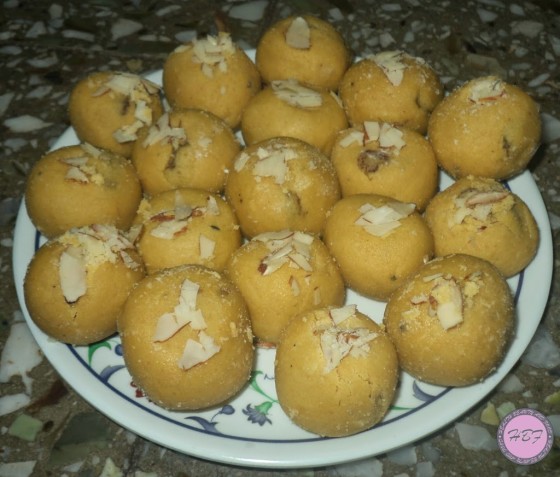 Reference: Sharmis Passion and Veg recipes of India
Makes 15 – 16 laddoos (small)
Ingredients:
Besan/ Gram flour – 1 and 1/4 cup
Ghee/ Clarified butter – 1/2 cup
Granulated Sugar – 3/4 cup
Green cardamom – 4 – 5
Raisins – 1 – 2 tablespoons
Almonds (chopped or sliced)- 5 – 6
Almonds Slices – to garnish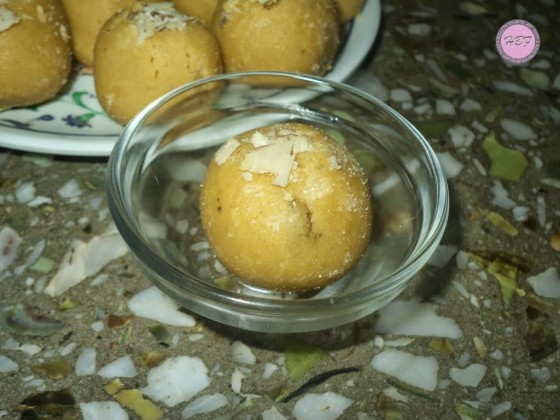 Method:
1. Powder sugar and green cardamom in a blender and keep aside.
2. In a non stick pan or kadhai, dry roast the gram flour for 10 – 12 minutes while stirring occasionally.
3. Dry roast it till the raw smell of flour vanishes and the color of flour becomes a bit darker.
4. Keep the flame low to medium white roasting, as we do not the flour to burn or become brown.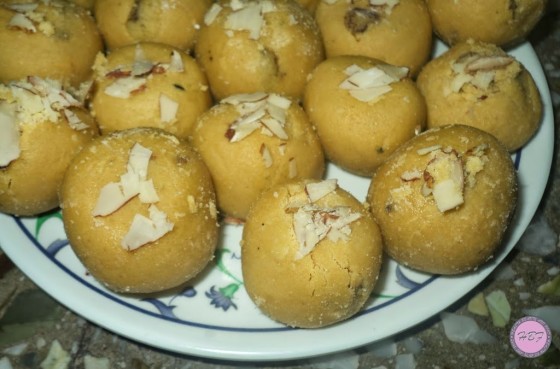 5. After 10 – 12 minutes or when the flour is properly roasted, turn off the flame and remove it in a plate.
6. The same pan or kadhai, add ghee and heat it till it melt.
7. Now add the roasted flour to ghee and mix it properly.
8. Roast the flour in ghee for 6 – 7 minutes or till a nice nutty smell comes from the flour. Keep stirring as we do not want the flour to stick at the bottom. Keep the flame medium to low while roasting.
9. Turn off the flame and remove the flour mixture in a thaali.
10. The flour mixture will look a little thin, but do not worry, it will become thick as it cools down.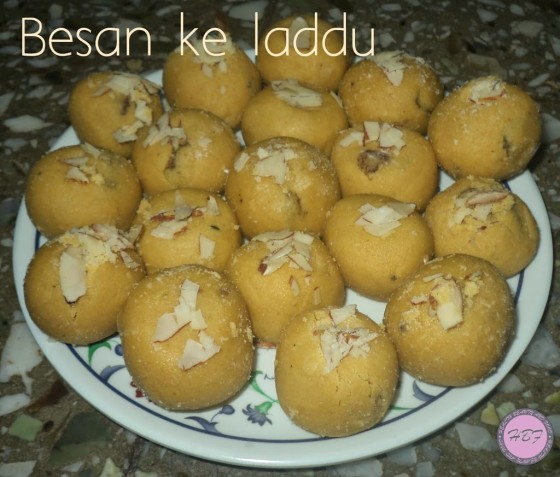 Also read: Moong Dal Halwa recipe | How to make Moong Dal Halwa
11. Let it cool a little. Stir it twice or thrice so that it cools down quickly.
12. You can add almonds and raisins at this stage. Mix properly after adding.
13. Once the mixture becomes a little warmer, add in powdered sugar and cardamom and mix properly. Use your hands for mixing if you want.
14. You will see that the mixture has become thick enough to make laddu.
15. Now make 15 – 16 laddus from this mixture. Put some almonds slices on the top of the laddu and press them lightly so that they get stuck on it.
16. I made 18 mini laddus from this mixture.
Notes:
Roast flour very nicely or else the raw smell and taste will ruin your laddus.
You can use icing sugar instead of powdered sugar, if you are having it at home.
Almonds and Raisins are purely optional. You can add any other nuts of your choice or even keep the laddus plain.
If you are unable to make laddu even after the flour mixture has cooled down, keep it in the refrigerator for a few minutes so that the ghee solidify. Then you will be able to make laddus from it.
Storage: Store these laddus in an airtight container. Refrigerate it if you want.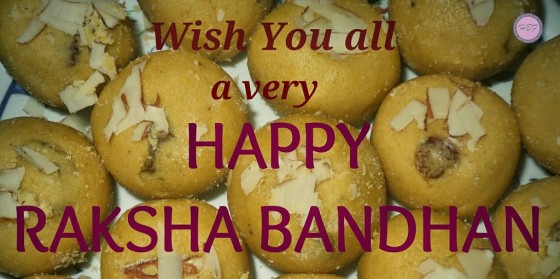 Did you made besan ke laddu yesterday for Raksha Bandhan? Do you make these laddoos in the same way as i did? Or is there any other recipe that you follow? Do let me know in the comments below.
Also, If you liked this recipe, do share it in your social circles.
For more such recipes follow HBF on Facebook, Twitter, Google+, Pinterest and Instagram.