It has been a long time I posted a recipe on the blog. I have posted my last recipe Schezuan Corn in the month of September. Since then I have been trying out many new things but was unable to post it due to some or the other reason. Sometimes I use to click pictures while making the dishes but forget to click the final dish. And sometimes I did not keep a note of the recipe and then use to forget the quantity of ingredients. I have also lost some of the written recipes (and even some other posts) due to involuntary mobile formatting. 🙁
Now when I made Rava Uttapam on Thursday, I had decided to share the recipe before anything wrong happen. Uttapam is a South Indian breakfast dish which is made with rice. Rava Uttapam is an instant version of it which can be prepared very easily. You just need to prepare the batter 20 – 30 minutes prior and then it gets ready in no time.
I have tried to explain the recipe in detail so that even a beginner can understand it. It is very easy to make dish, the only difficult part is spreading the batter. But this is not as tough as it is to spread the dosa batter. Once you get the right consistency, you can work easily. So let's move on to the recipe.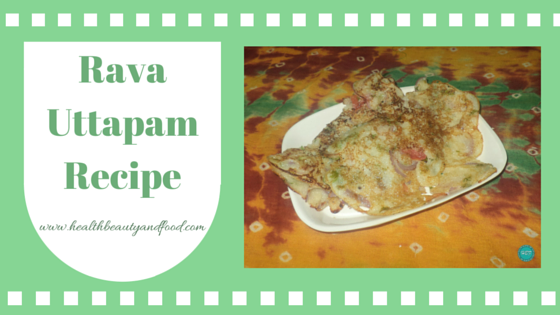 Rava Uttapam Recipe:
Makes – 4 – 6 Uttapam
Ingredients:
Semolina (Rava) – 1 Cup
Curd – 1/2 Cup
Water – as required
Salt – to taste
Baking Soda – 1/4 teaspoon
Green Chillies – 2 – 3
Onion – 1 medium
Tomato – 1 medium
Coriander leaves – handful
Oil – for greasing the pan
Method:
1. Take Semolina and curd in a bowl, add required amount of water and mix well. Let it soak for 30 minutes.
The quantity of water depends on the the consistency of the batter. We want to make thick batter which is liquid-y enough to spread on the griddle. The batter should be thicker than the dosa batter. It is always good to add less water first and balance it later.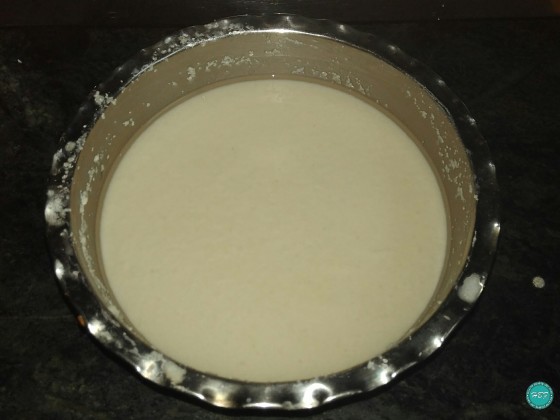 Meanwhile chop chillies, coriander, tomatoes and onions. You can chop or slice the onions as per your wish. I used small onions so I simply sliced them.
2. After 30 minutes open the lid and check the consistency. Once you feel its the right consistency, add all the chopped veggies and salt and mix.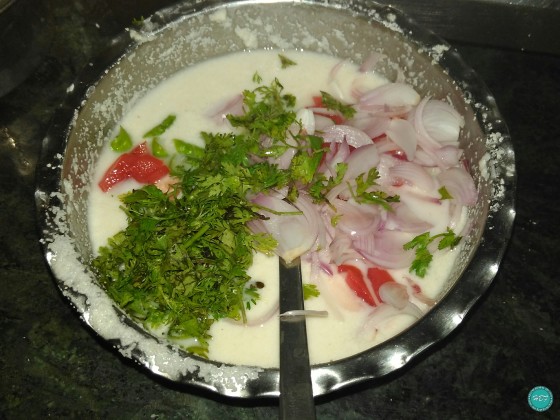 If you wish you can add the veggies on the top of Rava Uttapam while making it. This is the original way but I find it easy to mix all the things first and them make it.
3. Heat a non-stick griddle and spread some oil on it using a brush. You can use cut potato or onion to do that but I think brush does a good a job.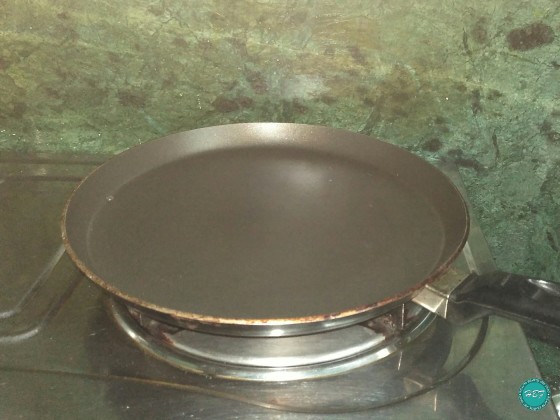 4. Once the griddle is heated, bring the flame low. Now take your batter and add baking soda to it. Mix it well.
5. Take a spoonful of batter and pour it on the griddle. Spread it in circular motion using the back of the spoon. Add more batter if required.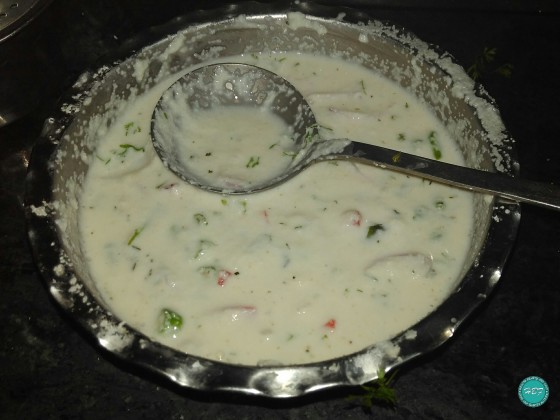 This spreading part is difficult but it is easy as compared to spreading dosa.
6. Once your Rava Uttapam starts cooking, add some oil on the sides and even on the top. Let the bottom part turn golden brown.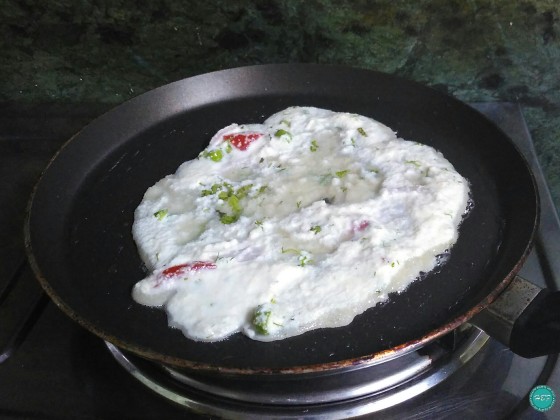 7. Once the bottom is cooked and you it turning brown, flip the Uttapam and cook the other side now. Let it turn golden brown.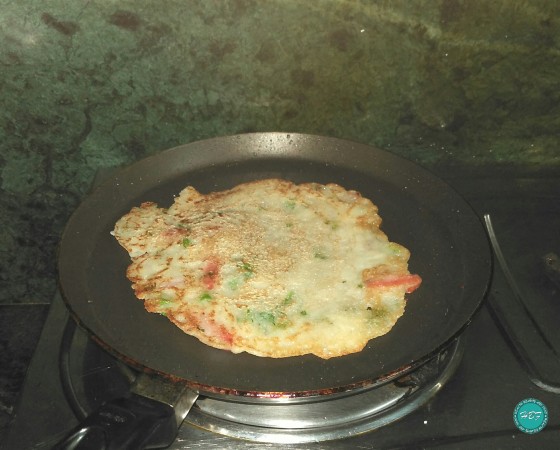 Remember to cook it until it turn golden brown from both the sides. You can adjust the flame for doing that.
8. Once it is cooked nicely from both, remove it in a plate. Make all Rava Uttapam with the remaining batter in the same way.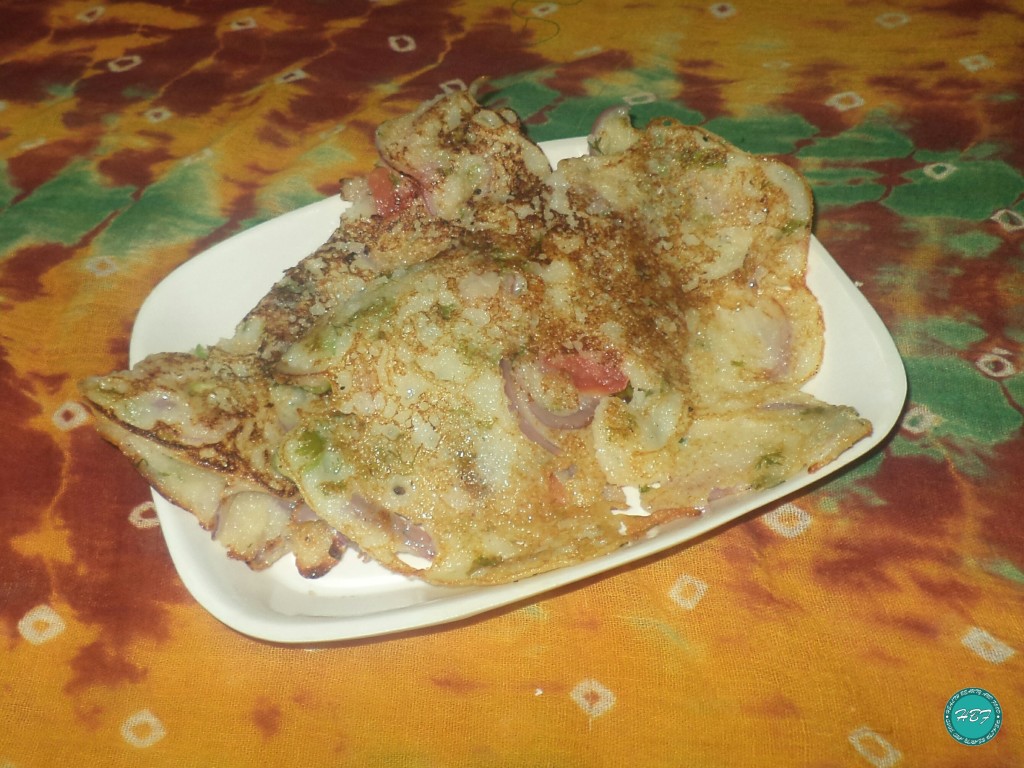 Serve it with Onion Tomato Chutney or Coconut and Coriander Chutney. It goes well with Ketchup also. In fact, I like it plain, without any chutney.
So this how I make Rava Uttapam. Let me know how you make it in the comments below.
If you like this recipe please take a moment to share it with others. Also do follow me on Facebook, Twitter, Google+, Pinterest, Instagram and Linkedin.