You guys must have known until now how much I love sweet corns. I love making different recipes with sweet corn. Until now I have posted my corn tikki, corn potato balls, nuggets and buttered corn recipes. Today I'll be sharing my Schezuan Corn Recipe.
It is very easy to make snack and it is my regular monsoon snack. I often make Schezuan corn in monsoon and everyone at home enjoys it. Whenever I bring sweet corns, I remove kernels from the cob and store that kernels in an air-tight freezer safe container. Removing kernels when they are raw is quite easy. I then freeze those kernels and whenever I want to make something with it, I remove them and microwave until they tender.
For Schezuan Corn recipe also you need boiled corn kernels. Lets see what else we need to make this recipe.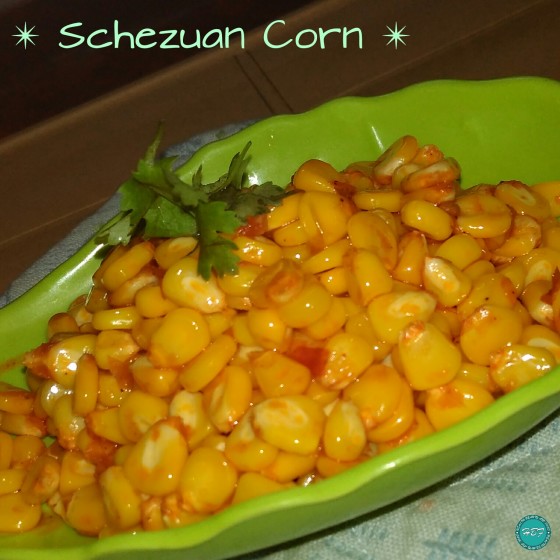 Schezuan Corn Recipe:
Sweet Corn Kernels cooked in chinese sauces
Ingredients:
Corn Cobs – 3 medium-sized
Ginger-garlic paste – 1/2 teaspoon
Schezuan Sauce – 1 tablespoon
Red Chilli sauce – 1/2 teaspoon
Tomato Sauce – 2 tablespoon
Vinegar – 1/8 teaspoon
Soya Sauce – 1/8 teaspoon
Salt – to taste
Spring onion green – for garnishing
---
Check out: Spicy Chicken & Corn Pasta in White Sauce
---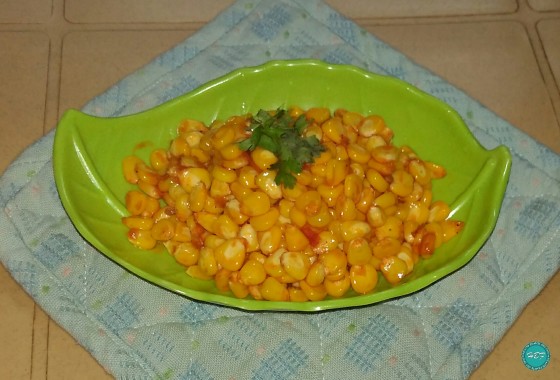 Method:
1. Remove corn kernels out of the cobs and boil the corn kernels. Alternatively you can use frozen corn kernels as well. Or you can boil the corn cobs first and then remove kernels from it. I like the first method as it is easy to remove kernels when they are raw.
2. Heat oil in a wok and add ginger-garlic paste to it. Sauté till the raw smell vanishes.
3. Add schezuan sauce, tomato ketchup, red chilli sauce, vinegar, soya sauce, salt and pepper. Mix well and cook for 2 mins on high flame.
4. Add boiled corn kernels and mix. Cook for 2 minutes on high flame.
5. Turn off the flame and sprinkle some spring onion greens. Mix and serve hot.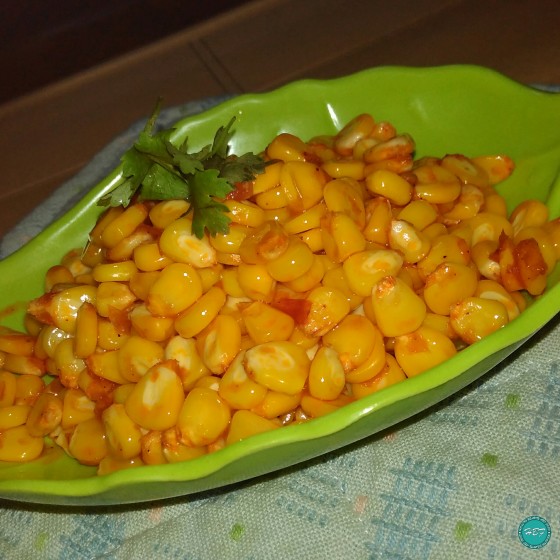 Making Schezuan Corn is easy and quick. It is something good to serve your guest when they arrive at chai time.
Do try this recipe and let me know how it turned out. Also, if you like this Schezuan Corn recipe, please share it with others.
---
Also Read: Corn Momos Recipe
---