Corn pattice was introduced to me by one of my neighbour. Her recipe included cheese, green chillies and what else I really don't remember. She cooked that whole dish in front of me and I never tried her recipe. All her efforts gone in vain.
Last year when my friends organised dabba party, everyone were told to cook something and bring. That was my first attempt of making corn pattice. I saw many recipes that time and chose Tarla Dalal's recipe to try. Since then I always make corn pattice using this recipe and it is liked by all at home.
(Recipe adapted from Tarla Dalal's website)
Corn Pattice Recipe
Ingredients:
Corn kernels (boiled, drained and cooled) – of 3 medium  to large corn cobs (4 cups approx.)
Potatoes (boiled and mashed)- 1 kg
Ginger-garlic paste – 4 tsp
Red Chilli powder – 4 tsp
Coriander powder – 4 tsp
Cumin seed powder – 4 tsp
Salt – to taste
Green Chillies (chopped) – 2 – 3 (optional)
Coriander leaves (chopped)
Oil – for frying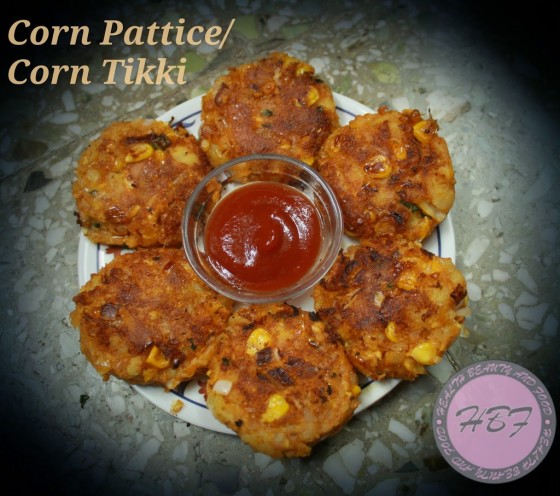 Also try: Potato and Green Peas Bread Rolls
Method:
In the blender jar, put corn kernels and churn for 3 seconds and stop. Again churn for 3 seconds stop. Do this for 4 – 5 times until you get mashed corn kernals. Some of the corn kernels will remain akkha(find word).
Alternatively, you can use potato masher to mash corn kernels.
Take all the ingredients in a large bowl except oil and mix well.
Pinch small amount of mixture and make patty.
Make all the pattice in the same way.
Heat oil in a kadhai or frying pan and deep fry or shallow the corn pattice on medium flame until they become golden brown in color.
Serve hot with ketchup or chutney of your choice.
You may also like: Cheese Sticks
Notes:
Do not churn the corn kernels at a stretch as we don't it want to become a paste. Also see to it that corn kernels are completely dry before you put it in the blender. Adding corn paste will make the pattice break while frying.
If the patty mixture is sticking to your hands while making pattice, apply a little oil on your palm and then proceed.
Do try this recipe and let me know how it turned out. If you have any query regarding this, leave it in the comment section below.
For more such recipes follow Health Beauty and Food on Facebook, Twitter, Google+, Instagram and Pinterest.