After the whole month of June without rain, Finally…it's raining! What a lovely morning it was yesterday! Though it was not as good for all as it was for us. As, a few hours of rains has created water logging problem in some area. But, this is the same old story of Mumbai. Nothing is going to change, as nothing has changed yet.
Let us forget the drawbacks of monsoon and look at its positive side. I am sure today everyone in Mumbai would be enjoying some garam-garam snacks in this awesome climate. Monsoon is the best season to have some tasty hot snacks with a cup of masala chai.
Today I'm sharing with you guys, a simple recipe which you can enjoy in this monsoon. Pack these potato and green peas bread rolls in your kid's tiffin box or serve it to your guests.
Potato and Green Peas Bread Rolls
Makes 15 rolls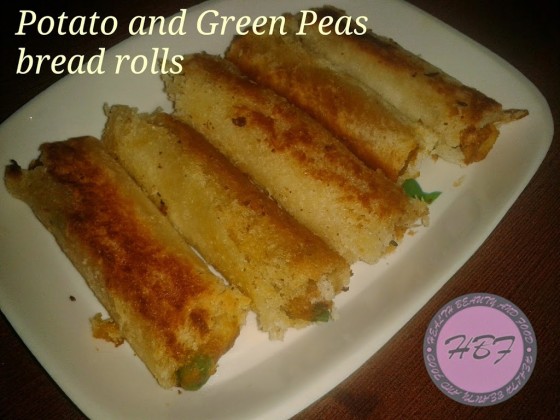 Ingredients:
Bread Slices (small) – 15
Potato (boiled, peeled and mashed) – 2 medium
Green peas (boiled) – 1/4 cup
Onions (chopped) – 2 tbsp / 1/2 small
Green chilli (chopped) – 1
Cumin seeds – 1/4 tsp
Water – 2 – 3 tbsp + some for sealing rolls
Oil – 1/2 tbsp + for frying rolls
Turmeric powder – 1/8 tsp
Dry Mango powder (Amchur Powder) – 1/4 tsp
Garam masala powder – 1/8 tsp
Red chilli powder – 1/2 tsp
Coriander powder – 1/2 tsp
Salt – to taste
Tomato ketchup – 1/2 tbsp
Coriander leaves (chopped) – a few sprigs
You may also like: Corn Pattice recipe | Corn Tikki 
Method:
For the stuffing:
Heat 1/2 tbsp oil in a pan, add cumin seeds to it and let it sputter.
Add onions and green chillies and fry till the onions become translucent.
Add all the spices, salt and 2 – 3 tbsp of water. Mix and cook till oil separates and water evaporate.
Add ketchup and mix.
Turn off the flame.
Add mashed potatoes and peas to this mixture and sprinkle coriander leaves. Mix everything well and let it cool.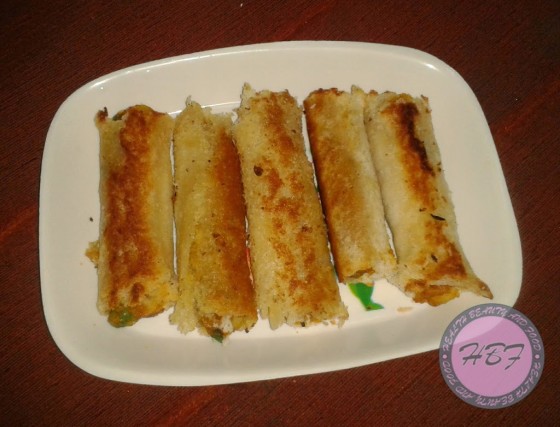 For making rolls:
Take a bread slice and cut its sides. Flatten the bread using a rolling pin.
Put some stuffing on one side of bread and roll it to the other side.
Seal the side of bread with a dab of water and keep aside.
Repeat with all the breads.
Heat some oil in a non-stick frying pan or griddle.
Place some rolls in the pan and them till golden brown. Flip and fry evenly on all the sides.
Serve hot with ketchup.
You may also like: Cheese Sticks
Notes:
I have used regular white bread slices, not the sandwich breads or whole wheat breads.
You can also add some grated cheese on stuffing while making rolls.
Do try these bread rolls this monsoon and let me know how it turned out.
Don't forget to share this recipe on Facebook, Twitter and Google+.