I'm a foodie and love rich creamy gravies like Palak Paneer and Butter Chicken. And I'm always in search of new dishes to try which my family has never tasted. Matar paneer is one such dish which my mom never made till now. I know many of you will be shocked to know this but it's true. My mom never made this common vegetarian dish till now.
When I got into cooking I started exploring new recipes and Matar paneer is one such recipe which I tried recently. To my goodness it turned out so yummy that I ate some of the gravy even without chapati and rice. 😉 Now Matar Paneer has become one of my favourite vegetarian dish which I love having with roti.
Without much delay let me go to the recipe with step-by-step pics.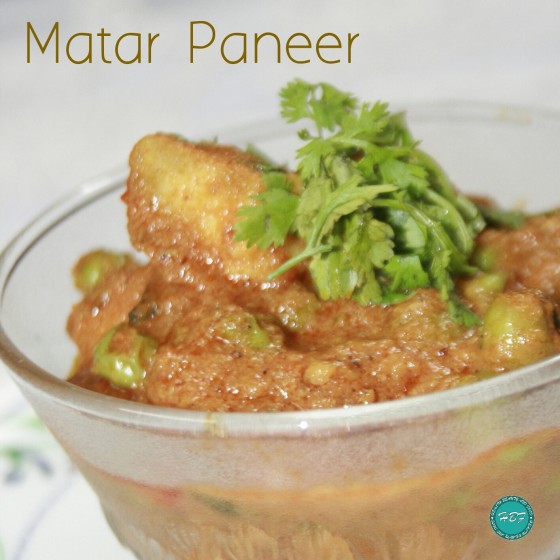 Matar Paneer Recipe
Serves: 3 – 4
Ingredients:
Cottage Cheese cubes – 300 grams (Thaw if frozen)
Green peas – 2 cups (boiled)
Red chilli powder – 2 teaspoons
Garam masala powder – 2 teaspoons
Turmeric – 1/2 teaspoon
Coriander powder – 1 teaspoon
Cumin seeds – 1 teaspoon
Oil – 4 – 5 tablespoons
Onion – 2 large (julienne)
Tomato – 2 – 3 large (cubed)
Coriander leaves – handful (chopped)
Milk or Cream – 1/2 cup
Water – 2 cups
Green Chillies – 3 (stem removed)
Method:
Heat 2 tablespoon oil in a non-stick wok and fry julienne onions till golden brown. Drain and remove onions in a plate and let it cool down. (Use the same wok for frying paneer and making gravy)

Take chopped tomatoes, fried onions and green chilles and blend them to a smooth paste. Keep the paste aside till use.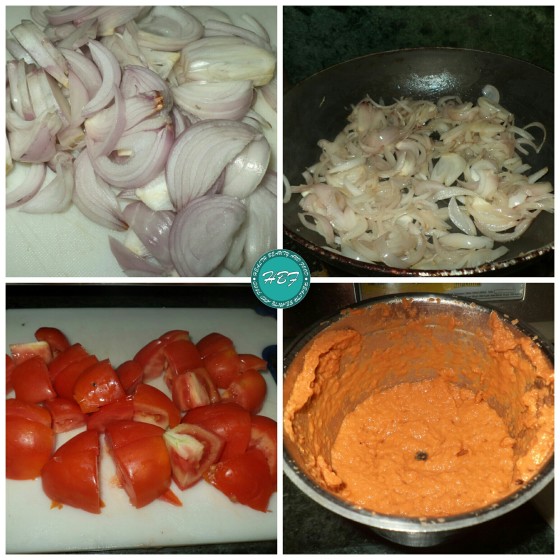 Now shallow fry paneer cubes in the same wok in which you fried the onions. Add 1 – 2 tablespoon of oil if required. Drain and remove the paneer cubes in a plate and keep aside till use.

In the same wok add 1 tablespoon of oil and put cumin seeds and bay leaves to it.
When the cumin seeds splutter, add tomato-onion-chilli paste. Cover and cook for 5 minutes or till the raw smell disappear.

Now add all the spices, salt and 1/2 cup of water and mix. Cover and cook till the oil separates. (10 – 15 minutes)
Check in between so that gravy doesn't stick at the bottom. Add more water if required.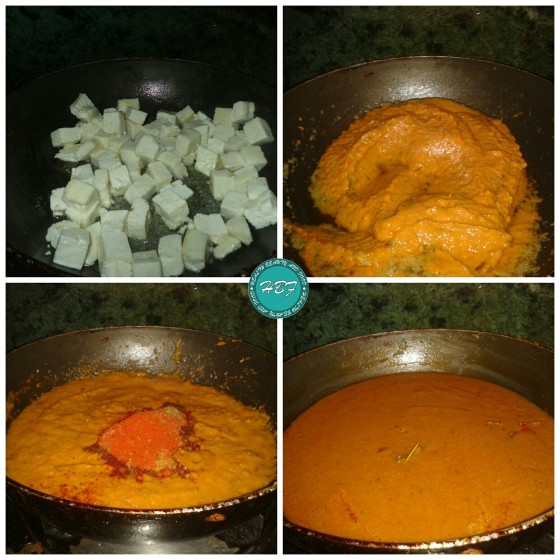 Now add remaining water, milk, green peas and paneer and mix. Cover and cook till paneer and peas catches the taste. (5 minutes approx.)

Don't cook it more or else the paneer will become rubbery.

Garnish with coriander leaves and serve hot with chapati or phulka.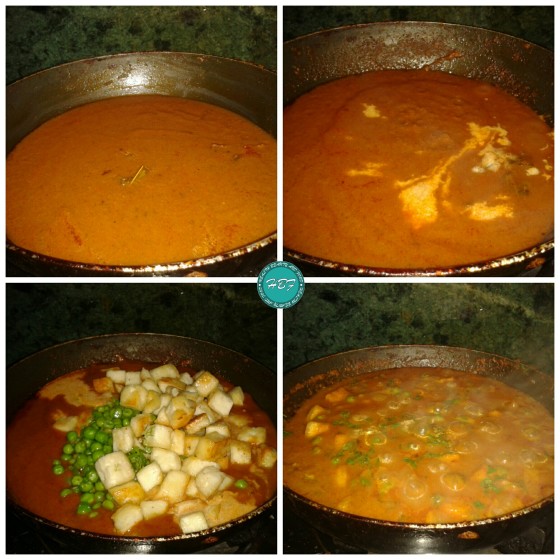 Notes:
You can use homemade cream (upper layer that sets on milk) instead of milk. See to it that you whisk it before adding to get a smooth gravy.
Discard bay leaves after cooking.
Add water according to the thickness of the gravy you desire.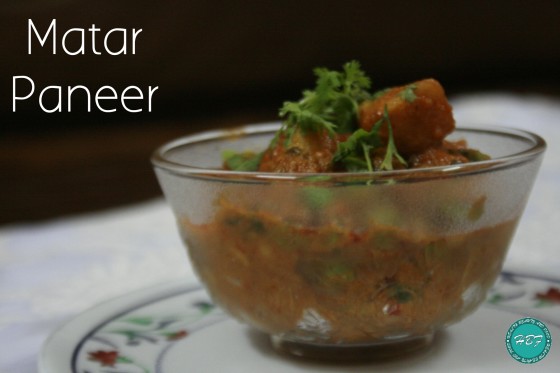 Matar Paneer, a rich, creamy, thick gravy which can be served as a side dish with roti. Cook a mildly spiced rice or vagar rice with it and it will be a complete meal for you.
Like this recipe? Leave your thoughts in the comments below.
For more such recipes follow Health Beauty and Food on Facebook, Twitter, Google+, Pinterest and Instagram. You can also subscribe to blog using the sidebar widget.
Check out other vegetarian recipes on the blog.