One annoying thing about afternoon nap is the hunger pangs after you get up. And when you are hungry, you feel like eating something spicy and tasty.
Today I am sharing with you a simple recipe which can be eaten at tea time as a snack or can be served as a side dish with roti for lunch or dinner. This is my aunt's recipe who is a great cook. I do not know from she learnt this but this is making this spicy peas since a long time. We all love this simple yet tasty dish and I often prefer it as a snack.
Let me share with you a funny thing about this dish. This recipe was unnamed until I decided to share it on my blog. We simply use to call it 'matar' (green peas called in hindi). After a lot of thinking, me and my aunt settle for 'Spicy Peas' as the name of this dish.
Now without any more talking, let me share the recipe: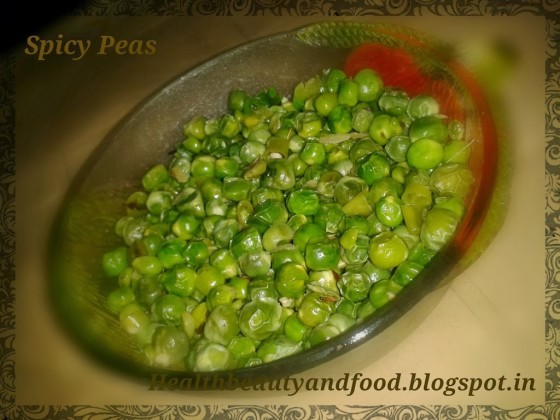 Spicy Peas recipe
Ingredients:
Green peas – 1 kg
Grated ginger – 1 n 1/2 teaspoons
Green chillies – 4 – 5
Salt – to taste
Cumin seeds – 1 teaspoon
Oil – 1 – 2 tablespoons
Water – 1 – 2 tablespoons
Method:
Microwave Method:
In a Microwave safe bowl add oil and cumin seeds and microwave it for 2 – 3 minutes.
Now add all the other ingredients, mix well and microwave it for 8 – 10 minutes or till the peas tender. Stir 2 – 3 times in between.
Spicy peas are ready. Serve hot.
Stove-top Method:
Heat oil in a cooker, add cumin seeds and let it crack.
Now add all the other ingredients and close the cooker lid.
Let it cook till the peas tender. It will take 10 – 12 mins.
Spicy peas are ready. Serve with chapati or eat it plain.
Note:
Microwave cooking time may vary depending upon your microwave power.
Spicy Peas – Steam cooked peas flavored with ginger and green chilly is a perfect spicy evening snack recipe to complement ginger-cardamom tea.
Have you tried Spicy peas? How you like it, as a snack or side dish? Share your thoughts in the comments section below.