The name Moong dal halwa sounded a little a confusing to me as we never made any dessert using dals. This is the reason why I wanted to try it and I'm glad I tried it because the result was a tasty, lip smacking dessert.
I followed the recipe of Master chef Tarla dalal and after cooking when I tasted the halwa, it reminded me of Lapsi, a sweet dish prepared with broken wheat. We add some grated desiccated coconut to Lapsi and I felt like adding the same to this halwa. It has given a nice flavour to Moong Dal halwa.
Ingredients:
Yellow Moong dal – 1/2 cup
Ghee – 1/2 cup
Milk – 1/2 cup
Sugar – 1/2 cup
Saffron strands (dissolved in 1 tbsp water) – 1/4 tsp
Cardamom powder – 1/2 tsp
Desiccated coconut (grated) – 1 – 2 tbsp (optional)
Almonds – 3 – 4 crushed
Almonds (sliced) and raisins – for garnishing
Also read: Phirni / Rice Pudding recipe | How to make Phirni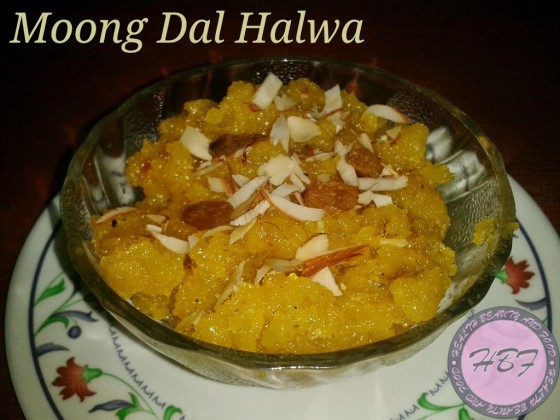 Method:
Soak moong dal in warm water for 2 – 3 hours. Drain and grind into a coarse paste without adding any water.
Remove the paste in a plate and separate it using fork.
Heat ghee in a non-stick kadhai and add moong dal paste to it.
Let it cook on a medium flame for 15 – 20 minutes or till the raw smell of moong dal disappears. Stir occasionally.
Add water and milk and cook for 5 – 7 minutes.
Now add sugar and cook till it dissolves.
Add saffron water, cardamom powder, desiccated coconut and crushed almonds. Mix and turn off the flame.
Serve Moong dal halwa dessert bowls garnishing it with almonds and raisins.
Also read: Besan ke Laddu recipe | How to make Besan ka Laddu
Note:
Drain moong dal properly. If you find the moong dal paste watery then use a muslin cloth and remove all the excess water.
Have you tried making moong dal halwa? Which recipe do you follow? Do let me know via your comments.
Also, if you like this recipe, please share it on Facebook, Twitter and Google+.