When was the last time you shopped for skin care or body care products offline? As far as I remember, the last thing I purchased from a shop was a tub of aloe vera gel around 7 – 8 months ago. With new and exciting deals and offers, I usually buy body care products, skin care and make-up stuffs online. Today I'm going talk a product from that brand which makes natural and paraben-free skin care and body care products and their products are easily available online.
If you are regular reader of my blog, you must be aware that my skin is on the drier side. This is the reason why I use cleansing milks and creamy face washes. I'm not a person who likes foaming face wash. This is the reason why I like Auravedic Radiance by Nature Pulpy Face Wash. Forget about the foam, this baby doesn't lather at all. Lets learn more about this face wash.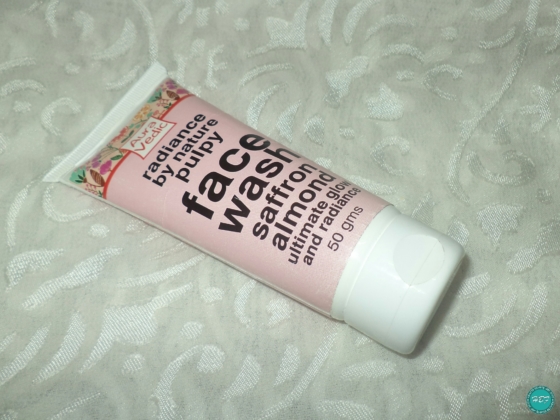 About Auravedic Radiance by Nature Pulpy Face Wash:
Formulated with  Saffron & Almond, this pure pulpy face wash cleanses skin and washes away dead & dull skin cells to reveal brighter and glowing skin.
Usage : Scoop on to fingertips and gently massage over skin before rinsing it off.
Ingredients : Saffron extract, Almond oil, Rose oil, Geranium oil, Neroli oil, Khus oil, Jojoba oil, Honey, Omega-9 fatty acid, Coconut fatty acid, Rose fragrance, Triethanolamine, Phenoxyethanol.
Price: Rs. 150/-
My Experience:
As the name says, this face wash looks like pulp. It is off-white translucent colored it is almost smell-free. The texture of the face wash is pulpy too. You actually feel like you are applying some pulp on your face. Auravedic Radiance by Nature Pulpy Face Wash doesn't lather at all and this is the reason why you require more amount of the face wash. Due to its non-lathering property, I think many people won't like it.
The face wash is capable of cleansing the skin well and with regular usage, it does provide a subtle healthy glow to your face. This is not something that will make your skin tone lighter but this face wash makes your skin glow. You will notice your face is looking better.
Pros:
Ayurvedic
Cleanse skin well
Make skin glowing
Easily available online
Reasonably priced
No bothering smell
Cons:
Doesn't lather hence we end up using more amount of product
Non-lathering property may leave some people unsatisfied
Rating: 3.5/5
Verdict:
Auravedic Radiance by Nature Pulpy Face Wash is an average face wash which does its job well of cleansing our face. It does make skin glow with regular usage. However, it doesn't lather at all and hence we end up using excess product. If you are someone with dry skin or someone who are comfortable with non-lathering face wash, you can pick this up.
So these are my views about Auravedic Radiance by Nature Pulpy Face Wash. What do you think about it? Let me know in the comments below.
P.S. With this face wash coming to end, its now time for some skin care and body care products online shopping! 😉