I started using face washes in my early teenage and the first face wash which I bought was from Everyuth. Since then I tried many face washes from Everyuth and they never let me down.
Today I'm sharing my experience with Everyuth Naturals Advanced Tulsi Turmeric Face wash.
Price: Rs. 35
Quantity: 50 grams
Company's claim:
The new Everyuth naturals Clear Beauty Tulsi Turmeric face wash not only prevents pimples but also reduces pimples, blemishes and dark spots. It is enriched with the natural goodness of the Tulsi, Turmeric, Brahmi, Willow bark Extracts and tea tree oil which helps fight pimples and blemishes.The revolutionary nano Active Helps regulate sebum production and revitalizes the skin. Suitable for all skin types.
Ingredients:
Directions For Use: Squeeze out a small quantity onto your palm. Work up lather and gently massage onto your face. Rinse with water and pat dry.
Packing: Everyuth tulsi turmeric face wash comes in a white plastic tube with a green translucent cap. I do not think the packing is travel friendly because my sister accidentally fell the bottle and the cap broke.
Recommended for you: Boroplus Anti Pollution Face Wash review
Fragrance: It has a refreshing herbal smell due to the presence of tulsi in it. I like the smell but my kin does not like it. If you are fond of herbal smells then you will like the fragrance of everyuth tulsi turmeric face wash.
Appearance: The face wash is a green colored translucent gel-like liquid.
Experience:
When I saw its TVC I bought Everyuth's new Tulsi Turmeric face wash for myself. My main reason behind buying this face wash was its claim of reducing blemishes and spots. I'm using this face wash since 3 weeks and it is over now.
Everyuth tulsi turmeric face wash works well in removing oil and dirt. It does not dry out the skin nor make it greasy. With its refreshing herbal smell and squeaky clean property, I think this face wash is ideal for summer use. As it is for all skin, so everyone can give it a try.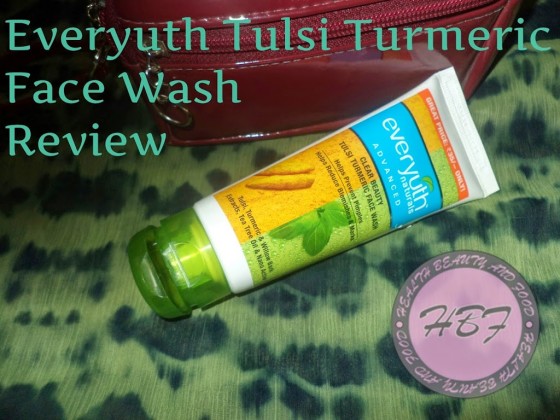 Now coming to its claim of treating pimple and reducing spots and blemishes. Before that, let me tell you all that my skin is dry with some acne spots and a few tiny zits which comes and goes on their own.
Everyuth tulsi turmeric face wash, helps my pimple to calm down but it does not help in preventing pimple at all. But then, there are many other internal reasons for acne, which a face wash has nothing to do with. I gave it a benefit of doubt at this point.
Also read: Lakme Clean up Face Wash Nourishing Glow review
I have completed the whole tube and have not yet seen any reduction in my spots. So spots and blemishes reduction claim does not hold true here. Or may be it need some more time to show changes.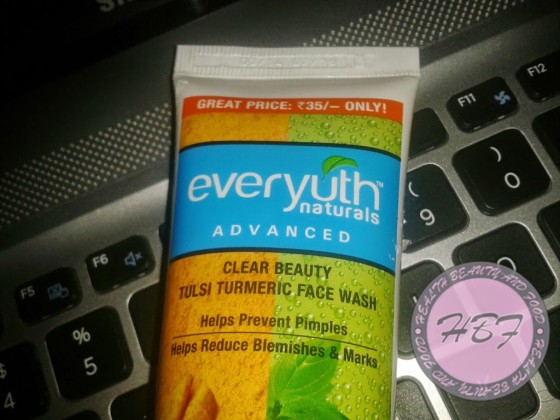 Overall I like this face wash because it helps to soothe pimples without making my skin dry and comes for a reasonable price of Rs.35.
What I like about Everyuth Tulsi Turmeric Face Wash:
Cheap
For all skin types
Contains goodness of tulsi and turmeric
Refreshing herbal smell
Does not make skin dry or greasy
Soothe pimples
What I dislike about Everyuth Tulsi Turmeric Face Wash:
Does not prevent pimples
No effect on blemishes and spots
 Some people may not like its herbal smell
You may also like: Everyuth Walnut Scrub Review
Rating: 4 / 5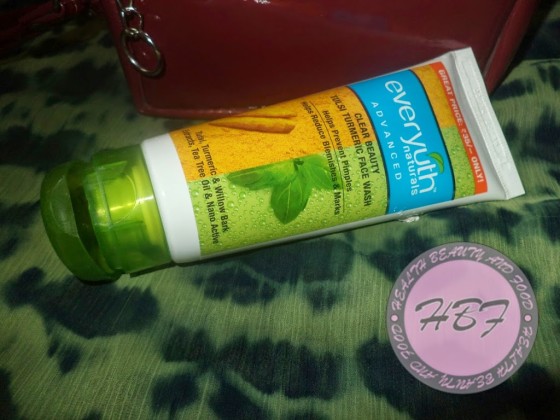 Verdict: Everyuth Naturals Advanced Clear Beauty tulsi turmeric face wash with its quality of soothing pimples without making skin dry, is a good budget face wash which everyone must try during summer and even in monsoon. But, do not expect it to prevent pimples and reduce/eliminate your spots and blemishes.
Have you tried Everyuth tulsi turmeric face wash yet? How did you find it? Do let me know in your comments.
For more such reviews follow HBF via Facebook, Twitter, Google+, Pinterest and Instagram.