I bought this face wash during winters and using it a few times I saw some small zits on my face. Also, my skin was feeling a bit dry after using so I kept it for summers. As summer started I went back to Lakme clean up Nourishing glow face wash and now sharing my experience here.
Price: 40 INR
Quantity: 25 grams
Shelf Life: 24 months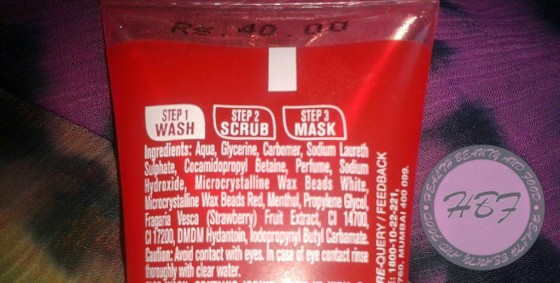 Directions for use:
Squeeze a coin sized amount on your palms and lather up with lukewarm water.
Gently massage your wet face for 30-60 seconds
Rinse with lukewarm water
Use it at least twice a day for clean, soft and radiant skin
Packaging:
Lakme Nourishing Glow face wash from its clean up range comes in pink color translucent squeeze tube with silver screw cap on the top and all the details about face wash stuck on it in red sticker.

Fragrance: Strawberry like fragrance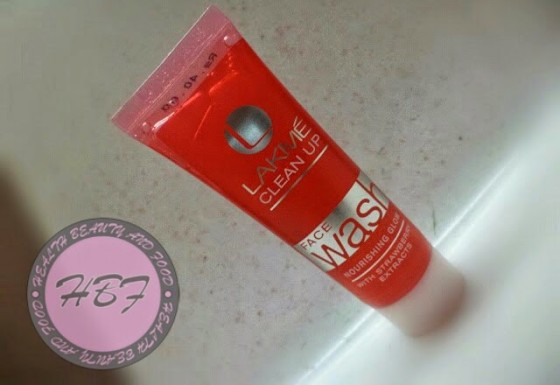 Experience:
Lakme clean up nourishing glow face wash is a pink colored gel-like liquid with red and white micro beads. Micro beads are very tiny and does not harm your skin. It disappear as you rub face wash on your face. The face wash lathers well and you require very little amount to cover your face and neck.
As you use Lakme clean up nourishing glow face wash, it gives you cooling sensation which is due to the presence of menthol in it. The face wash makes you fresh when you use it after coming from the hot sun. It does not make your skin stretchy or greasy after washing.
I mentioned above that Lakme nourishing glow face wash gave me some small zits when I used it during winter, but I haven't experienced any such thing now. So I conclude that I can use this in summer.
Now lets head towards the pros and cons..
What I like about Lakme Clean up nourishing glow face wash:
Reasonably priced
Travel friendly
Little amount required
Lathers well
What I dislike about Lakme Clean up nourishing glow face wash:
Does not suit dry skin during winters
Rating: 4/5

Verdict: If you are searching for a refreshing face wash this summer, try using Lakme Clean up Nourishing glow face wash.
Have you tried Lakme Clean up nourishing glow face wash? Share your experience with it in the comment section below.
Like this post? Do share it on Facebook, Twitter and Google+.