Gone are the days when make-up meant only foundation, compact, kajal and lipstick. Make-up is a lot more than that. Apart from hiding your flaws using a foundation or BB cream, it is also important to give your face a sculpted look by highlighting and contouring it.
What? These highlighting and Contouring sounds dangerous? Well, even I used to fear these words when I heard of them for the first time. And I use to think it is not something I can do. If this is actually what you think, then don't worry. Lakmé School of Style is there to help. Don't know about Lakmé School of Style? Let me tell you.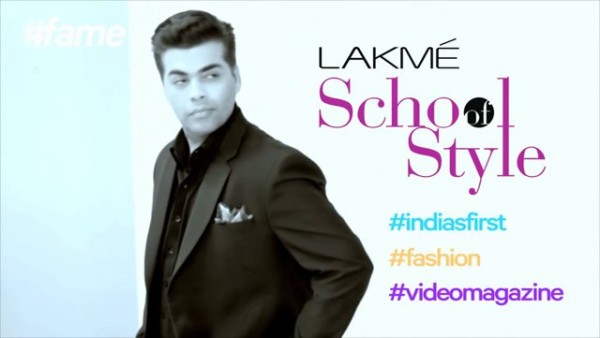 Lakmé School of Style is a first of its kind show that will not only bring the newest trends and happenings from the fashion world but in the process will also create new age fashionistas and idols. A fashion brigade led by Editor-in-Chief, Karan Johar himself will bring the fashion news, views and events from all over the world to the internet screen.
Here I'm talking about Lakmé School of Style's The best ever contouring and highlighting video tutorial especially made for beginners. If you are someone who is totally confused about this highlighting and contouring thing, if you are new to this concept, then you must watch this video tutorial. This tutorial is created by a Pro Beauty Blogger and Vlogger Sahibba Anand.
After watching this video for the first time, I realised it is not something like the usual highlighting and contouring tutorial. You must have seen people highlighting their face using a special product meant for this purpose, known as highlighter or illuminator. But, Sahibba here has used a lighter shade foundation for this purpose. So, if you ever buy a lighter shade foundation mistakenly, you can use it for highlighting purpose instead of throwing it off.
Next lesson in this video is How to contour your face. Contouring has always been a very difficult term for me. But, our blogger and beauty expert Sahibba has presented it in a very simple way. She has used a darker shade pressed powder for contouring purpose and has applied that powder in circular motion. Applying powder in circular motion will create a very natural shadow on our face, which is what contouring is all about.
Sahibba has also mentioned some of the tips at the end of tutorial so that we don't go wrong with contouring and highlighting. So, watch this video and try to highlight and contour right following Sahibba's tips and tricks.
Overall, Lakmé School of Style has some good videos to make to fashionable and stylish. Watch those videos and start your fashion and style journey now!