Lakme Enrich Lip Crayons are launched last year in 10 shades that too at a very economical price of Rs. 185. This new launch has made everyone, including me, very excited. Having a good crayon lipstick at such a price from a reputed brand is definitely a good news. These new crayon lipsticks look like the wax color crayons we use to use in our childhood. They come along with a free sharpener as an introductory offer. I picked up 3 colors from this range Cinnamon Brown, Peach Magnet and Berry red.
Lakme Enrich Lip Crayon is a tiny black crayon which comes with a black cap and color coded sticker mentioning all the required details. You get 2.2 grams of product which is less but for the price, I think it is fair. Color range is pretty good as we have nude, pink, coral, peach and red too.
The texture of these crayons are slightly waxy but not in an uncomfortable way. These crayons glide on easily and settles into a creamy matte finish. These are not completely opaque so our natural lip color peep through when applied. You need 2 swipes for a good color to show. They don't make the lips feel dry but I recommend exfoliating and applying lip balm for better application and finish.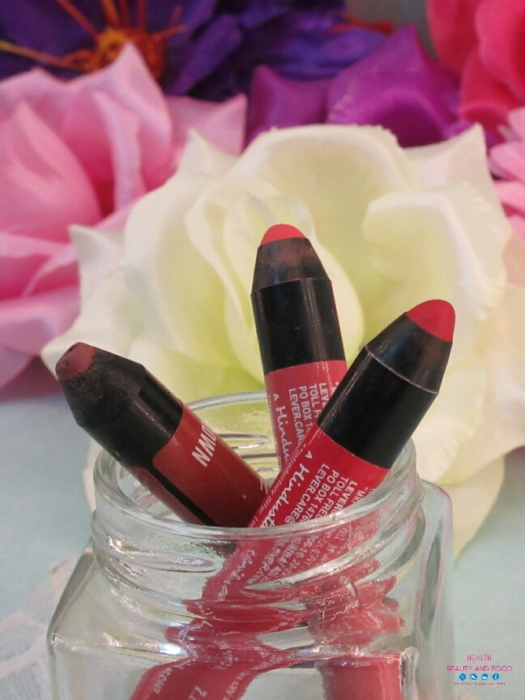 The lasting power is somewhere between 3 – 5 hours depending on what you are eating. The shade Cinnamon Brown stayed on my lips for more than 4 hours with light, even fading when I had just water and little snack in between. With full meal the color fades from the centre, like any other Lipstick. These lipstick doesn't stain the lips and are easily removable with baby wipes.
I have always been looking for a perfect neutral color for myself and with Cinnamon Brown I have finally found my MLBB shade. This particular lip crayon looks so good on me and my cousins too. I think this is a color for everyone although it won't be a neutral shade for very fair skin.
Another shade which will look good on everyone is Lakme Enrich Lip Crayon Berry Red. This is a cool toned red which can brighten up your face make your teeth look white. I wear this one when I'm in no mood to put a lot of make-up and yet I want to look gorgeous. It just brighten up my complexion and make me ready for any make-up required occasion.
The third shade with me is Peach Magnet. It is a soft peachy shade but on my lips, it looks more coral and kind of make me look a bit darker than my natural complexion. However, it does suit my cousin. This shade is good for fairer complexion.
Overall this a good range and I see myself buying more shades in the near future. You can buy these crayon from here.
Have you tried Lakme Enrich Lip Crayon? Which one is your favourite?
For more such reviews, follow Health Beauty and Food on Facebook, Twitter, and Instagram