No matter what the season is, lip balm is something you need everyday. Today I'm going to talk about Eeshaa Herbals Mixed Fruit lip balm. It smell amazing and look like Orange Jam. But how better does it serve its purpose of moisturising lips? Read on to find out…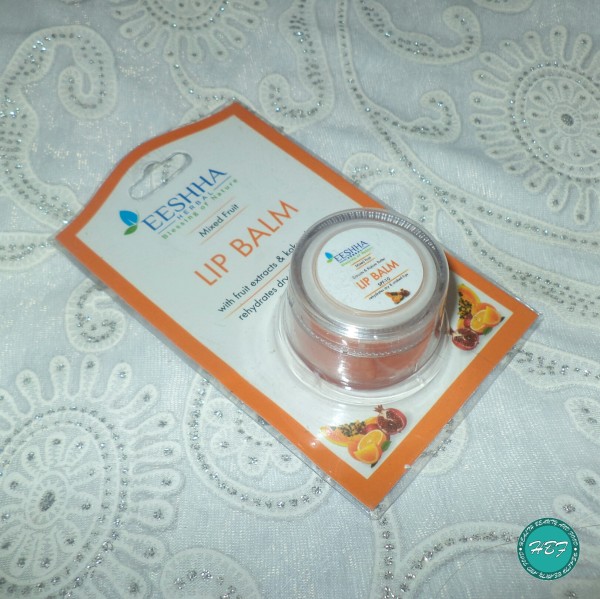 Eeshha Herbal Mixed Fruit Lip Balm Review:
Price: Rs. 80/-
Quantity: 10 grams
Shelf Life: 3 years
Buy here for Rs. 60/-
Company's claim, Ingredients and Directions to use:

Packing: Eeshha Herbal mixed fruit lip balm comes in a transparent mini plastic tub with transparent cap and a white inner lid. I wonder why this lip balm needs an inner lid. It is quite thicker in consistency and there is no chance of spilling.
The lip balm is further packed between a transparent cover and a cardboard with details. Details like manufacturing date and price are stuck on the tub itself so you don't have worry about keeping the cardboard.
You may also like: Fuschia Tropical Alphonso Lip Balm review
Experience:
As mentioned above this lip balm smells amazing. It smells some-what fruity like the Eva Classic Lip Balm. Eeshha Herbal Mixed Fruit Lip Balm has thick consistency but it spreads easily on the lips. It appears orange in color when it is in tub but it is not a tinted lip balm.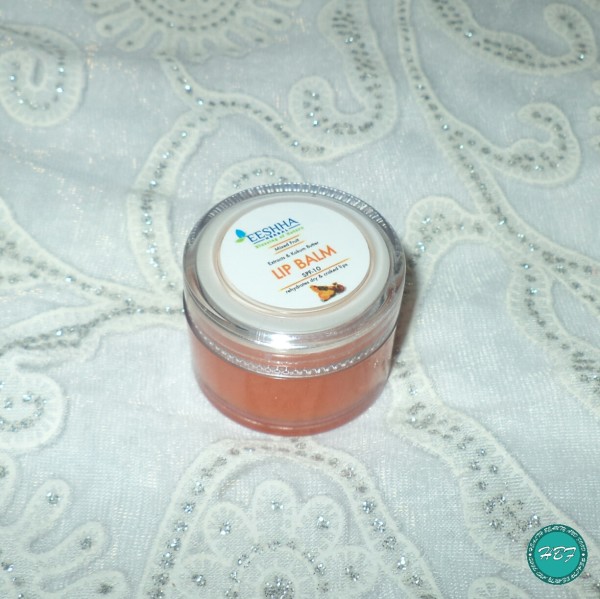 After applying Eeshha Herbal Mixed Fruit Lip Balm, my lips look fuller and shiny. The lip balm stays on my lips for 3 – 4 hours but its moisturation lasts quite long. I don't feel the need of reapplication. But I think people with extremely dry lips might need to reapply this.
Also read: Lass Naturals Chocolate and Honey Lip balm review
What I like about it:
Smell good
Keep lips hydrated for long time
Doesn't feel heavy on lips
Reasonably price
Contains SPF
Easily available online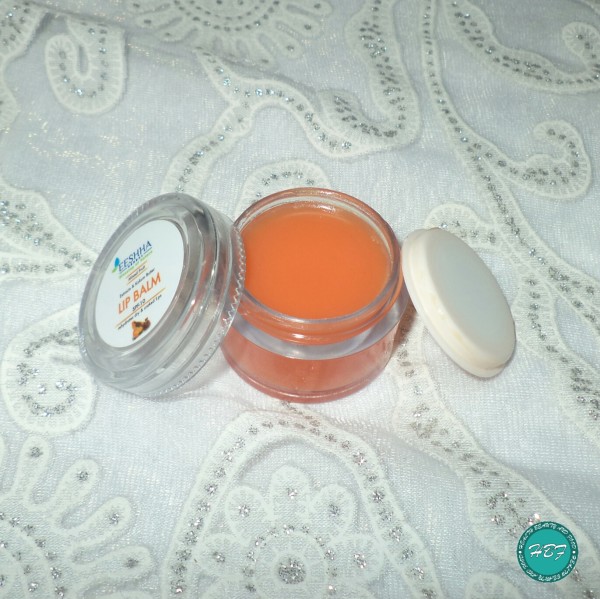 What I dislike about it:
Tub Packing
Difficult to find offline
Rating: 4.5/5
Verdict: Eeshha Herbal Mixed Fruit Lip Balm is a good lip balm which smell good, provide full day moisturisation and come for an affordable price. It contains SPF 10 which makes it perfect for outdoor use. If you are a regular lip balm user, you must try this.
Have you tried Eeshha Herbal Mixed Fruit Lip Balm? How was your experience with it?