Whether it is idli, dosa or medu wada, onion tomato chutney goes with all of them.
I made this chutney along with onion rava dosa but unfortunately, rava dosa did not turn out well. This is why I am not posting its recipe here.
I will try the dosas some other day. Till then, you guys try making onion tomato chutney and let me know how it turned out.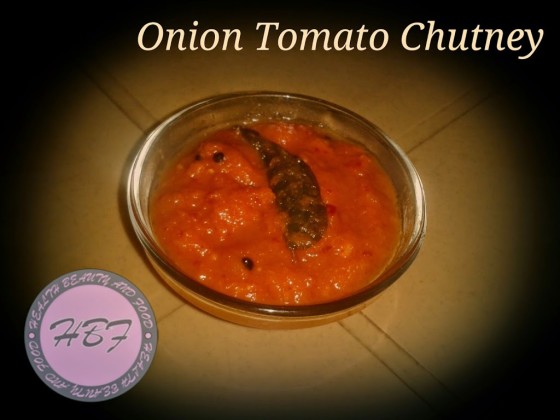 Ingredients:
For the chutney:
Onions (sliced or cubed) – 2 medium
Tomatoes (cubed or chopped) – 2 medium
Red chillies (broken) – 3 – 4
Garlic – 5 – 6 cloves
Water – 1/4 – 1/2 cup
Salt – to taste
For tempering:
Oil – 2 tsp
Mustard seeds – 1/2 tsp
Curry leaves – 6 – 8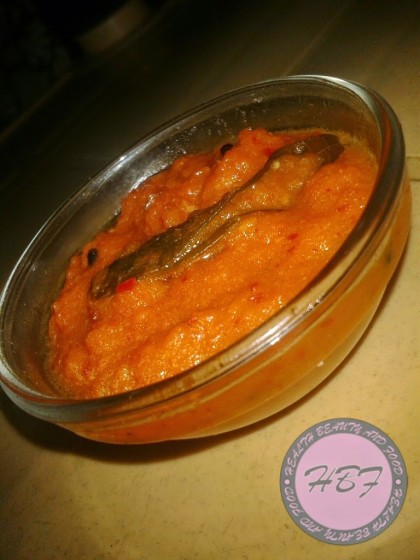 Method:
Blend together onions, tomatoes, garlic cloves, red chillies and salt.
Heat oil in a vessel. Add mustard seeds and let it splutter.
Add curry leaves and fry it for a minute or two.
Add the blended paste and sauté it for 3 – 4 minutes.
Add water and let it cook till the raw smell of chutney goes and it thickens.
Serve this chutney with idlis, dosas or medu wadas.
Note:
Add more or less water as per the consistency you desire.
Do you like Onion Tomato Chutney? How to you make this?
For more such recipes follow HBF on  Facebook, Twitter, Google+, Pinterest and Instagram.