I wonder why some men are so careless about their skin! They roam around with their dull looking dry skin and chapped lips and when they are asked to treat their skin, they reply, "Ladki hu kya..!!"
This is what my bro use to say when I use tell him to take care of his skin. But things are changing now and he has started taking care of himself. Now he asks for a lip balm when his chapped lips start to bleed 😉 and yes he has said NO TO BARS for his face and uses some good face wash. But yes, he didn't agree to review them on the blog 🙁
Now the thing behind all this 'careless men story' is Fuschia's Tropical Alphonso Lip Balm which I'm reviewing today. Fuschia says this lip balm can be used by men too. Well, I think any lip balm can be used by men except the tinted ones. I guess Fuschia also wanted to tell such careless men to take care, this is why this UNISEX label on lip balms 😉
Lets see how this Fuschia Tropical Alphonso Lip Balm is…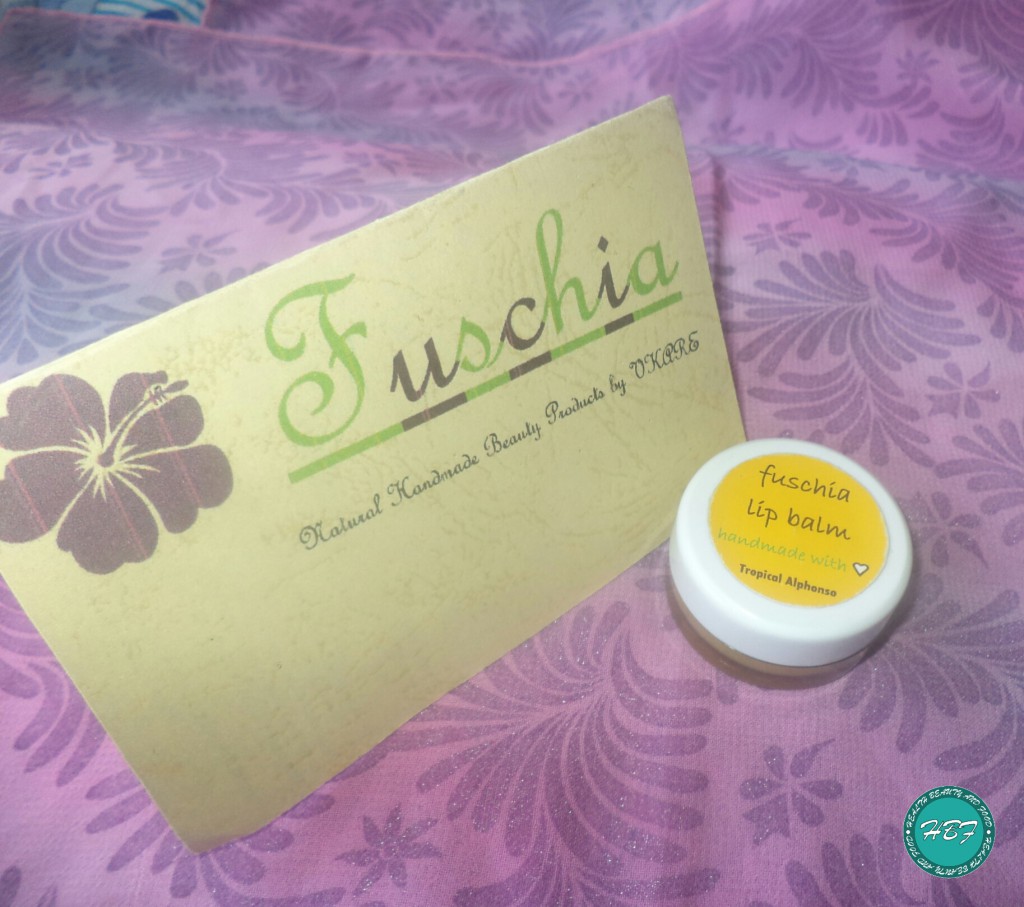 Company's claim, Ingredients and other details:
Buy Fuschia Tropical Alphonso Lip Balm from Shopclues, Myntra, Rediff
Packing: The lip balm is packed in a transparent jar with white cap. Jar further comes in a green coloured pouch with 3 mini cards stating all the details about the lip balm.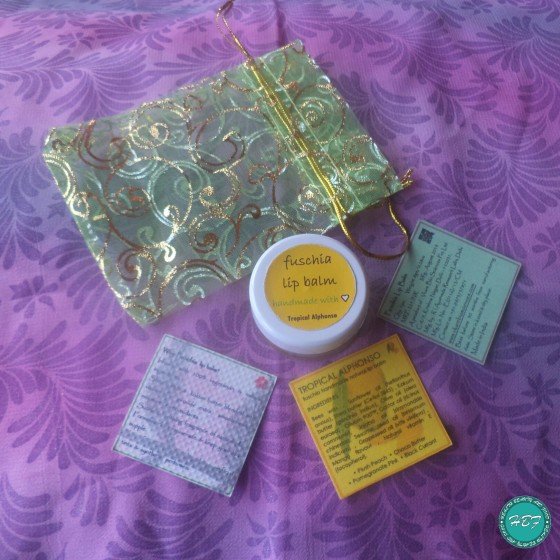 Experience: Fuschia Tropical alphonso lip balm is a yellowish colored lip balm which has a thick consistency like the stick lip balms. It has a yummy smell exactly like the mango. It is colorless and gives shines to the lips after application. It feels light when you apply on your lips.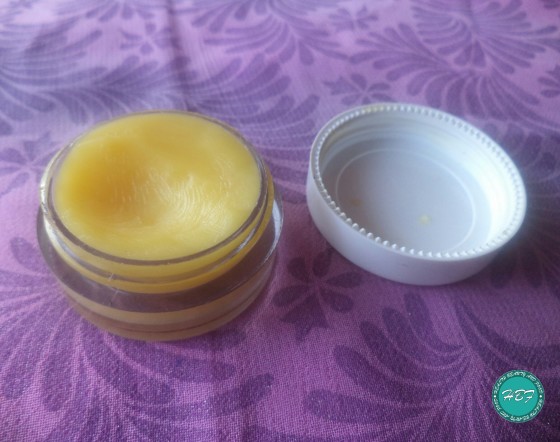 Though it is winter but still my lips are not chapped, thanks to Lass Chocolate and Honey Lip Balm. But it does require some moisturization due to which I use lip balm daily (at least twice a day). Fuschia Tropical Alphonso Lip Balm provides the required moisturization to my lips but yes, only for few hours. So this lip balm needs reapplication. As Fuschia lip balms can be use anywhere on the body, I've used it on my feet and sides of lips too and it worked well there too.
Also see: Eva Lip Drench Classic review
What I like about Fuschia Tropical Alphonso Lip Balm:
Moisturises lips
Smells yummy
Can be used on other dry areas of the body too
Unisex lip balm
Natural & Handmade
Cruelty free
Easily available online
What I dislike about Fuschia Tropical Alphonso Lip Balm:
Need to reapply in few hours
Not available offline
Price may be a concern for some
You may also like: Himalaya Herbals Lip Balm review
Rating: 4/5
Verdict: Fuschia Tropical alphonso Lip Balm is a decent lip balm which moisturise and heal chapped lips. If you are in search of a natural, cruelty free lip balm and you don't mind reapplication then you can get this. As it is a unisex lip balm, I recommend all the men to get this one now in winters.
So what you think about this Fuschia Tropical Alphonso Lip Balm? Have you tried it? How was your experience? 
HBF's Instagram handle reached 100 followers today.. Yayy..!! Are you one of them? If you aren't then start following now as I'm planning a giveaway soon.
PR Sample. Honest Review.