Lip balms are a must-have for me. Not because I have extremely dry lips, but because I'm addicted to it. Nivea, Maybelline, Himalaya, Eva, Vaseline, etc. I have tried them all. I make it a point to apply lip balm at least once a day.
When staying indoors, I wear any lip balm. But when I have to step out of my house, I use a lip balm with sunscreen. Ethicare Lipz Lip Moisturiser about which I'm going to talk today comes with SPF 15 which is one of the good things about it. Apart from this, there are many points which I'll be discussing later in this post. Keep reading.
About Ethicare Lipz Lip Moisturiser:
Price: Rs. 90/- for 9 grams tube
Shelf Life: 3 years
Availability: Buy it from Ethicare's Website
Key Ingredients: Shea butter, Kokum butter, Avocado oil, Olive oil
Company's Claim: Lip moisturizer for chapped, cracked and dry lips. No waxy feel – Non-irritant base – Fragrance free
Packing: Ethicare Lipz Lip Moisturiser comes in a white tube with red screw cap. The tube is further packed in white cardbaord box. Tube has slanted top for easy application.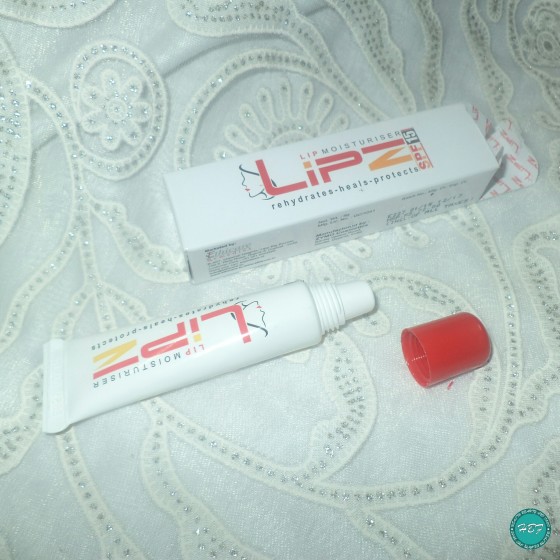 My Experience:
Ethicare Lipz Lip Moisturiser is a transparent lip balm which smells like Vanilla. Upon application, it does not feel heavy or waxy. It moisturise dry lips very well and keep it hydrated for a long time. My lips are not very dry or chapped as I apply lip balm everyday. That is why I use this lip balm for my daily lip moisturisation purpose.
When my cousin was suffering for chapped and bleeding lips once and I gave Ethicare Lipz Lip Moisturiser to her. Within 3 – 4 application, it cured my cousin's lips. So this lip balm is very effective in treating dry, chapped lips.
Ethicare Lipz Lip Moisturiser contains SPF 15 which is an added benefit. This balm not only cure lips but also protect it from sun damage. Since it is a colorless lip balm, even men can use it. Also, women can use it underneath lipstick to protect their lips from sun.
Also Read: Lass Naturals Chocolate and Honey Lip balm review
 Pros:
Moisturises and cure dry, chapped lips
Very light on lips
No waxy, greasy feeling
Contains goodness of Shea butter, Kokum butter, etc.
Contains SPF 15
Unisex lip balm
Cons:
Ethicare products are not easily available offline
Rating: 5/5
Verdict:
A lip balm which moisturises dry lips, cure chapped and bleeding lips and also provide sun protection. All at an affordable price. Do I need to say any more? Get Ethicare Lipz Lip Moisturiser Now!
Also check out Eeshha Herbal Mixed Fruit Lip Balm Review & Fuschia Tropical Alphonso Lip Balm review.