If you've made up your mind to try and be healthier this year, you may be considering how you can improve your fitness. Many people find sports and gyms to be a big turn off. But over the years, weight gain or ill-health may change your thinking. However, you don't need to pay for a gym subscription or get involved in playing sports to be fitter. Did you know that you can achieve a great level of fitness with just a few essential items?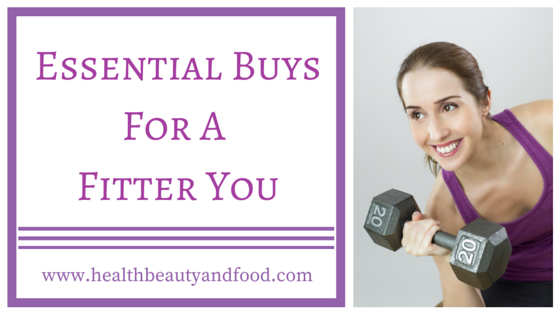 Fitness Equipment
Some small hand weights are perfect for strengthening your joints and muscles of the arm. They come in various sizes up to 20Kg but start with the half kilo, two kilo, and five-kilo sets. The best things about these are you can use them while you're watching TV or even sat in the office answering calls! Get yourself a fitness mat like a Yoga mat so you can do stretches on a protective surface. Don't forget an easy-grip water bottle for sips on the go.
Fitness Wear
Choosing the right outfit for a workout or a bit of activity doesn't require a lot of thought. There are only a few essential items that you need. A comfortable sports bra for the girls will support your chest. If you use an underwired one, it will prevent your chest moving fully when you breathe. And without support, you will soon be in pain! You'll also need supportive trainers, especially if you're walking or jogging. Finally, treat yourself to some great Yoga pants or leggings. They're comfy, look great, and allow you to move in any position you like.
---
Must Read: Achieve Greater Body Confidence in 4 Easy Steps!
---
Prevention, Cure, Progress
At first, you may find you ache a little. A really good warm up involves careful stretching of your muscle groups. If you have weakness in your joints, use compression sleeves to support them. Achy muscles can be soothed in the bath, or you may prefer to take an anti-inflammatory pain-killer. Stay hydrated with water, and track your progress with a fitness app. You can combine this with a fitness band for even more handy information about your health and fitness.
Time
One of the most important things you need if you want to become fitter is time. You may need to get up an hour earlier. Perhaps you can take a full lunch hour break at work. Committing to a fitter you means making the time you need to be regularly active. Walking to work may take you twenty minutes longer than the drive. But it could be worth it in the fight for a fitter you. Buying yourself some time each day can often mean making sacrifices. You need to decide where your priorities lay.
---
You may also like: 7 Tips to buy your Gymming Shoes
---
It doesn't cost much at all to commit to a regular program of activity and exercise. Just a few essential pieces of kit, some comfortable workout wear, and a little extra time in your day could be all you need. Perhaps the most important thing about getting fitter is making sure you enjoy the time doing it. And money can't buy that!