We all know Exercise is important to keep our body and mind fit. And the best and simplest form of exercise is walking, followed by running or jogging. Whether it is walking, running or any other gymming activity, a perfect shoes is what you need. Or else, you would suffer from pain or discomfort not only in your feet or leg but also in your back.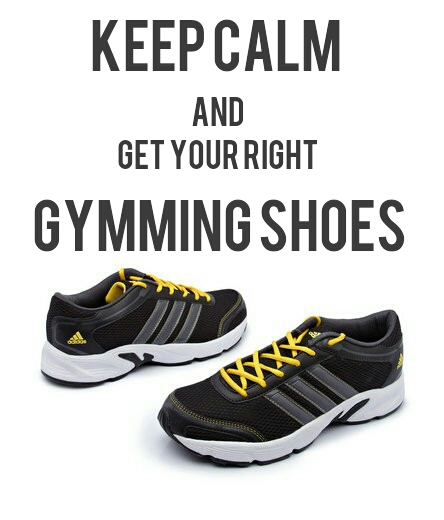 Today I'm sharing some tips on how you can buy your gymming shoes. Read them and get the right pair for yourself.
7 Tips to buy your Gymming Shoes
1. The foot shape:
Know your foot shape and buy your shoes according to it. There are companies who offer shoes as per the shape of foot. To check your foot shape, wet your feet and step on a brown paper. Trace that shape and take it with you while shopping. Alternatively, you can see your foot shape in your shoes. Look at the soul, you will the most wear areas. That's your foot shape.
2. Timing plays an important role:
Yes, timing plays an important role when it comes to buying shoes. Did you know your feet are the largest at the later time of the day? Yes, its true. So, the best time to buy your gymming shoes is in the evening.
3. Don't trust the shoe size:
Shoe size varies from brand to brand. Don't just buy your shoes as per your shoe size. Wear and see whether it fits properly or not.
4. Check for comfort:
You need a comfortable shoes for all your gymming activities. So its better to test the shoes by walking and running in the store itself before buying.
5. Take your socks along:
It's important to get a shoes which fit well when you wear your socks. Take your regular gymming socks with you  to the store and get a perfect fitting shoes wearing it.
6. Know your perfect fit:
Perfect fit doesn't mean getting a tight shoes in which your feet can't breath. There should be about a 1/2 inch gap (of a thumb's width) in front of your big toe and the end of the shoes. Heels should be tight and should not slip out of the shoes.
7. Pay right:
Don't go for cheap shoes as they might not be good in quality. And at the same time don't pay more just for the brand name. Give importance to your comfort and get your gymming shoes at a correct price.
Apart from getting the right pair of shoes, it is also important to know its expiry date. Yes, like your chips and toothpaste, your shoes too has an expiry date. The only difference is that no brand mention it. Average life of a running shoes is 350-400 miles of use. So make sure you change your shoes after that.
I hope these tips are helpful for you and you will follow it the next time when you shop for your gymming shoes. If you have any other tips, feel free to add them in the comments below.