Sabudana khichdi, a dish usually prepared for fasts during navratri or shivratri, can also be a healthy and tasty breakfast or snacks.
Our family tried this khichdi in Hotel Mala's, Panchgani for the first time and now it has become one of the favourite snack at my home. We like it so much that me already had it thrice last month.
I followed Sanjeev Kapoor's recipe to make sabudana khichdi, but skipped adding coconut in it. Also, I added a little turmeric for color purpose.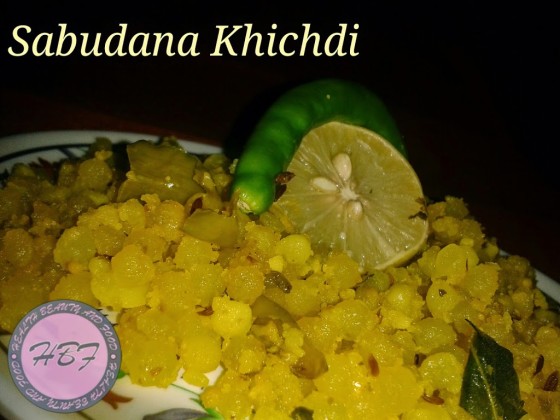 Ingredients:
Tapioca pearls / Sago / Sabudana (soaked in 1 cup of water for 4 hours) – 1 1/2 cups
Peanuts (dry roast,  remove skin, grind coarsely) – 1/4 cup
Green chillies (cut into halves and slit / chopped) – 4 – 5
Potato (boiled) – 1 medium
Ghee / Oil – 3 tablespoons
Curry leaves – 1 – 2 sprigs
Cumin seeds – 1 teaspoon
Salt – to taste
Turmeric – 3/4 teaspoon
Lemon juice – 1 teaspoon
Fresh coriander leaves (chopped) – a few sprigs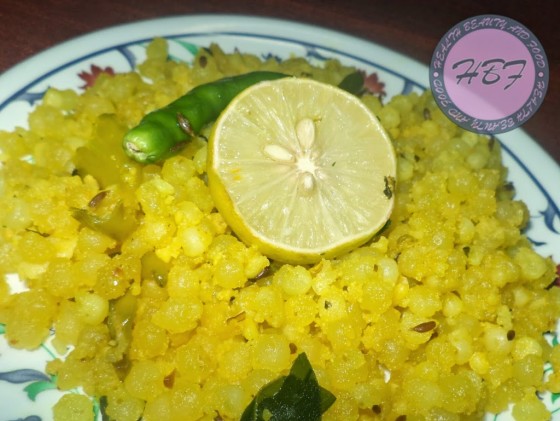 Method:
In a non-stick kadhai, heat oil, add cumin and let it sputter.
Now add curry leaves and green chillies and fry it for a minute.
Add potatoes and stir.
Add sabudana, ground peanuts, salt and turmeric and cook for 5 – 6 minutes.
The sabudanas would have become transparent now. Add lemon juice and coriander leaves, mix and turn off the flame.
Serve hot in breakfast or as an evening snack with tea.
Please note:
The recipe called for 2 tablespoon of fresh coconut. I skipped it but if you want to add, you can add it in step 4.
Skip the turmeric if you want white khichdi.
I used boiled potato but if you want you can fry them in step 3 till it tender.