I am not a painted nails fan. I love my nails nude only. But yes I do wear nail polish sometimes and that too for just a few hours as I do not like the feeling of having something on nails. Due to this a nail polish remover is a must have for me. So today I am sharing my experience with a nail polish remover wipes which makes removing nail paints an easy job and at the same time it works on enhancing your nail's health.
In my previous post I informed you about the products which Hiphop Skin Care sent me and now I am reviewing its Instant Nail Polish Remover wipes.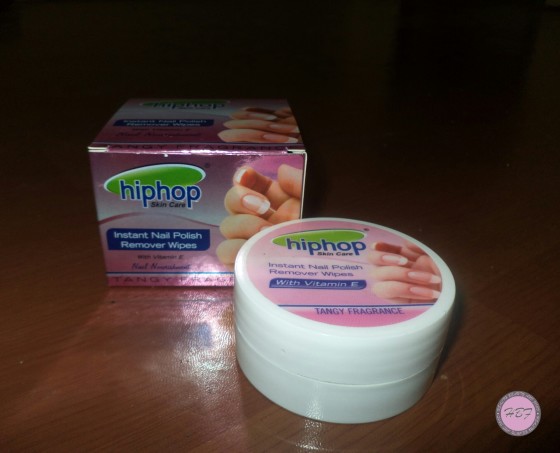 Price: Rs. 120
Quantity: 30 Wipes
Shelf Life: Two Years
Buy Hiphop Skin Care Nail Polish Remover Wipes here
Instuctions to use and Ingredient list: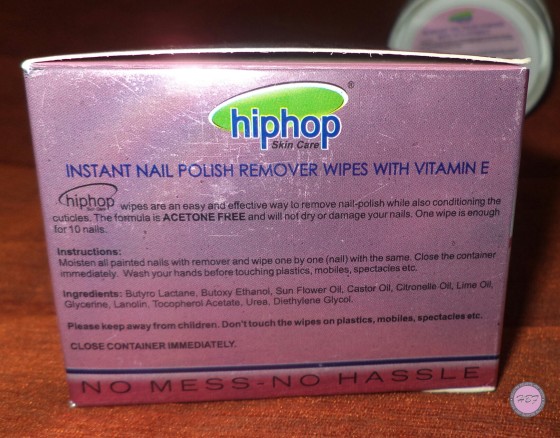 Packing: 
Hiphop Nail polish remover wipes comes in a white round tub which is packed in a square cardboard box. It also has a tight inner cap so that the wipes do not get dry.
Also read: Hiphop Skin Care Instant Lipstick Remover Pads Review
Experience:
Removing nail polish with wipes is hassle free and hiphop does a great job in doing that. I tried it on my Maybelline color show nail enamel and these nail polish wipes got all the color off my nails. Though some glitters left on the nails which went after washing my nails with liquid soap.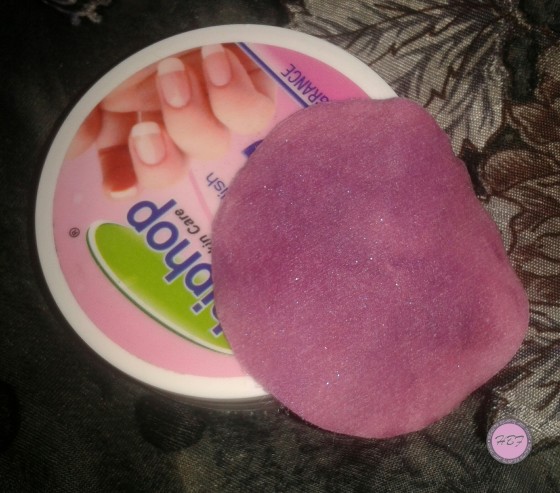 Hiphop skin care nail polish remover wipes comes has a nice tangy fragrance which lingers on for some time on your nails after using it. As the company says, one wipe is actually enough for 10 nails. It took off all the color from my hands' nails.
My nails do not become dry after using these wipes (another claim holds true).
When using Hiphop skin care nail polish remover wipes, you need to work a little harder on the sides and near cuticle. But this is with every other nail polish remover.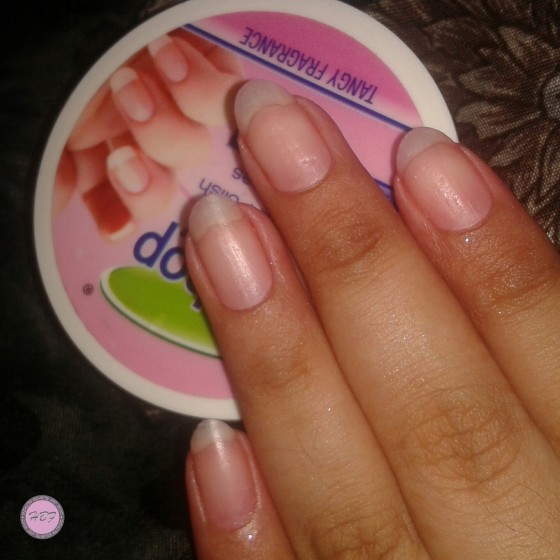 Summing up to pros and cons:
What I like about Hiphop Nail Polish remover wipes:
Acetone free
Does not dry out nails
Nice tangy fragrance
Contains vitamin e and other nourishing oil
One wipe is enough for 10 nails
Value for money
You may also like: Hiphop Skin Care Deep Cleansing Nose Pack review

What I dislike about Hiphop Nail Polish remover wipes:
Working in sides and bottom is a bit difficult
Rating: 4.5/5
Verdict: If you use nail polish then Hiphop Skin Care Nail Polish Remover wipes are a must-have for you. It makes your nail polish removing process easy and hassle free. Besides, it is acetone free so it does not dry and damage your nails. Plus, it contains some nourishing ingredients to make and keep your nails healthy.
Which Nail Polish remover do you use? Have you ever tried Hiphop Skin Care Nail Polish Remover wipes?
PR sample. Honest review.