Hey my lovely readers!
You must be aware of Hiphop Skin Care, a brand whose products I reviewed a while ago. Hiphop Skin Care has launched a few new exciting products lately and they had sent me those products for review.
Here are the products they launched:
Lipo Wax Strips for Bikini & Underarm
Nail Polish Corrector Pen
Under Eye Pads
Twister Nail Polish Remover Sponge
Details of these products will be coming tomorrow on my YouTube Channel along with a YouTube exclusive Giveaway. Subscribe to the channel now to know about the giveaway at the earliest.
But wait… I have another giveaway here on the blog!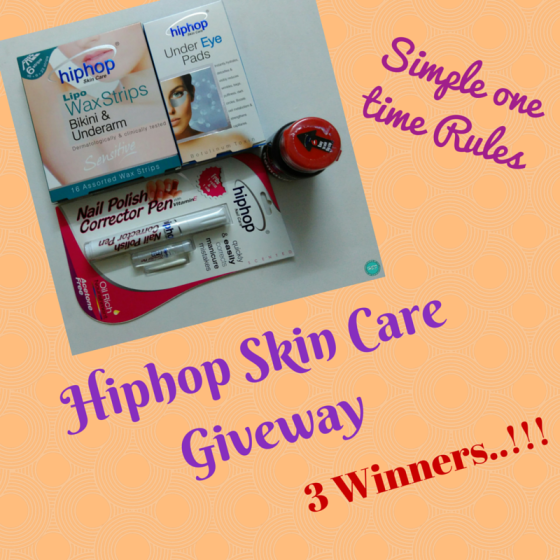 Yes, Hiphop Skin Care is kind enough to sponsor not 1 or 2 winners but 4 winners from our followers. Isn't it great? To encourage more participants I have decided to host giveaway on 4 different social channels i.e. Facebook, Twitter, Instagram and Youtube. Rules are simple and you need to follow them only once.
I have divided the giveaway rules into 2 parts. First part consist of general rules which all the participants need to follow. Second part has rules regarding specific social handles. All the rules are mandatory in the Part 1 and in Part 2 you need to follow rules of those social channel where you are participating.
Let's begins with the rules.
Part 1:
Subscribe to my blog using the sidebar widget
Comment below this post mentioning details about your participation i.e. Your name, Twitter/Facebook/Instagram usernames, Post sharing URL
Part 2:
1. Facebook Rules:
2. Twitter Rules:
Follow HBF and Hiphop Skin Care
Tweet this giveaway post tagging 3 friends (account needs to be public)
3. Instagram rules:
Please Note:
Winners will be selected randomly from all the valid entry.
To make your entry valid you need to follow both the rules of PART 1 and any one of the rules of PART 2 i.e. Facebook, Twitter or Instagram.
You can participate on all the Social Channels and increase your chance of winning.
Minors need parent's permission to participate.
Participants must have a valid Indian address.
Giveaway will be open for 10 days i.e. till 4th December 2015. Winners will be announced within 2 days of the completion of giveaway.
The above image is for reference purpose. Actual hamper will be different than this.
Hiphop Skin Care will be sending the prizes.
Rules are very simple but still if you have any questions regarding the giveaway, mail me at [email protected]. I'll revert ASAP.
All the best!
Update: Giveaway extended till 9th of December and Winners will be announced on 10th December.
Check out our Youtube Giveaway:
Winners Announced Here: