What's up guys? I know it is February and I still haven't reviewed my Fab Bag January 2016. I don't know why but I'm unable to write much these days. I think I need to take a break and get back with lots of energy. Anyway let's come back to today's post. This time the theme of the Fab Bag is "Beauty Resolutions" which is totally apt for January month. Products again are going well with the theme.
Before showing you the products, let me tell you about the pouch. Every month instead of the products, I get more excited for the pouch. These pouches looks cute and they are very useful to store make-up stuffs and carry it in your hand bag. I carry things in such pouches in my hand bag so Fab Bag pouches are always useful for me. This time's pouch is dark beige colored one with cute make-up and beauty illustrations on it. The time Fab Bag revealed its pouch on Instagram, I fell in love with it and was eagerly waiting for it.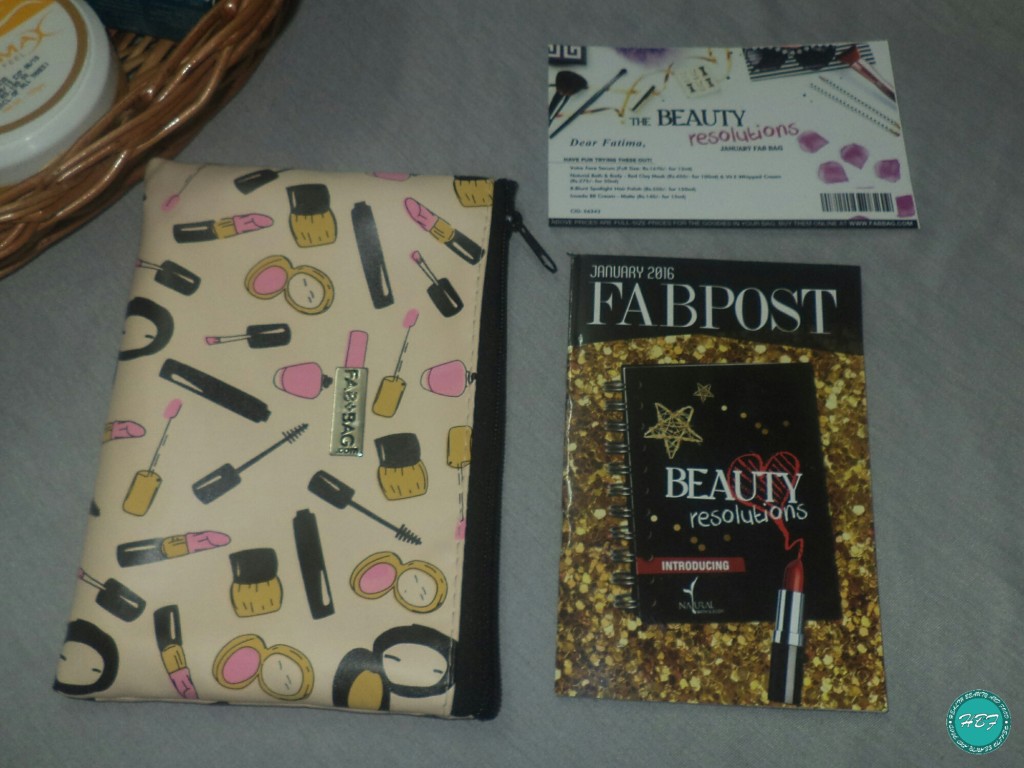 Like everytime we have Fabpost magazine and a card with prices of the products we got.
Now coming the products, this time I got 2 full sized products and 3 samples. Let's see these products one by one:
1. Inveda BB cream in Matt (full size):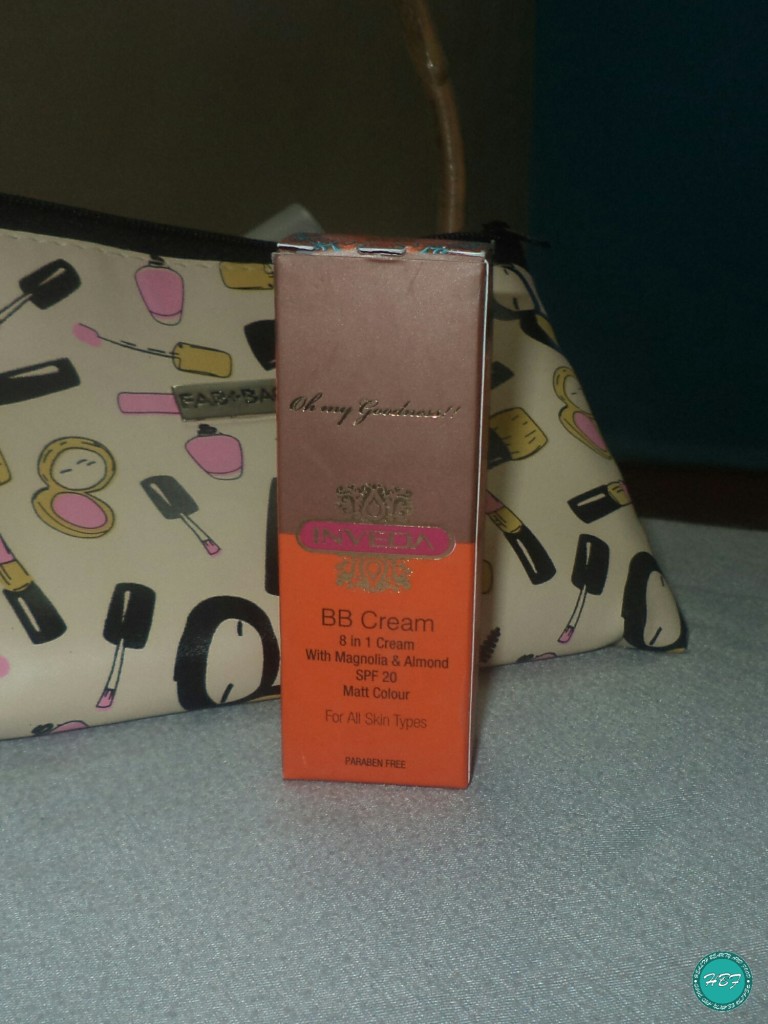 This time again we were given a choice to select product of our choice and selected this BB cream. It is available in 2 shades and the one I have is shade matt which is for wheatish skin and looks darker on me :(. (Silly me, selected the wrong shade). Price is Rs. 140/- for 15 ml tube.
---
Show some love, Like my Facebook Page here
---
2. Votre Face Serum (full size):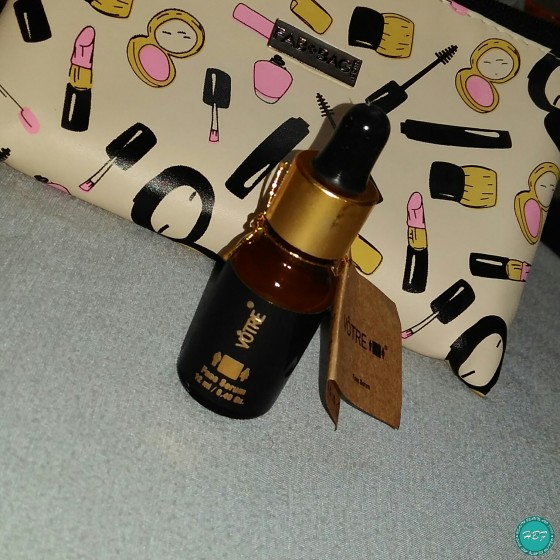 I got into face serum after receiving the Just Herbs one in my September 2015 Fab Bag. I was really happy with that one and then tried this one. I have used it only 2 – 3 times and all I can say is it smells good, it has a nice texture and it makes your skin silky in the morning. Votre Face Serum is Priced at Rs. 1670/- for 12 ml. (Super expensive)
3. Natural bath and body Clay Face Masque (Sample):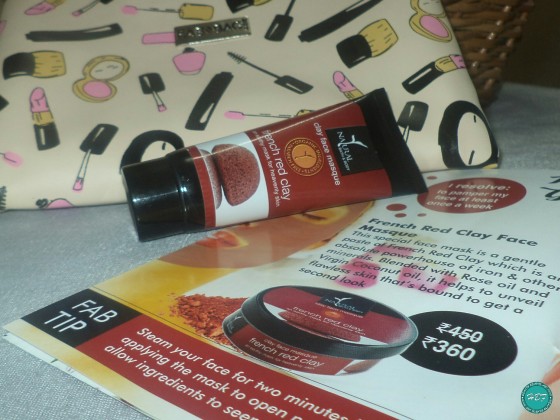 I got a 20 g sample of this masque in my Fab Bag January 2016 and I have tried it one. It is good face pack which leaves your skin clean, oil-free and glowing. You can buy Full size tube of 100 ml of this masque for Rs 450/-.
4. Natural Bath & Body-Vitamin E Whipped Cream (sample):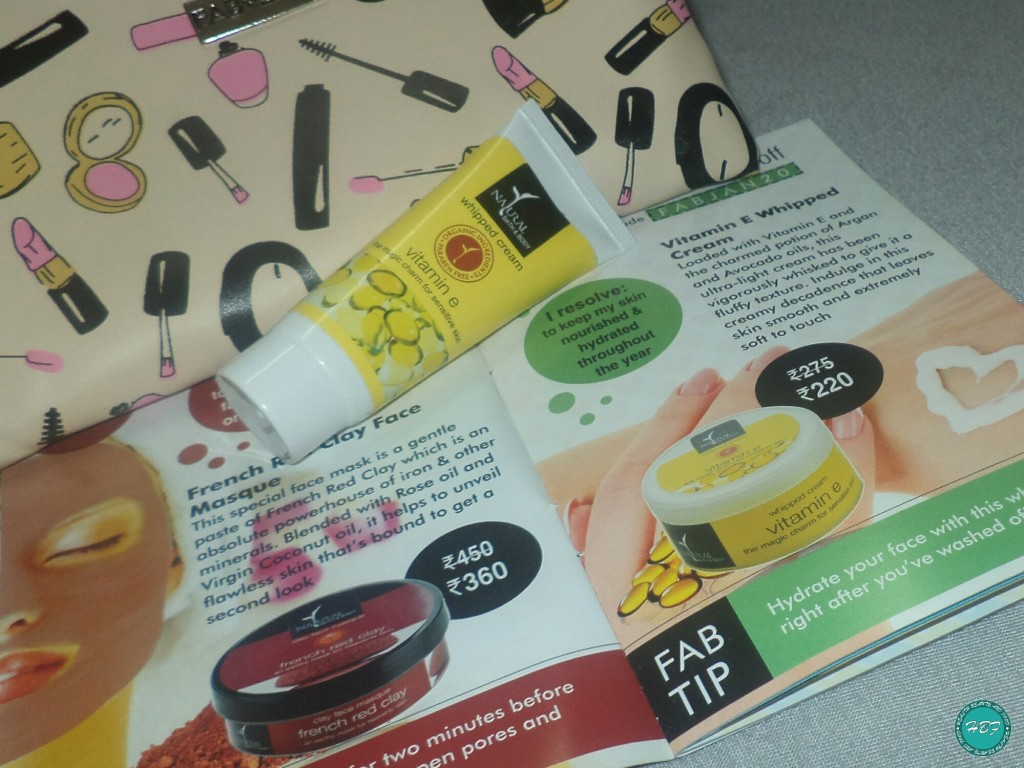 The time I opened this cream, I remembered Garnier's fairness scrub which I used long back. It smells exactly like the scrub and the texture of this cream is so good. It vanishes into the skin immediately and leaves it soft and hydrated. This is something really good for oily skin. I would love to use this in summers. I got 20 g of this whipped cream and the 50 ml full size tube comes for Rs. 270/-.
5. BBlunt Spotlight Hair Polish (Sample):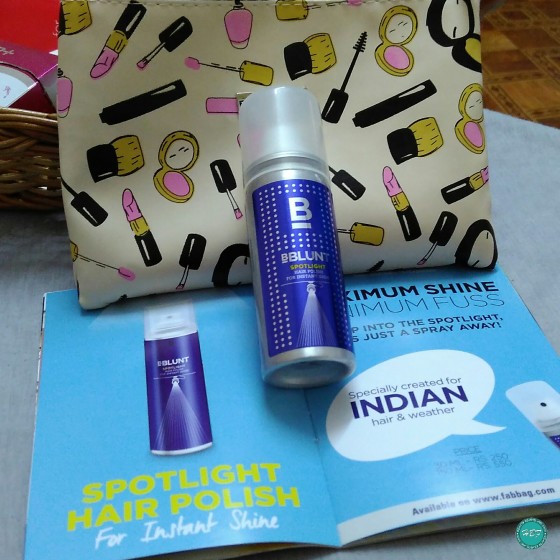 Lastly I got a Hair Spray sample of 30 ml from BBlunt in my Fab Bag January 2016. This hair polish can make dull and lack-lustre hairs look healthy and shiny. I haven't tried it yet but I have heard many good things about it. 120 ml of this product is priced at Rs. 550.
---
Let's connect on Twitter, my handle is @FatimaNayani and @hlthbeautynfood
---
Verdict:
So this beauty resolutions Fab Bag January 2016 had a mix of good beauty products to take care of your beauty need. It encourage us to take some beauty resolutions and add products like Face Masque and Face serum in our beauty routine.

I also got introduced to a new brand Natural bath & body through Fab Bag this time and I'm quite happy with its products. I would like to check out some more products from this brand.

This is not like a must-have Fab Bag but at the same time not a useless one. It is a good one to get if you want to try new products.
Fab Bag January 2016 was a good one but I think February 2016 will be amazing as the theme is going to be Valentine. I'm so excited for it and eagerly waiting to get it. You can also subscribe for February Fab Bag here and you will be getting beauty products worth Rs. 2000/- only for Rs. 599/- or less depending upon your plan.
So that's it for today. I'm planning to do an unboxing video of my February Fab Bag on my YouTube Channel so subscribe to it now.