Sunday for us is all about family and fun. No matter how busy we are throughout the week, we keep Sunday evenings for family. Every week on Sunday all my cousins, uncles and aunts gather at my place. We chit-chat, have food and play some games. Some Sundays we go on a long drive, have some food outside or visit a shopping mall to play games at gamezones.
I have been visiting Timezone for a few years now. Almost all of my visits were with my cousin and we have always had a great time there. But it has been quite a few months we haven't visited. So when I got an Invitation to visit the newly revamped Timezone at Inorbit Mall, Malad, I knew I can't miss this. I convinced my cousins to accompany me and we went to Timezone, Malad last Sunday.
Timezone has recently revamped and relaunched itself as #NEXTGENTIMEZONE at Inorbit Mall, Malad.
A glimpse of games we played
So what's this Next Gen Timezone?
Next Gen Timezone has elements which focuses on young adults along with kids and family. They have updated store layout and designs from a playful and colourful store background to more of urbane and a futuristic approach and color palette. They have Lit signs for major concept zones and unique sky grid lighting in the store.
The new Timezone has a revamped version of bumper car called Krazee whirl. Krazee Whirl has illuminated lights on the tube and dual Joysticks which makes you spin. I so wanted to ride Krazee Whirl but due to the long queue, I had to skip it. They have also launched Virtual Rabbids, the virtual reality ride with attractive cabinet. Something that kids will find enticing. Another new launch is the addictive redemption game Willy Wonka chocolate factory.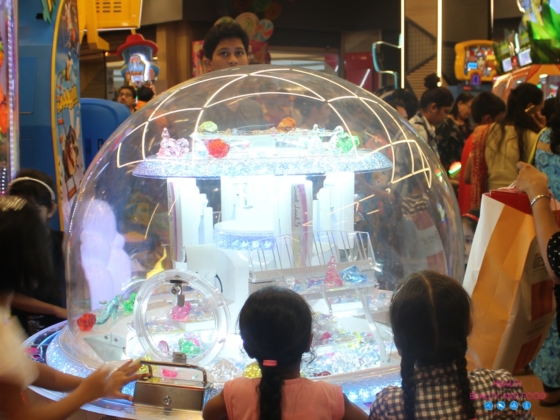 Sweetland 5
One little game that caught my attention there instantly was Sweetland 5. The colorful gems and crystals one can win playing this game is so alluring. Another highlight of the Next Gen Timezone is Family Bowling. With light-weight balls, kids-friendly bowling lane, personalised score chart and lounge area, bowling is now a perfect family entertainment.
Camel Prize Racing (watch above video) is another family game where all the members of the family can race together and the one who wins, get a prize of his choice from all the available choices. We ended playing this game so many times. We also enjoyed playing the refurbished basket ball.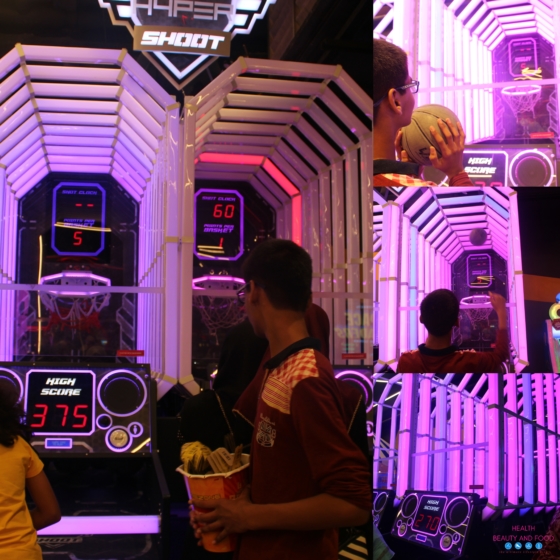 Basket Ball
Apart from all these new games, the Other popular games like Jersey Wheel, Derby Champions, Paw Patrol, Gum Drop are presented in the arcade avatar.
Although Timezone has a little corner with sitting arrangement but a relaxing few minutes massage amidst all the game play is essential. We also experienced the relaxing chair present at the timezone. They also have rides for toddlers so parents take them along with their elder kids.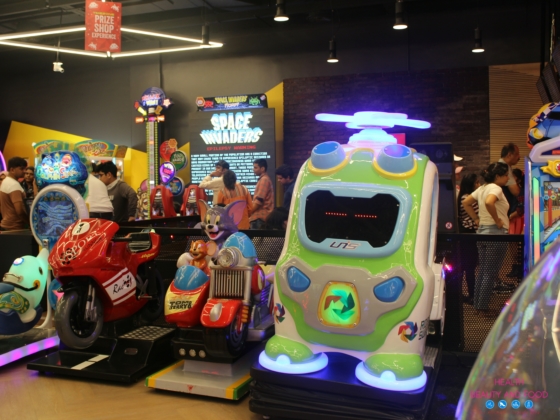 Rides for toddlers
Apart the new and revamped gaming area, the price shop too is all new at the Next Gen Timezone. The prize shop is now bigger and has a variety of items. We can now redeem our tickets and get anything from the available new items like Plush toys, home décor, utility products, sports, games merchandise, confectionaries and soft drinks.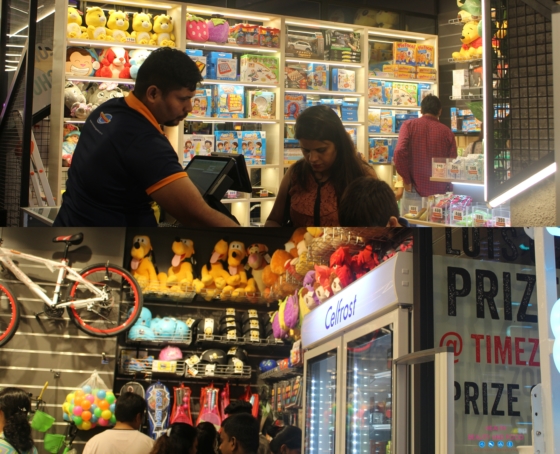 The Price Shop
So this was my short tale about Sunday Funday and the Next Gen Timezone. We had a great time there which ended with winning 1000+ tickets.
Have you visited the revamped Timezone at Malad? How was your experience? Do share it with me in the comment section below.
For more such posts, keep visiting Health Beauty and Food. Do connect with us on Facebook, Twitter, Instagram and Youtube
(I've shared my experience at the revamped Timezone ​Inorbit ​Malad​ in association with BlogAdda")