Moisturizing is a crucial part of skin care routine for people with dry skin. Being someone with dry skin, I have tried many moisturizers till now including Ethicare Remedies Hydrofil Emollient Cream, Ethicare Hydrofil Emollient Lotion, Soultree Apricot Oil & Honey Moisturizer, etc. When it comes to moisturizer, my choice is something which is hydrating enough and at the same time does not make my skin greasy. This Eessha Herbal Derma E Cocoa Face & Body Moisturizer is exactly the same. Let's find some more details about it.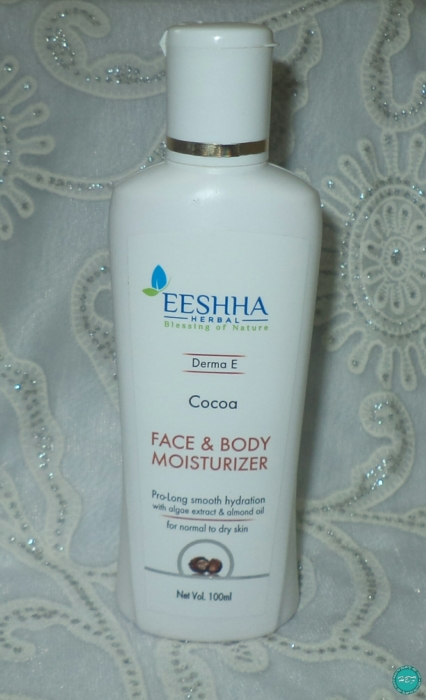 About:
It contains cocoa butter which prevent water loss and dehydration, provide flexibility, gives a soft and even toned skin. Penetrates deep into the skin & makes it smooth supple by removing roughness . Moisturizers leave skin supple. Mineral oil gives lubricant effect, glycerin prevents loss of water from skin preventing dryness; cocoa butter has property of emolliency and retains skin moisture.
Price: Rs. 135 for 100 ml (Buy it here for Rs. 101.25)
Ingredients: Isopropyl Myristate, Olive Oil, Almond Oil, Trehalose, Shea butter Blend, Dimethicon, Vitamin E, Cocoa Butter, Algae Extract.
Packing: It comes in a cylindrical white plastic bottle with flip-up cap. Cap shuts tight so it is travel friendly.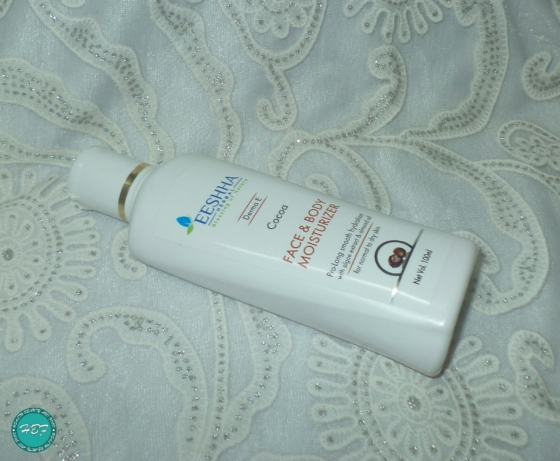 Experience:
Eeshha Herbal Derma E Cocoa Face & Body Moisturizer is pink in color and has thick consistency. Even though it is thick but it spreads easily on the skin and absorbs quite quickly. It doesn't feel heavy or greasy on the skin. It is a very light moisturizer but still it hydrates my skin very well. I like to use it both in summer and winter.
This Eeshha Herbal moisturiser claims to have cocoa butter in it but sadly it doesn't smell like cocoa. 🙁 It has a very subtle sweet smell which stays for some time post application. Smell is not overpowering and I don't have any issue with it. Coming to the lasting power, I don't feel the need of reapplication during summer but my skin starts to feel dry after 3 – 4 hours in winters.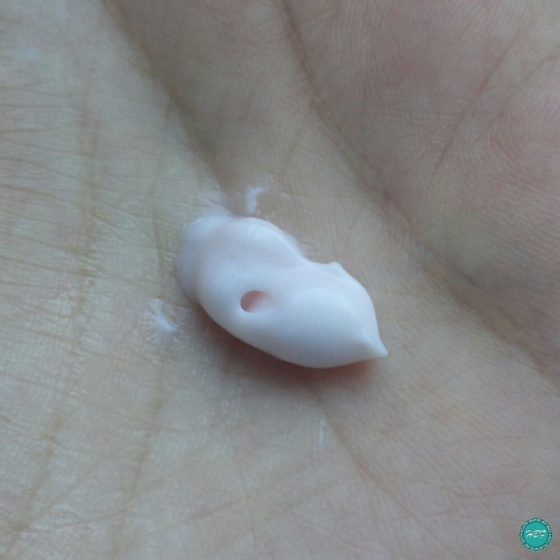 This is a face and body moisturizer and I have tried it both ways. Being light and non-greasy moisturizer, it works well for both facial and body skin. Overall it is a good moisturizer for all skin types.
Pros:
Herbal
Contains goodness of cocoa butter, algae extracts, etc.
Can be used on both face and body
Feels light on skin
Absorbs quickly
Long lasting
Smells nice
For all type of skin
Cons:
I can't find any except for the availability as Eeshha Herbal products are difficult to find in local market.
Rating: 5/5
Verdict:
Eeshha Herbal Derma E Cocoa Face & Body Moisturizer is an all-season moisturizer which can be used on all type of skin. It is herbal, light-weight, smells nice and can be bought easily online.
This was my experience with Eeshha Herbal Derma E Cocoa Face & Body Moisturizer. Have you tried this one yet? What are your views about this? Drop your answers in the comment box below.
For any feedback, questions and request please mail me at fatima(at)healthbeautyandfood(dot)com.