Dandruff is one of the most embarrassing hair problem which most of us suffer during winter. There are many anti-dandruff shampoos available in market but they often fail to perform on heavy dandruff. That's where an anti-dandruff hair oil come into picture.
It is my personal view that hair oils perform better on hair problems as compared to shampoos. I use to suffer from mild dandruff problem in past and since then I use anti-dandruff shampoo regularly. My current shampoo is clear anti hair fall shampoo which keeps dandruff away while taking care of my mild hair fall.
Today I am introducing a special hair oil for dandruff and dry, flaky scalp. It is Auravedic Scalp Relief Hair Oil. Since I don't have any major dandruff problem, I tested this on someone else. Let's see how this worked for her.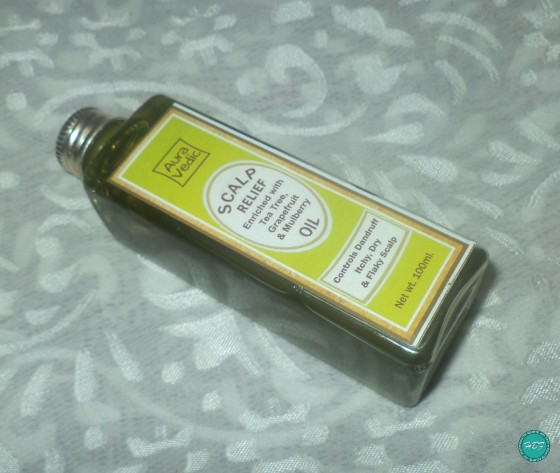 About Auravedic Scalp Relief Hair Oil:
Price: Rs. 250/- for 100 ml
Buy it here
Description: A combination of pure ayurvedic herbs to relieve dry, itchy and flaky scalp. Provides a superior sensorial experience for relaxation of the scalp.
Ingredients : Tea Tree Oil, Grapefruit Oil, Mulberry Extract,Neem Oil, Cumin Extract, Amla Extract, Sandal Oil, Guava Extract, Aloe Vera Oil, Hibiscus Oil, Coconut Oil, LicoriceExtract, Jojoba Oil, Indigo Extract, Cinnamomum CamphoraExtract, Alleum Cepa Extract, Cynodon Dactylon Extract,Datura Metel Extract.
Packing: Comes in a plastic bottle with screw cap and translucent inner cap to prevent leakage. I would have preferred a flip top with small mouth.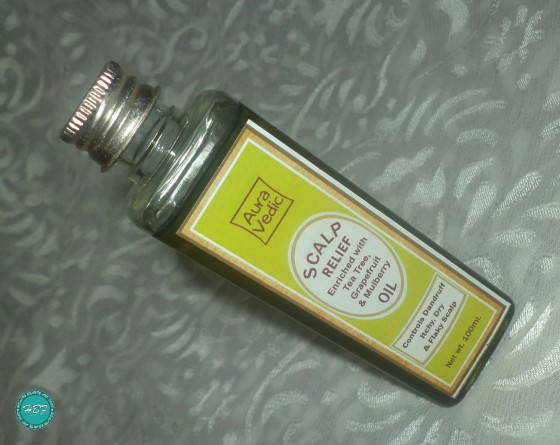 Experience:
Auravedic Scalp Relief Hair Oil is a dark greenish colored oil which is of thick liquid-y consistency. It has some ayurvedic smell which is not at all irritating or overpowering. The oil is not very sticky but yes it is heavy in my opinion. Consistency is like our regular coconut oil and not like one-wash mineral oil. You need good 2 washes to get rid of all the oil from your hairs.
Now coming to its efficiency, frankly speaking I wasn't expecting such good result from this oil. The time I received this Auravedic Scalp Relief Hair Oil, my cousin was suffering from dandruff problem. That is why I gave it to her for testing. And within 2 – 3 applications we started seeing good result.
Auravedic Scalp Relief Hair Oil controls dandruff to a great extent and start showing results from initial uses. This is something really good. I'm very happy I came across such an efficient product. Also, I would like to mention that Auravedic has a similar hair oil for hairfall too which again works well. I'll be sharing its review soon.
---
Also Read: Parachute Advansed Jasmine Hair Oil review
---
Pros:
Ayurvedic hair oil
Very efficient
Visible results from initial uses
Control dandruff to a great extent
Smell is not overpowering
Reasonably priced
Cons:
It is a heavy hair oil
Require 2 washes to get rid of
Availability may be an issue for some
Packing can be improved
Rating: 4.5/5
Verdict:
Dandruff problem? This is oil is the solution. Winter is on its way and almost everyone face dandruff problem. Try Auravedic Scalp Relief Hair Oil and come back to thank me 😉
Have you tried Auravedic Scalp Relief Hair Oil  hair oil? Which hair oil you use when you face dandruff problem?
---
Check out: Hair & Care Silk-n-Shine hair potion review
---