What's up guys!
I'm back with another Fab Bag review. This is Fab Bag November 2015 'Up the game' expert edition. Now I don't know what does this theme mean and how the products are meant for experts but this is what Fab Bag says.
Anyway, the pouch containing all the products is a glossy black textured one. Quality is good and I liked it like the past Fab Bag pouches. These pouches come handy when you want to carry certain things in your handbag. I have this habit of keeping a pouch ready with all the essentials so that whenever I need to go out, I can put this pouch in my handbag and move quickly.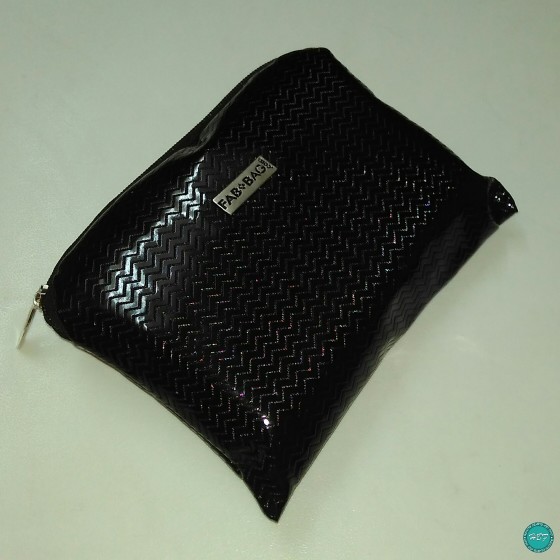 Like everytime we have Fabpost magazine in our Fab Bag November 2015 and a small card which informs about the products we have received. Since my subscription ended this November I got a 10% discount coupon for December subscription. Well, I don't think I'll be subscribing to December Fab Bag, unless there are some exciting products. I may try some other subscription service like Ladyraga or MSM box. Still not sure, lets see.
Now lets see what all products I received in my Fab Bag November 2015.
1. Votre Fresh Cooling Sun Protection Mist SPF 25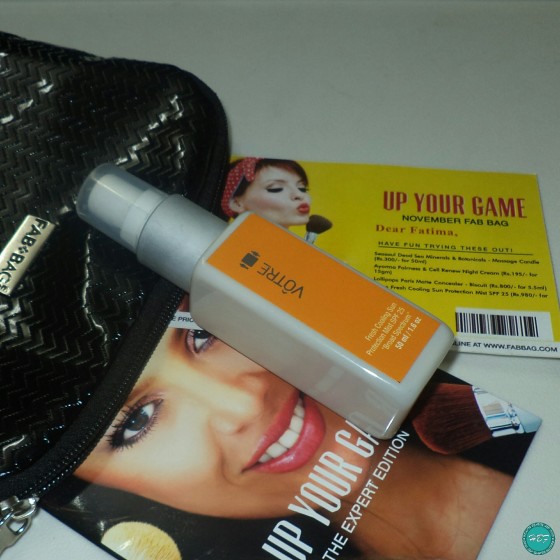 First product I got is this 50 ml bottle of Votre Fresh Cooling Sun Protection Mist which I had selected for myself. Yes this time Fab Bag allowed its subscribers to select a skin care product and reserve it. I selected this because I found this one interesting. I'm religious with my CTM and a toner which has sun protection is definitely something good.
You can buy 100 ml bottle of this face mist from Fab Bag website for Rs. 980/-.
2. Ayorma Fairness and Cell Renew Night Cream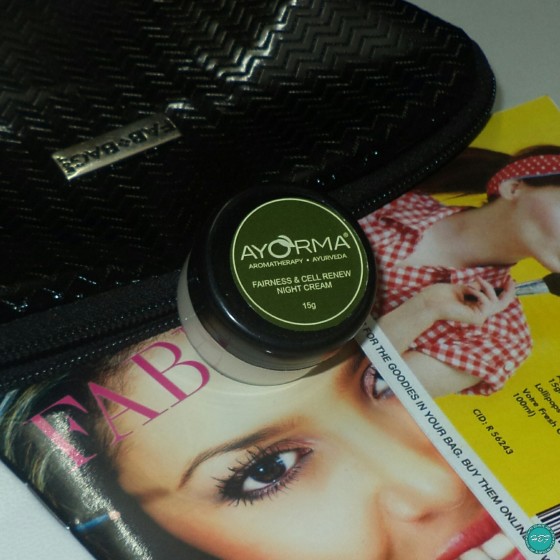 Second in my Fab Bag November 2015 is this mini sample from Ayorma. It is a night cream which repair cells and does some fairness action. I have used it only twice so I can't comment on its efficiency. The texture of the cream appears thick but it is easily spreadable and the cream gets absorb in the skin quickly leaving a moisturised feeling behind. And yes it is not at all greasy and something people with every skin type can use.
Full size product comes for Rs. 195/-.
3. Lollipops Paris Matte Concealer – Biscuit
Next is this concealer from a brand called Lollipops. It is a brand from Paris as the packing says. This is the first time I have come across this brand and I haven't done any research on it. The shade I got is biscuit which appears orange-y and it is darker than my skin tone. Since it is an orange concealer it works as an under eye corrector. I can't use it to hide any marks as it appears too orange and dark on me.
This is a 5.5 ml full size product which cost for Rs. 800/-.
4. Seasoul Dead Sea Minerals & Botanicals Massage Candle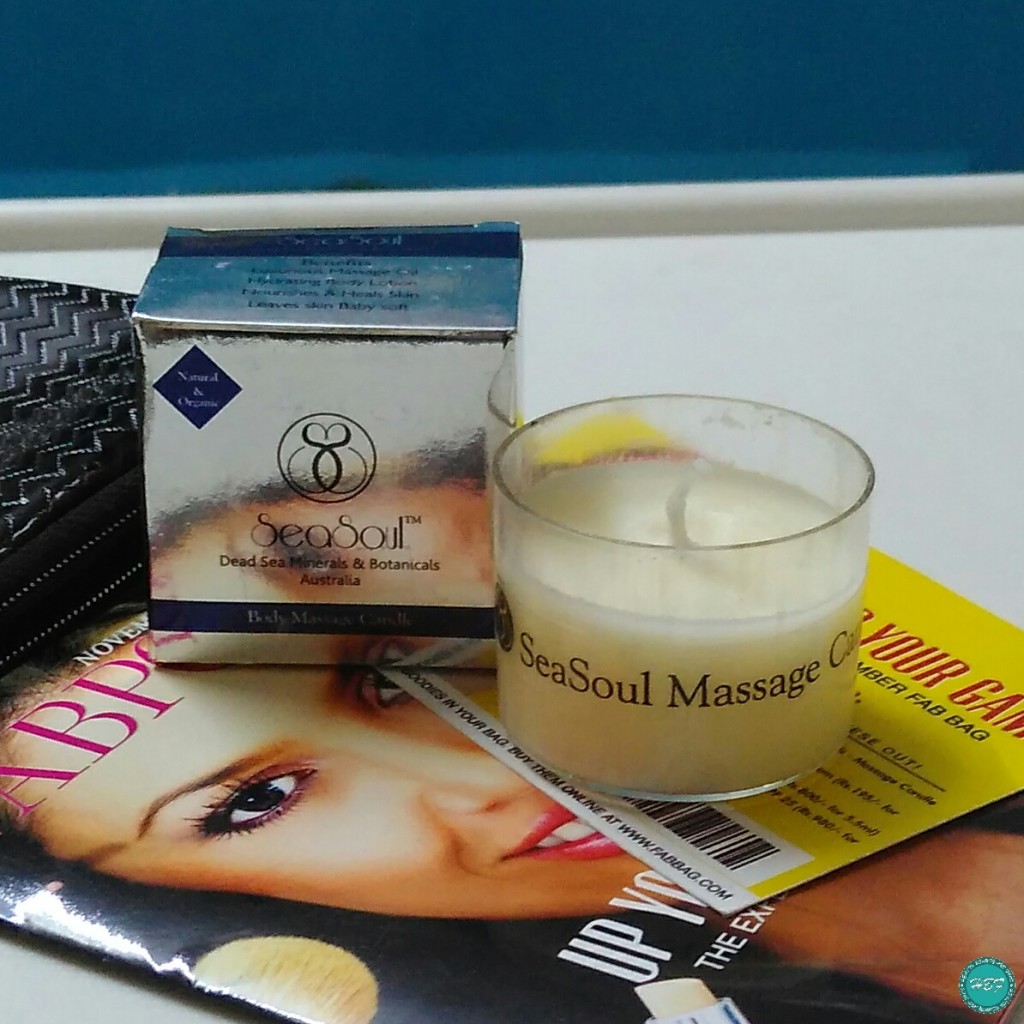 Last product which is actually the most exciting product is this massage candle. What you think about this candle at your first glance? If you think it is a candle which release some sort of relaxing aroma then you are absolutely wrong. This is a candle which you need burn so that the wax melts and convert into oil. Then you can use that oil for massaging.
This is the first time I came across something like a massaging candle. The texture of the wax is like ghee and you can even use that wax without melting. Just take some of the wax and rub it on the skin. It will get absorbed and leave your skin moisturised but not sticky or greasy.
Seasoul Dead Sea Minerals & Botanicals Massage Candle is priced at Rs. 300/- for 50 ml.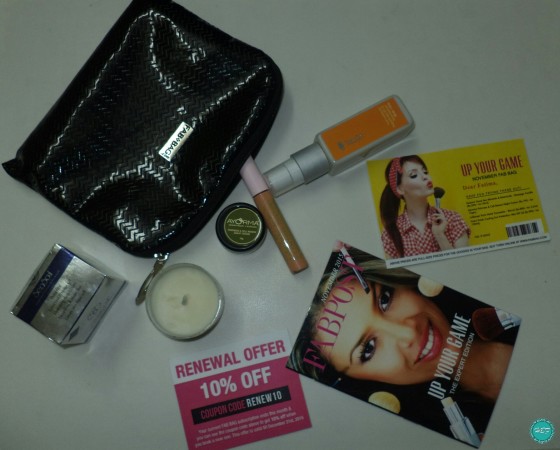 So these are the products I received in my Fab Bag November 2015 'Up the game' expert edition.
Overall this fab bag is an okay-okay one for me. I liked the Votre Face Mist and that Massage Candle but Ayorma Face cream and concealer isn't something I'm happy to receive. Pouch is a good one and I totally loved it.
Have you subscribed for this month's Fab Bag? How did you find it? Let me know your views in the comments section.
 P.S. Sponsored subscription but review is honest as usual.