Online shopping has made life so much easier. Everything is available for us in just a click. Books, bags, shoes, make-up and even jewelleries, may it be imitation or real. I haven't had shopped for any jewellery online except from Born Pretty store. But when I saw a friend's post about Preciousyou.in, I couldn't stop myself.
PreciousYou.in is an online fashion shopping portal where you get a variety of specially curated jewellery pieces. From statement necklaces to light everyday jewellery they have almost everything. They have Aghan jewellery, Nepali jewels, original hallmark silver jewellery and some other collections to suit every women's needs and wants.
I bought 2 Silver pieces from Preciousyou.in. Both the pieces came separately in 2 different packages. The jewel pieces came packed in a small plastic bag and the bag further was kept in a plastic box.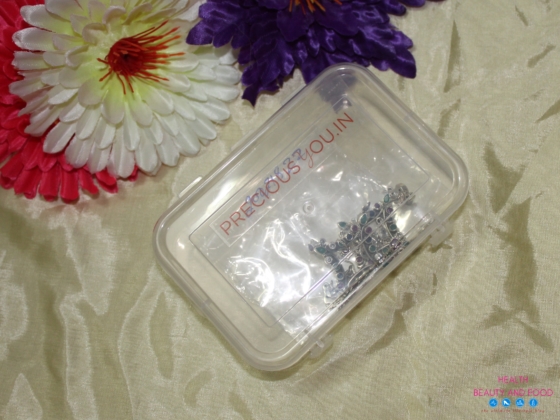 Looking at the price of the jewellery, I feel the packaging is not good. I have seen other jewellery stores online sending jewellery in small individual potli, further packed in a cute box or bag. I believe Preciousyou.in is in their starting stage so packaging is not very important for them. Maybe they are focusing on curating a better collection and providing better service to customer. I, as a customer would prefer a better packaging to match with the price of the jewels.
1. Heart Of Silver Diamond Necklace (Pure 92.5 Silver) Price: ₹999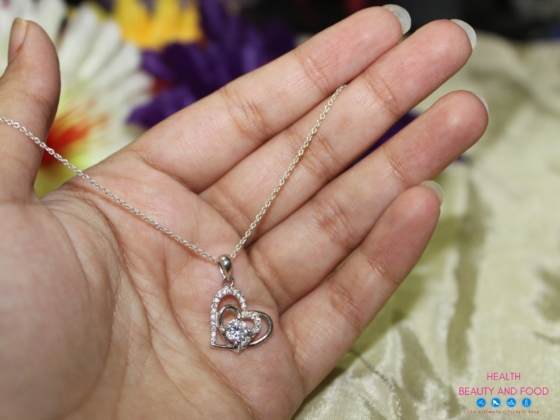 The First piece I picked is a simple delicate daily wear necklace. The chain is a very thin one and the length is perfect, neither too long nor too short. There is a tiny heart shaped diamond studded pendant in the chain which looks so beautiful and chic.
2. 92.5 Sterling Silver MultiStone Earrings
Next I got a pair of Earrings. These are again silver earrings with 3 different colours stone and diamond studded on them. These earrings are perfect to be paired with indo-western or ethnic outfits. I wore it with my Kashmiri Thread work kurti and it looked very well with it. I just found one little problem with the earrings. They a lot heavier than I expected. But then that's a personal preference. Not everyone will feel the same.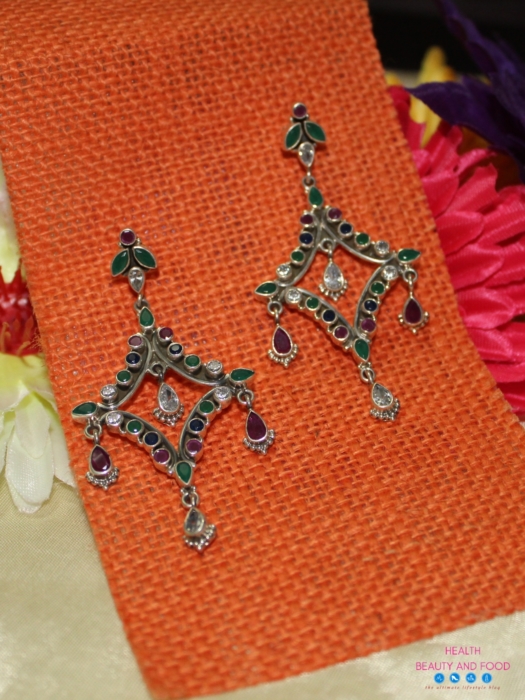 Initially, I was not sure if the quality will be as per the price but when I received my order, I found the quality quite good. However I'm not happy with the time taken for delivery. Usually online shopping orders arrive in 3 – 4 days or maximum of a week in Mumbai but preciousyou.in literally took forever to deliver.
I placed my order on 6th of December and 1st part of my order arrived on 4th of January whereas the second part arrived in the month of February. When I inquired about the delay, they said the item didn't pass the quality test and hence they had to source the new one. I assume the delay was just in my case because I haven't heard or read any such reviews.
Overall Preciousyou.in have high quality jewellery and accessories. They have different types of collection as per different occasions and tastes. Do check out their collection, I'm sure you will find something for yourself or to gift someone.
For more such reviews
follow  Health Beauty and Food on Facebook, Twitter, Instagram and Youtube