I don't think Limeorad.com need any introduction. It is one of the best online shopping websites for women. Dresses, Shoes, accessories, jewelleries, beauty products, they have everything for us. Limeroad also have a good collection of home and kitchen items. And not to forget the best thing about this shopping site, "creating scrapbook". Their home page is flooded with different looks which don't allow you to reach website's footer (that's an annoying thing I found now). Customers can buy all the products from a particular look or even single item as per their desire.
Anyway, after all the Limeroad website talks, let me come to today's review. Today I'll be talking about a handicraft neckpiece which I got from Limeroad. Lets see whether I like it or not.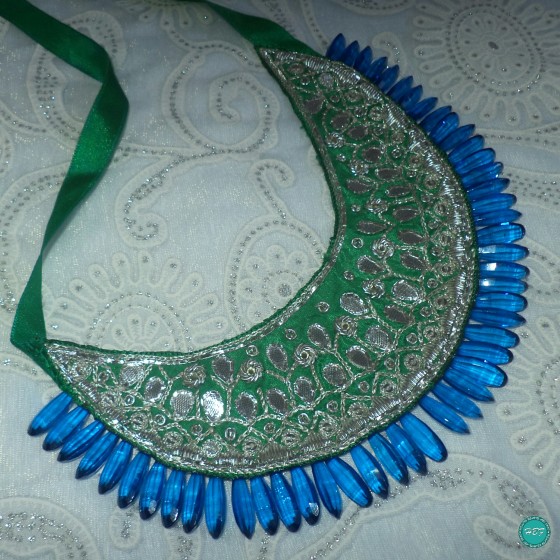 About Limeroad Silver Gota Patti Bib Necklace:
Price: Rs. 1900/-
Buy it here
What Limeroad says about it:
Straight from the treasure chest of our rich indian heritage, this bib necklace was made to make you feel like a princess. the necklace features exquisite silver gota patti and zardozi embroidery on green silk with blue acrylic beads stitched on to the edge. tie this necklace around your neck with the matching green satin ribbon.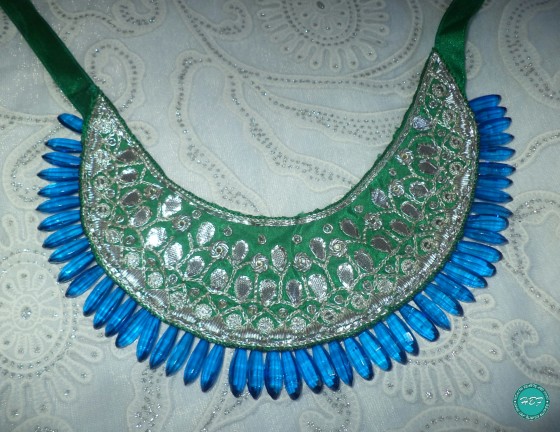 My views about Limeroad Silver Gota Patti Bib Necklace:
Limeroad Silver Gota Patti Bib Necklace is a beautiful green and blue handicrafted neckpiece. It is something not like the usual metal necklace. It is made with green raw silk material and has silver gota patti at the bottom of the necklace. There is silver zardosi work all over the necklace giving it its real beauty.
Limeroad Silver Gota Patti Bib Necklace has satin ribbon attached to it for tying it around the neck. The blue acrylic beads on the edge complete its look. This necklace can be paired with small blue and green kundan earrings or earrings with blue acrylic beads.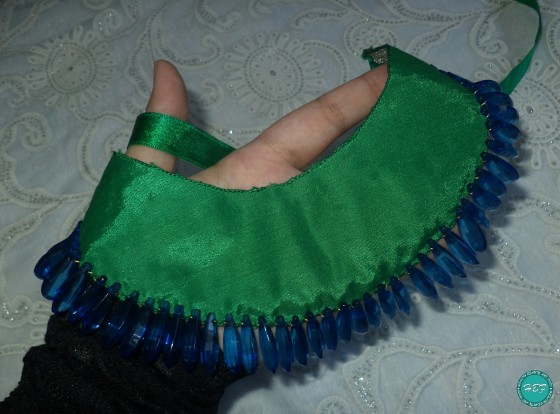 Since it is a handicrafted necklace, it has some minor flaws it in. When I wear it around my neck, the upper edge of the necklace hurt a bit on my neck. Also if you observe the necklace keenly, you will come to know that it is not cut properly.
One can wear this Limeroad Silver Gota Patti Bib Necklace on traditional Indian dresses. I think it will go perfectly with indo-western dresses. Jeans with kurti or long skirt with fitted top and even sarees, necklace will go well with them.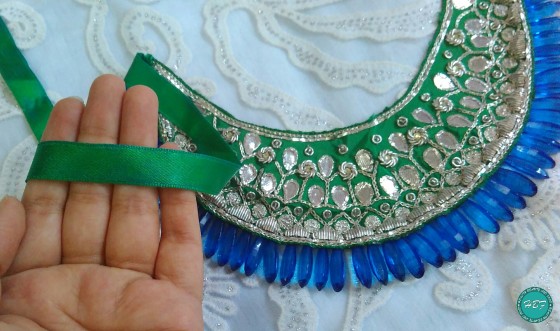 Pros:
Handicrafted neck piece
Looks beautiful
Perfect for Indo-western outfits
Cons:
Upper edge is a bit sharp
Expensive
Rating: 4/5
Verdict:
Limeroad Silver Gota Patti Bib Necklace is a beautiful handicrafted green and blue necklace with zardosi work and acrylic beads on it. The necklace goes best with indo-western outfits and will also suit Indian dresses. If you are fond of handicrafted jewelleries, add this particular piece in your collection.
Also check out video review of Limeroad Silver Gota Patti Bib Necklace here:
What you think about this Limeroad Silver Gota Patti Bib Necklace? Have you bought any jewellery from Limeroad?